This year will be my 13th PMC in a row. When I first signed up back in 2008, I didn't even own a bike, let alone have any experience riding 192 miles. I used to be one of those onlookers who would stand at the top of Ocean View Drive in Wellfleet with a cup of coffee early on warm August Sunday mornings and cheer the riders on, but I never thought I could do it.
Then, I began a new job and there was a team of riders at my company who were signing up. The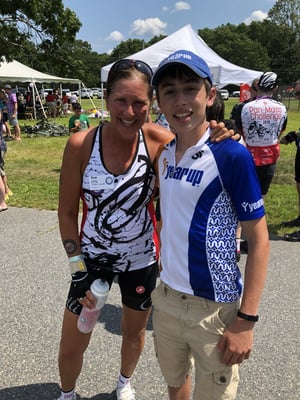 captain of the team, Alan Clarance, long time Heavy Hitter and now a dear friend, recruited me hard and encouraged me to try. Something came over me and I just said yes! That was February. I bought myself a bike, and began training in spring. I diligently followed the online suggestions for First Time Riders. I can remember that first May when I rode 37 miles for the first time (the longest I'd ever ridden). I was huffing and puffing and I thought, "oh my God, how on Earth am I ever going to be able to ride 110 and 82"? Alan said, don't worry, we stop every 20 miles or so for a break. What?!? I was filled with that dreadful feeling that I'd gotten myself into something that was way out of my comfort zone. Anyway, I had made the commitment, to myself and the PMC (and the fundraising). I was so focused on my training and nutrition and fundraising that I didn't really appreciate the big impact that the PMC has in so many ways. I was just hoping I could finish.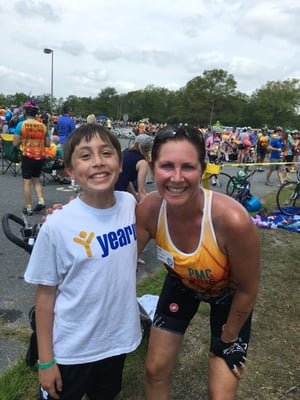 Well, when it came to the big PMC weekend, I was truly surprised at what an overwhelming and emotional experience it was! The Opening Ceremonies, volunteers, the fellow riders, the Pedal Partners, the posters of the kids leading up to the water stop, The Living Proof riders, the people on the side of the road for miles and miles cheering us on and saying "thank you", the fun team uniforms and costumes - all of it really, really got to me! And when I crossed the finish line in Ptown for that first time, I just burst into tears of joy. I had developed an immense appreciation for the impact that the PMC has. I feel like what I do really makes a difference. Needless to say, I've been hooked ever since.
Most recently for the last few years, I've been proud to be part of Team "Year Up". We ride in honor of the brave and powerful Dmitri Itzkovits who's fighting a rare pediatric brain tumor. We direct our fundraising to groundbreaking pediatric brain tumor research at DFCR. I'm honored and excited to be riding again. I ride because I can.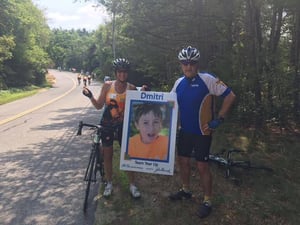 See you all in August!