All 2022 PMC weekend riders should download and use the TraQCentral Participant app.
The TraQCentral Participant app will allow each rider to:
be tracked by PMC command, road crew and medical volunteers
request medical or mechanical assistance,
access event and route info
Riders, please read the instructions below before downloading & using TraQCentral.
The PMC is not using RFID chips and tracking mats, as has been done in past years. Using the TraqCentral app is the only way to be tracked for PMC 2022.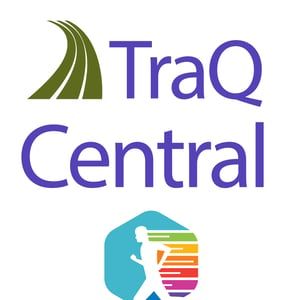 The Two New Rider Tracking Tools for PMC 2022
The PMC is introducing new rider tracking tools for PMC 2022: one for riders enables tracking and supports riders on the road. The other lets people see where riders are on PMC weekend routes.
Riders: Use TraQCentral to Enable Rider Tracking
Each PMC weekend rider should download and use the TraQCentral Participant App for PMC 2022. Read the following instructions on this page to download the app, learn how to create your account and how to use the app on PMC weekend.
Riders & Non-Riders: Use track.pmc.org to Track Others' Rides
Track PMC weekend riders through track.pmc.org. Search for and favorite riders to track their progress on PMC weekend (August 6 & 7).
If a rider does not use TraQCentral, their progress will not display.
Learn more about how to track riders here.
Download the App Now
Any time ahead of PMC weekend, each rider should download the TraQCentral Participant app to the smartphone they will be using during the ride. Click one of the CTAs below, visit traq.cc/app, or scan the QR code on this page.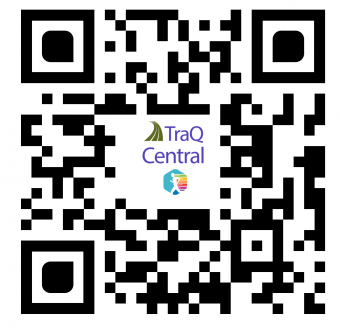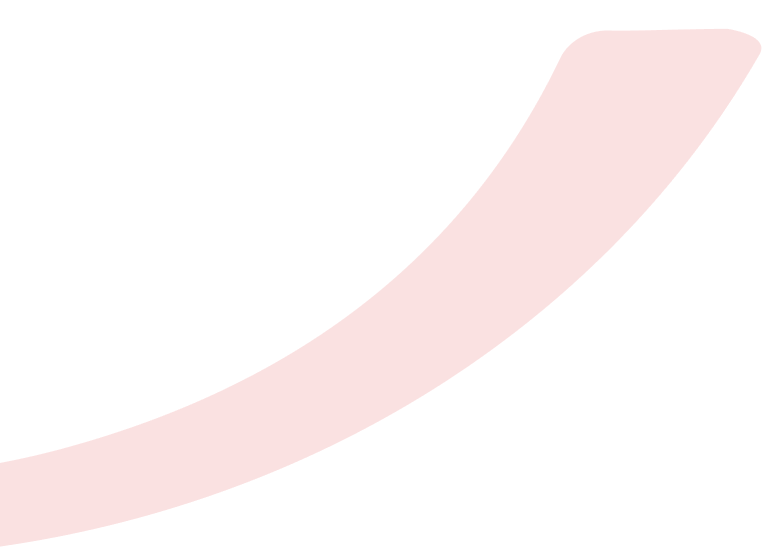 Set Up Your Account in the TraQCentral App
For the PMC, you are required to agree to the three prompts.
You will be prompted to:
Allow notifications.
Agree to tracking.
Allow TraQCentral to use your location While Using App.
When you create your account, use the same name you use for the PMC.
Important: Make sure cellular data is turned on on your cell phone to allow TraQCentral to work throughout your ride.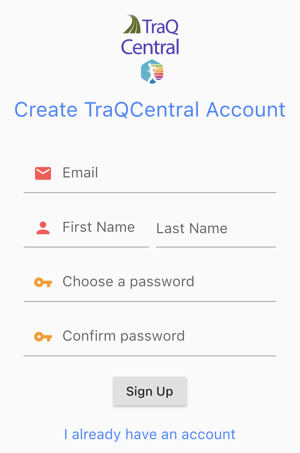 Share the "Track Riders" link with Friends and Family
Share track.pmc.org with your friends and family. You can find this link in the main navigation of pmc.org, listed as Track Riders.
Visit track.pmc.org to find and "favorite" your teammates and friends who are riding PMC 2022.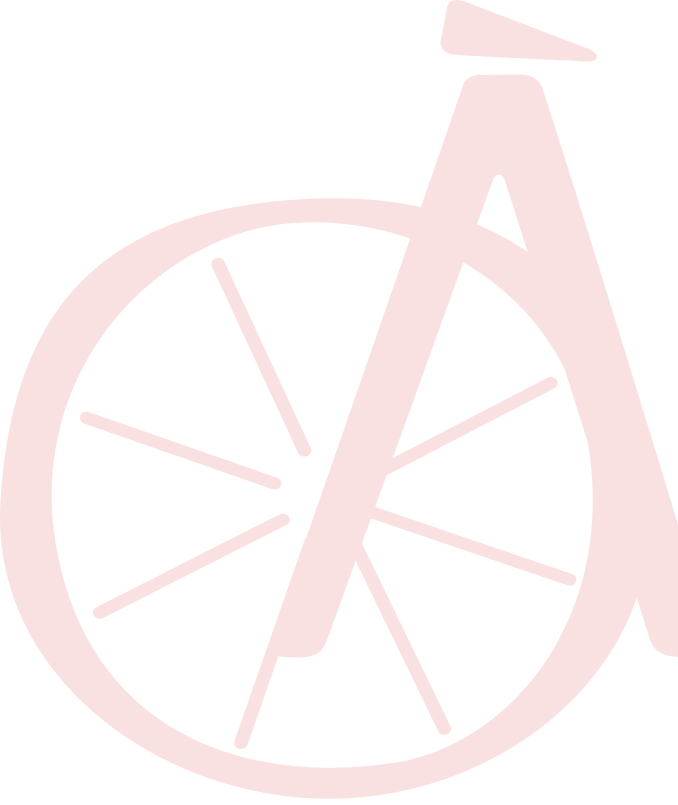 On PMC Weekend
Before you start riding each day of PMC weekend, you will receive an in-app reminder to "Start tracking" your ride.
In the morning before you get on your bike, please do the following:
1. Open the TraQCentral app and Login.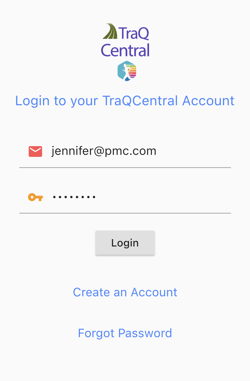 2. Locate and select Pan-Mass Challenge from the Event List.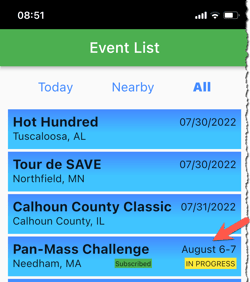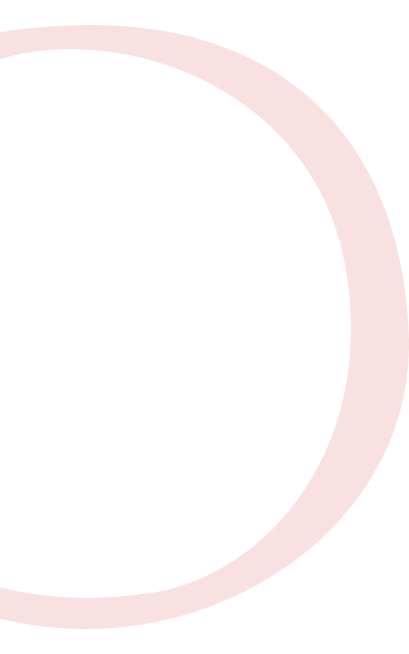 3. Click Start Now.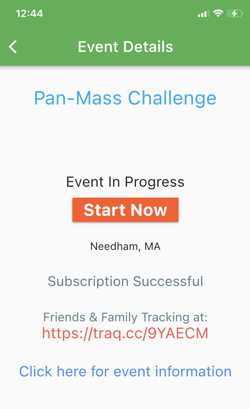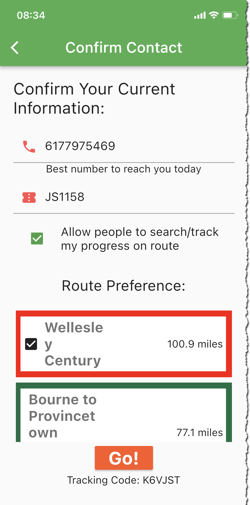 4. Enter/confirm your contact information and select your route.
Enter the number of the cell phone you are using on the ride.
Enter your PMC egift ID in the bib number field. Your egift ID can be found on your credentials (as well as in your PMC Dashboard). NOTE: Your egift ID is REQUIRED if you want to be tracked.
If you want others to be able to track your ride, be sure to check "Allow people to search/track my progress on route."

Select your route for that day and click Go!
5. After clicking Go!, you will be brought to the home screen of the map. In your phone's notification bar, you will see an icon indicating that you are being tracked. (iPhone shown here; Android icon will vary)
Important: To track for the duration of your ride, the TraQCentral app must stay open on your phone, though it does not need to be visible and can remain open in the background. If you accidentally close out of the app, just restart it, re-select the event and route, and click Go again.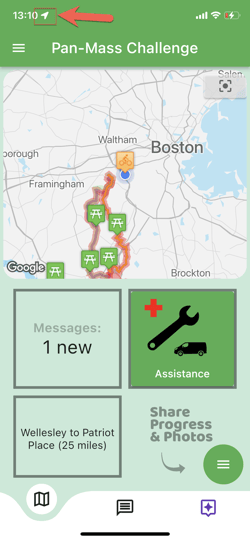 How to Request Assistance on the Road
If you encounter any issues (mechanical, medical, or anything else) while on your PMC ride, use the TraQCentral Participant App to request assistance.
1. From the home screen of TraQCentral, click Assistance.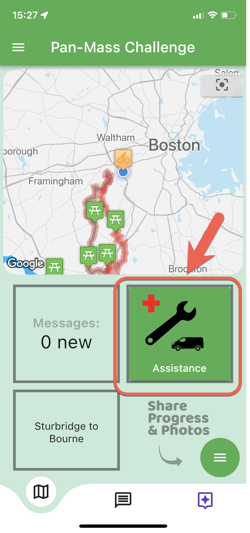 2. Click the type of assistance needed – mechanical, minor, emergency, exhaustion, or other.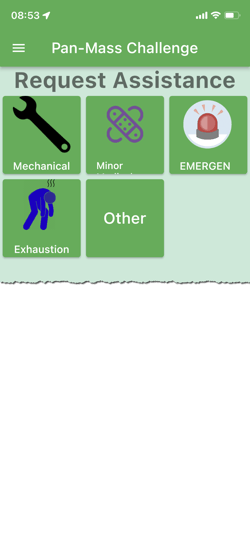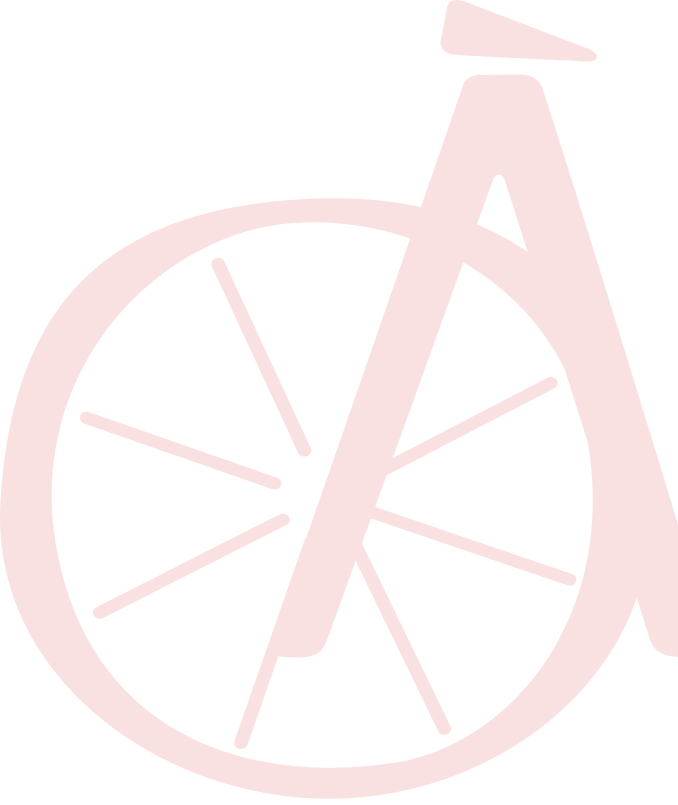 3. Confirm your phone number and enter any information about your issue that will help the PMC Command Center know how to best assist you. Then click Send.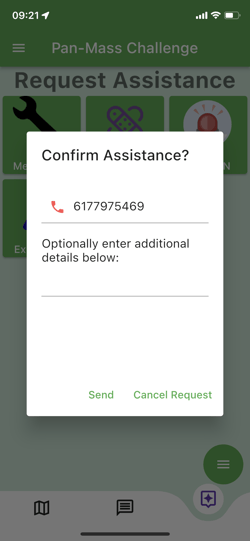 4. After submitting your request, the Incident Viewer will open and a banner will appear at the bottom of the screen letting you know your request has been sent. A message will appear above once it has been received by the PMC Command Center.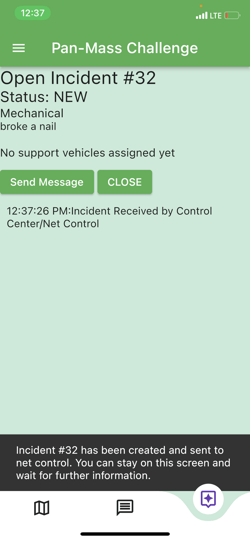 How Friends & Family Can Track Riders
Friends, family members, volunteers and riders can track PMC weekend riders directly from the new PMC Rider Tracking web app from their computer or mobile device.
This only works if the rider has enabled tracking through the TraQCentral Participant app.
1. Visit track.pmc.org. This link can be found in the main navigation of pmc.org listed as Track Riders.
2. On your first visit, you will be asked to register. Enter your name and phone number to register and be able to track riders for PMC 2022. A phone number allows the PMC to uniquely identify each person using track.pmc.org and to keep track of their favorites. The PMC will not text you.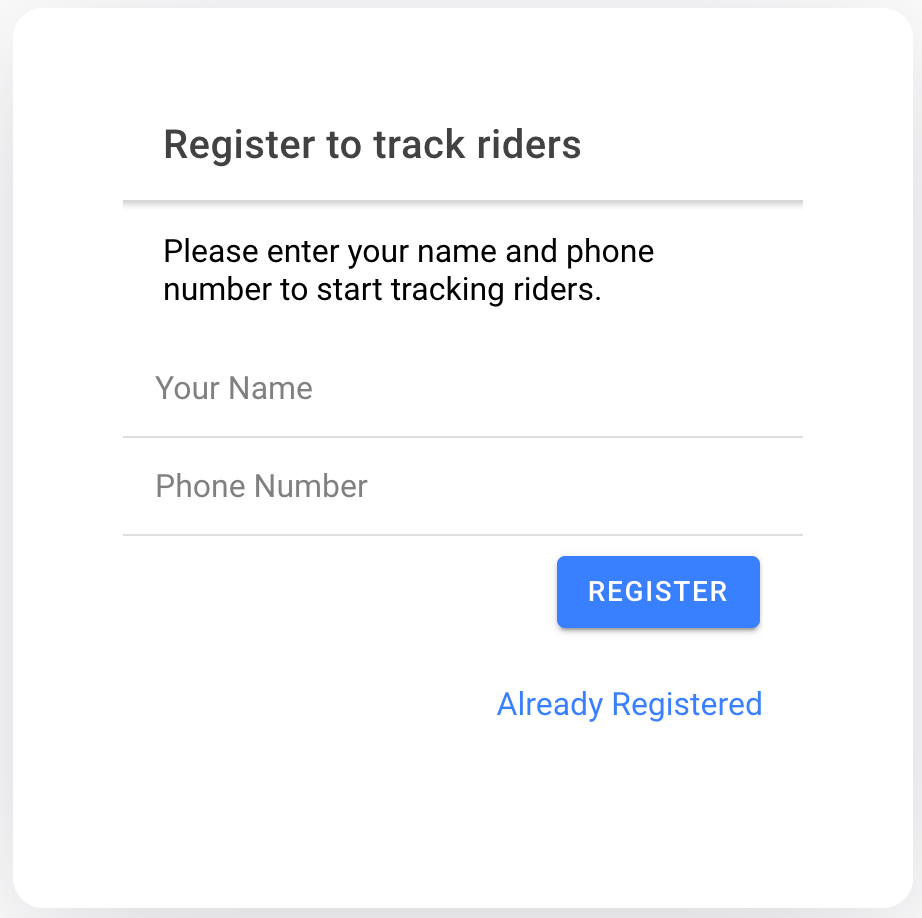 3. Once you register, you can search for riders and add riders to your favorites. Adding riders to your favorites will enable you to easily track them on PMC weekend.
Use Find Riders to search for riders or teams by name.
Search for Riders
To find riders, type in the the name of the rider. Search will return results based on partial entry for individual PMC weekend riders.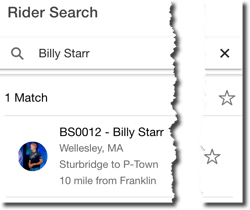 Add Riders to Favorites
Click the result row to add a rider to your Favorites. The filled in star indicates the rider is in your favorites.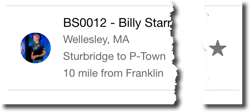 Search for Teams
To find teams, type Team ahead of the team's name. For example, search "Team PHAT Tuesday," not just "PHAT Tuesday."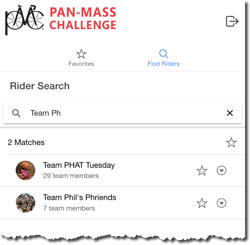 Favorite an Entire Team
Click the star in the team's name to favorite all of the member's on the team.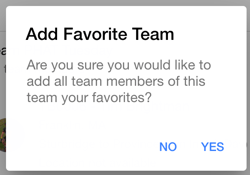 Favorite Individual Riders on a Team
Click the caret to see all the team members and favorite them individually.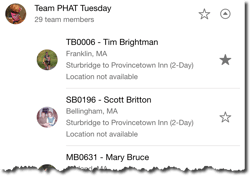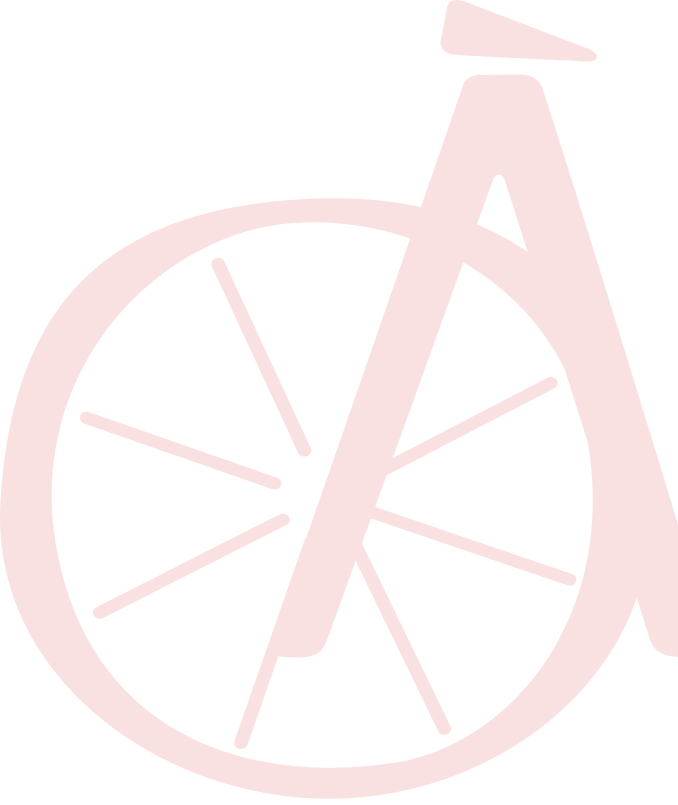 Use Favorites on PMC weekend (August 6 & 7, 2022) to see where your favorite riders are. There are three statuses:
<X> miles from <Y>
If the rider has TraQCentral on and started tracking, you will see up-to-date information about the rider's location (tracking is updated every 3 minutes).
Location Not Available
This status means there is no GPS information for that rider. This means that the rider has not downloaded TraQCentral and/or has not started the app before riding that day.
Not Sharing Location
This status indicates the rider has not enabled sharing in TraQCentral.
When each rider creates their account, they are prompted to agree to tracking and to allow TraQCentral to use their location While Using App. If this is not done, the rider's location will note show at track.pmc.org.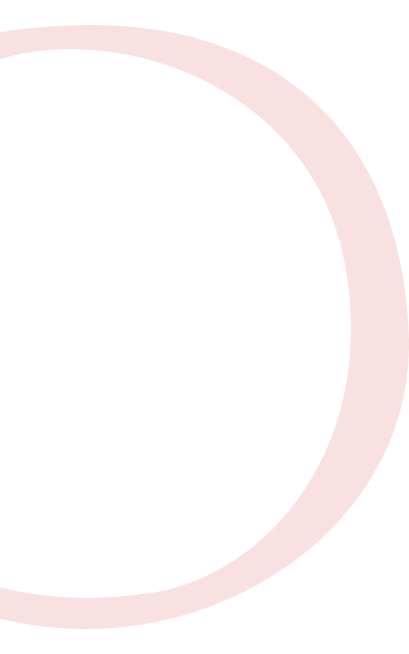 4. Click the caret next to the rider's name to access the map view, once tracking has started. Then click view on map to see the map view. Green and red icons indicate the start and stop points for the rider's route that day; blue icons are water stops.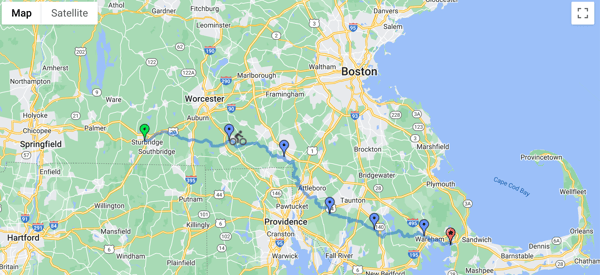 5. From the map view, click on the cyclist icon to see a street view of the rider's last location; location updates every 3 minutes.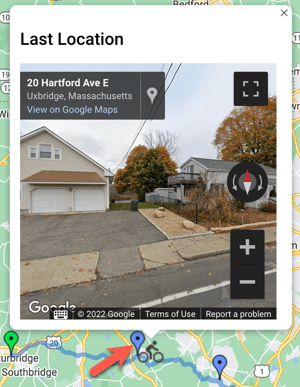 If you want to track your ride during PMC 2022, TraQCentral is the only way to do so. The PMC is not using RFID chips and tracking mats, as has been done in past years. Using TraQCentral will enable PMC Command Center volunteers to know your location if you request mechanical or medical support and will enable your friends, family and teammates to follow your ride. We highly recommend that all PMC riders use TraQCentral.

TraQCentral allows riders to be better tracked during PMC weekend; when using this app, riders' locations are updated every three minutes. In past years, PMC riders were only tracked when they crossed tracking mats at their start, entrances and exits of water stops, and finish. TraQCentral enables better tracking for riders and their friends/family and helps PMC Command Center volunteers better support riders.

Yes! Please download the app (available for iOS and Android) and create your account ahead of PMC weekend. The morning of your ride, select your route, start tracking, and then ride!

No, you must select your route and start tracking each day of your ride. The app will not start tracking you automatically during PMC weekend. If you do not start tracking each day, your ride will not be tracked for that day.

Enter your PMC egift ID in the bib number field when setting up your account. You can find your egift ID in your PMC Dashboard; click your name in the upper right hand corner, then click Account. It will also be on your PMC wristband, name tag and other event credentials.

No. Though it is impossible to test every brand of phone and configuration, TraQCentral does perform battery usage tests on a variety of phones. Depending on the age of the phone, a 10-hour ride used between 1% and 4% additional battery power with TraQCentral running in the background.

You should always call 911 in the event of an emergency. Cell phones operate in a special mode when calling 911 that utilize the highest quality cellular connection and position reporting to get help to you as quickly as possible.

After you've called 911 emergency services, please use TraQCentral or call 1-800-WE-CYCLE (1-800-932-9253) to report the emergency to PMC Command.

Your request for assistance is immediately received at the PMC Command Center with the nature of your request and your exact location. Command Center personnel review the incident and dispatch the nearest or most readily available support vehicle. You are notified once a PMC road crew vehicle is dispatched with its ETA. The system will display and update how far the vehicle is away from you.

Friends, family and teammates can track riders at track.pmc.org. Anyone can search for and favorite riders to follow their progress during PMC weekend.

Friends and family do not need to download the TraQCentral app.

The built in Friends & Family tracking allows you to share your ride with an unlimited number of contacts. Friends and family are provided a personalized link and web page where they can watch your up-to-the-minute progression on their route. The rider can also share photos while friends and family can send "shout-outs" to the rider.

The PMC encourages riders to use track.pmc.org.

Yes. The app can only communicate with the PMC Command Center when you have a data connection with your cellular provider.

The app only tracks your location during an active event. It will shut down automatically at the end of each day or when you exit the application, whichever occurs first. It also will not record your ride if you are more than a mile away from a PMC route.

You can also manually turn tracking off by clicking the menu icon in the upper left corner of the screen and clicking the "Stop Tracker" button.