#WhyIPMC guest post by Chris Aziz, 14-year rider
In 2003, a group of friends asked if I'd be interested in participating in the PMC from Sturbridge to Bourne, a one-day bike ride of 110 miles with a fundraising commitment for the Jimmy Fund and Dana-Farber Cancer Institute. At the time, I had lost my Uncle George to inoperable lung cancer. I had also seen co-workers battle breast cancer and stomach cancer and not survive, which left me with a general sense of helplessness. So, I said yes to the ride! I've participated every year since then – only missing two races over the last 16 years.
As a Stop & Shop associate, I was proud to join other colleagues as a fundraising team for that first ride in 2003, and the company matched our efforts that year. And the next! And then became a jersey sponsor! Over the years, I've taken great pride in the company's support of the Jimmy Fund and Dana-Farber as all 400+ stores have gotten behind the effort. Stop & Shop has donated more than $73 million to Dana-Farber over the years – and has even funded a pediatric brain tumor clinic.
Over the years, the PMC has remained a deeply personal effort for me as dear friends, the grandchild of a co-worker, and others have fought and lost their battle with cancer. It means so much to me that 100% of the funds raised by this event go to the Jimmy Fund and that the research it funds supported my father's successful treatment for lung cancer! The PMC contributes more money to charity than any athletic fundraising event in the nation, and I'm so proud to be a part of it.
This year will mark my 14th PMC riding on Team 9. In the ten years since Team 9 was formed, we've raised close to $3.4 million. My efforts on the bike and the amount of money I raise enables me to feel like I'm making a difference - and to feel a little less helpless.
I lean in to this effort each year knowing we are "Closer by the Mile" to a cure.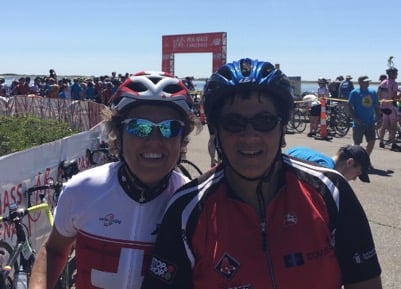 Chris Aziz and her riding/training partner Bea at the Provincetown finish. Chris is wearing her favorite Team 9 jersey proudly displaying the Stop & Shop logo!