#WhyIPMC guest blog by Rich Carr, 12-year Living Proof participant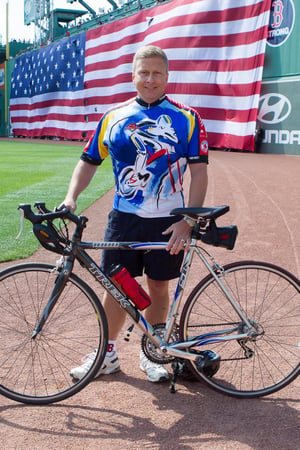 In 1997 at age 29 I never expected to hear the words "you have cancer". I learned that a tumor extended from my lower back to where I noticed a small lump on my abdominal wall. The testing, chemo-therapies and surgeries that followed were arduous but I emerged free from the invader that sought to take my life. It was ten years later when I, again, would hear the words "you have cancer". A second cancer diagnoses would bring me back to Dana-Farber for testing, chemo and surgery.
I benefited from the cancer research performed decades before I was diagnosed; research that was funded, so I have learned, in most cases by private research grants from non-profit organizations focused on finding cures for cancer. I am humbled by the idea that others, whom I will never meet and never be able to thank, raised money to pay for the research that lead to the treatments that, today, mean I can watch my daughter and son grow up.
I volunteer and ride with the PMC hoping that, someday in the future, the research being funded today will save lives. To have the ability to contribute to cancer research at a time when epic advances are happening is a privilege. I ride and volunteer hoping some day soon, cancer will no longer exist.