#WhyIPMC guest blog by Mary Worthington, 9-year Living Proof participant, Team Deb
I was diagnosed with non-Hodgkin's lymphoma one week before I rode the 2018 PMC. I had no idea what was in store for me. I hadn't met with an oncologist at that point and didn't know what my treatment or timeline would look like at all. I was consumed with worry over worrying those that I loved, particularly my three grown children. There was no question in my mind, however, of where I would seek treatment. That ride in 2018 was my 7th so I was already totally committed to riding for the cause and grateful to be a part of raising money for Dana Farber Cancer Institute. Riding with the PMC masses is an overwhelming experience - truly life changing. I have always felt it to be an honor to be a part of it and even more grateful during that 2018 ride for the tireless fundraising done by so many riders year after year that I was soon going to be a recipient of.
After what looked like a slow growing cancer transformed into a fast growing more aggressive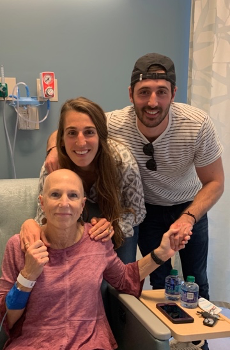 form, I underwent chemotherapy at Dana-Farber. There were some days that weren't really all that stellar but overall it was totally manageable due to the amazing support from my team at Dana-Farber and the tremendous love and care from those around me. My kids, my family and my friends were incredible. I couldn't have done it without them.
My treatment ended in June 2019 and I got on my bike just six weeks later to ride the 160+ mile route from Wellesley to Provincetown. The timing was perfect because if I had even one week less than those six weeks to recover from that last chemo treatment, I never would have been able to get through those 160 miles. The ride is always filled with emotion but that ride, obviously, was even more so. I laughed, cried and chatted my way through those two days. I had my son in law on one side and my good friend on the other for the entire ride. It was an extraordinary experience.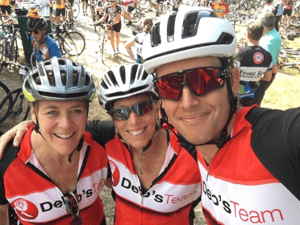 The support I had gotten from my diagnosis, through treatment and to the PMC weekend was humbling. Text messages, cards in the mail, phone calls, walks, gifts, jokes, runs and donors…. My incredibly generous donors lifted me above and beyond the heavy hitter status to the top 10%. I was overwhelmed with the magnitude of it all. I carried each and every loving gesture with me for each of those miles.
I am happy to report I am in remission and feeling great. I will always have this cancer and will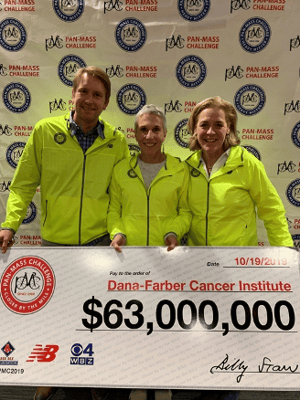 therefore be a Dana-Farber patient for the rest of my life but that is totally fine because I know that when something comes up again, I will have PMC riders and Dana-Farber on my side. In the meantime, I am so sad we won't be riding for 2020 but excited to participate in PMC2020 Reimagined and look forward to getting back to the road with the PMC warriors in 2021.
Why do I PMC? Because it's too important not to. We are not done yet!
Having cancer totally sucks. It is terrifying, humbling and mind-messing yet it has also been an experience for me that has shown silver linings and led to a much greater sense of gratitude. On my gratitude list is my family, friends, health, Dana-Farber, the Pan-Mass Challenge and having hair again!