#WhyIPMC guest blog by Mark Bamford, 5th-year rider, Captain of Team A-Bam
My son, Alex Bamford, was diagnosed at the age of 16 with Ewing's Sarcoma, a rare pediatric cancer. Alex's treatment was very intense given the aggressive nature of this cancer. He underwent 8 rounds of chemotherapy and 30 treatments of proton radiation in 2016 and 2017 at Memorial Sloan Kettering, and at Mass General over a nine month period. Alex missed his Sophomore year of high school, and returned to his school - The Taft School - in the Fall of 2017. He is currently a Senior at Taft and is committed to play lacrosse at The University of Michigan next year as a scholarship student-athlete. Alex was admitted to Michigan's undergraduate class of 2023 in the Fall, and was recently admitted to the Ross School of Business for their undergraduate business program - he is delighted! Alex is also a musician who composes his own music and DJs concerts when he has the time. He has a large following of listeners on Soundcloud and Instagram, and is interested in pursuing a music career going forward. How Alex is going to balance all of his pursuits next year at Michigan will be a challenge, but one he is delighted to take on. Alex's scans have been clear for 21 months at this point; we are delighted he is healthy and very confident he will stay that way! The picture below is of Alex, in the middle, my wife Allison, on the left, and Alex's brother Connor, to the right. Allison and Connor both support Team A-Bam, and Alex, in many ways.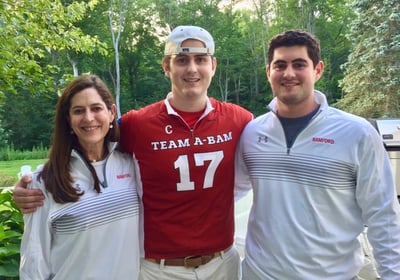 I formed Team A-Bam early in 2017 to ride in the PMC. I did so, because I wanted to do something positive to help him and to help others who are afflicted with pediatric cancers. Team A-Bam rode in the 2017 and 2018 PMCs, and will ride in this year's PMC as well. We do the Sturbridge - Provincetown route, and the team is comprised of 15-20 family members, friends and Alex's teachers. The PMC, as many Team A-Bam members say, is the best weekend of the entire year. We train and ride hard together, and we have a fantastic time doing so. We were all pretty close before Team A-Bam and the PMC, but we are closer now than ever, as virtually everyone on the team has been affected, directly or indirectly, by some form of cancer. There is much more to the PMC weekend than the 192-mile ride; it is truly a special, positive and wonderful event. The picture below is of our team after the 2017 ride, and includes riders and support team members.
As I mentioned above, there are very few members of our team who don't have either direct experience with a cancer diagnosis, or don't have a close family member who is battling or has battled, some form of the disease. As a result, Team A-Bam members ride specifically for Alex, but also for their own, or their family's encounters and battles with this disease. Pediatric cancers receive a small percentage of the total amount of money raised to fight cancer, but the research and treatment for pediatric cancers have a dramatic, positive effect on extending pediatric longevity and lengthening life spans. We direct our money raised - approximately $300k to date - to Ewing's Sarcoma research at Dana Farber, to help the team there with their battle with this rare but very aggressive cancer, so that more young people afflicted with this cancer can live long and healthy lives.
Team A-Bam is looking forward, very much to the 2019 PMC!