I first started riding in the Pan-Mass Challenge in 1997. I was riding to support one of my best friends and roommate at the time, whose father had died of cancer earlier that year. I had not ridden a bike in about 10 years and the bike I had was 5 years older than that. I honestly did not know much about the PMC in 1997, but looking back at it, I quickly realized that that the PMC Weekend was about one thing: People!
The first time you ride the PMC, you just fall in love with the whole weekend. From the 4000+ volunteers you meet, to the police officers that stop traffic so you can ride through the towns, to the 6000+ other riders you meet, to everyone cheering you on, to the whole meaning of the ride. Every person has a story to tell on why they ride the PMC and every one has special meaning. Over the years, the ride has become closer and closer to me personally and is now a special part of my life.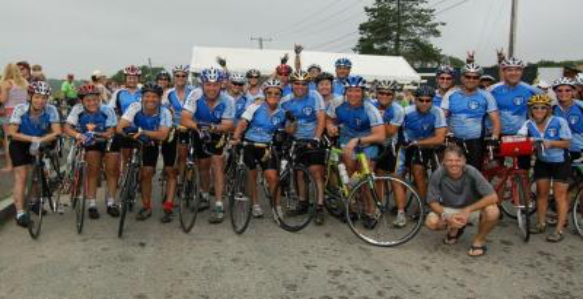 The PMC is also about family. When I first rode in the PMC I only knew a couple of people. Throughout that weekend I was able to meet and ride with an amazing group of people that made me laugh, made me feel like part of a team and pulled me through those 192 miles. I am happy to say that when I ride in 2017 for the 17th time, I will be riding with those same people. Once again, making me laugh and pulling me all the way to P-Town. PMC Team Fat Boy/Slim Sisters is my 2nd family and I could never imagine I would be so lucky as to meet a more special group of people in my life. Whether it has been supporting team members who have battled through and survived cancer or teaming up with the PMC in the Pedal Partner Program to ride in honor of Jimmy Fund Clinic patients, our team has been through it all together and formed bonds that live a lifetime.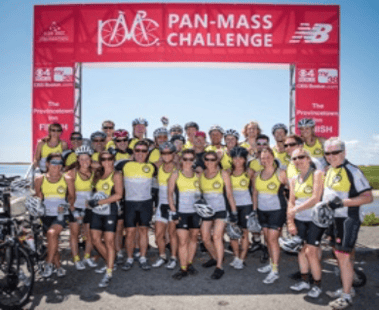 In 1997, cancer was still a relatively distant disease to my family and me. But that changed in 2006. I still remember the moment my mother informed me of my father's pancreatic cancer diagnosis in June of that year. I was just in shock. I think I was numb for about 30 minutes and then I just broke down and started crying.
My dad, a career electrician, and a man who loved his Lionel Model trains, was diagnosed with Stage 2 pancreatic cancer. The tumor was wrapped around vital blood vessels and cords.
The first time they went in to do surgery they had to pull back and abort. We weren't sure what to expect for my dad at that point. It was definitely a big blow. But my dad has always been a fighter. The doctors at Dana-Farber turned to chemotherapy and radiation to try to shrink the tumor. It worked, and a year later doctors removed most of the tumor. It wasn't a permanent fix, but it bought my dad and our family time. Although my dad put up a great fight, he unfortunately lost his battle to cancer 4 short years later. That was the hardest day of my life.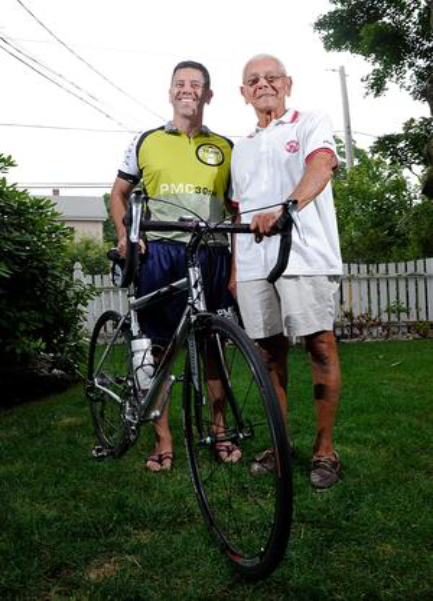 As close to home as that may seem like, it hit closer in April of 2009. My girlfriend at the time (now my wife) noticed a lump on the side of my neck. I was feeling fine and there were no issues to suggest anything was wrong. The lump wasn't really that big and if it weren't for my girlfriend I probably would have just blown it off. In July of 2009, I was diagnosed with thyroid cancer. I went in for consults with doctors from Dana-Farber Cancer Institute and Brigham and Women's Hospital. Surgeons later removed the tumor and six months later I was cancer free. It really puts a scare in to you and I think you look at the world a little bit differently on the other side of it all. Since then, there have been too many other family and friends loved ones lost and impacted by cancer.
Although never easy, living through these tough experiences and participating in the PMC has allowed me to see first hand what goes on at the Dana-Farber Cancer Institute. It has allowed me to see, meet and be amazed at the most generous, loving and care-giving people you will ever get to know. I will ride in the PMC as long as I am able to as a tribute to my dad, those loved ones who lost their battle to cancer and everyone that battle cancer on a daily basis.
The PMC isn't one of those events that you have to struggle to get motivated for. Even if cancer hasn't touched you personally, I'm sure for most people you're not too far removed from someone it has affected. The PMC is our avenue, our conduit and our means of empowering the army of doctors, nurses, clinicians, scientists, and support staff that are in our hospitals, laboratories, corridors, kitchens, and garages. These are the people on the front lines working tirelessly to make the dream of "no more cancer" a reality.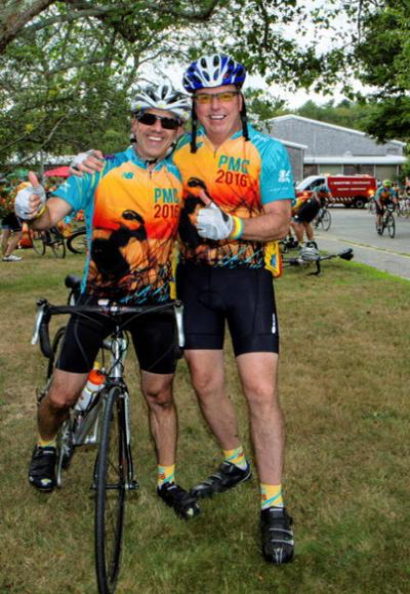 A lot of times, people will thank us, the riders, for riding. I always say riding is the easy part, it's the volunteers, the staff and everyone else involved that should be thanked and make the PMC a truly special weekend.