#WhyIPMC guest blog by Barb Riley, 20-year rider and Team Killer Beeze member
I started riding the PMC with three friends (Anne Bourbeau, Linda Medwar, and Donna Vanderlinden) 20 years ago when I was 36 years old. We each had our own story. At the time, I decided to ride in memory of my brother Chris who was diagnosed with Hodgkin's disease at 6 and passed away at 18, (when I was twelve) and for my sister Ellen who was diagnosed and treated for melanoma at age 30, breast cancer at 35. Little did I know at that time that Ellen would pass away at 46, my Dad would get liver cancer and pass away at 79 (the same year- 2001 as Ellen) and that my oldest Sister Joyce would get breast cancer in 2004 and ocular melanoma around 2010 and pass away at 64 in 2014.
My brother never really knew he had cancer. He knew he was very sick, but never gave up trying to be good at whatever he was in to. I recently connected with some of his high school his friends via. Facebook, and all these years later, it was obvious that he was very well liked by his peers and has not been forgotten, which warms my heart. He loved sports and when he couldn't play he was a team manager, he was an honor student and Prom King then he passed way too young. People really didn't talk about cancer much back then….now kids know from day one and have wonderful support thanks to the Dana Farber and other great organizations. I wish Chris had a pedal partner way back then…he would have loved it.
Watching my sisters and father battle cancer was brutal as my love for them ran deep (and still does). They were all such strong people, wonderful parents, and loved by so many. Joyce had three kids and Ellen had two. I now have six grand nieces and nephews with another on the way and more to come. My niece, nephews, and their kids bring me so much joy and I ride for their health and wellness through the years to come. This year one of my nephews (Ellen's son), Sean Bayles will be a first-time rider, along with Billy Nelson, one of his best friends who helped him through some tough years.
Both my sisters went to MGH, but supported the PMC and Dana-Farber because they knew the research at Dana-Farber supported MGH too. My parents and my sisters, brothers-in-law, nephews and their wives and kids have all been to one of the stops or P-town to celebrate the ride and our loved ones. Joyce, her husband, and their best friends volunteered one year when my sister was sick. She was exhausted, red-faced in the 90-degree temps, but worked her tail off…it's just how she ran. She was nick-named Joie-De-Vivre and we rode in her honor before and after she passed.
Over the years I have ridden the PMC with friends from several different teams, survivors and/or "thrivors", and sadly with rider friends who have passed. Over the years, the web of friendships/committed riders has grown and expanded our horizons and our commitment to the PMC. There have been many tears of joy and laughter, as well as, tears of frustration and sadness. Through it all, I continue to ride because it makes me feel that I'm doing something worthwhile when at times I've felt completely helpless. The exercise, camaraderie, support, and friendships gained throughout the years has made the journey a bit easier for me, but more importantly, it has made me feel like I can make a difference for my friends and family. The PMC has been an extremely organized and well-run event and I love the fact that 100% of the money goes directly to research.
Despite all the loss and the suffering that goes along with treatment, I still hold out hope because I've seen the changes and improvements to people's quality of life. A Hodgkin's disease diagnosis now means that someone can live a long, fairly normal life. My sister Joyce was able to get treatments that were not available for Ellen.
My dear mom passed away at the ripe old age of 90 this past summer but not without her own issues. I have left my Corporate job last year and am working 4 days a week now for a small consulting firm, focusing on "quality" of life, finally taking my bucket list trip to New Zealand this past Winter. I miss my family tremendously, yet I am very thankful to have had them in my life- they've enriched me, made me a better person- more sympathetic, more loving, and perhaps more spiritual. I feel that they are with me always. I choose to live life to the fullest and am committed to continue fighting for advancements in cancer treatment. I don't know if we will ever end it, but we can try.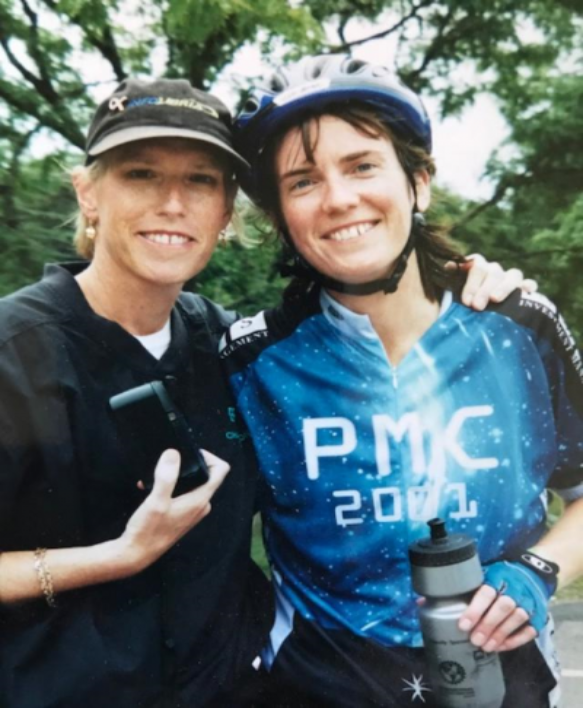 (My sister Ellen and me in 2001. This is a special photo for me because she had just got out of the hospital and still managed to come to the PMC event, camera in hand, to cheer the riders on. She passed away just six weeks later.)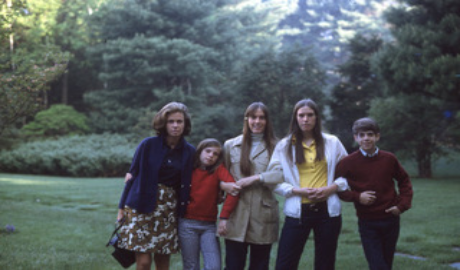 (My family photo that I found when going through my parent's old photos. Unfortunately, my dad is not in it. I actually don't have a photo with all of us together due to my father always taking the photos and my brother passing at an early age, but this is a good one of most of us in our yard in Dover. My mom, me, Joyce, Ellen and Chris (from left to right).)