guest post by Kim Fisher
I watched my father die of cancer when I was 21-years-old. It was the most heart-wrenching thing I – and my family – had ever experienced. I've never felt more helpless or numb in my life. What do I do? What CAN I do? How do I make this go away?! Why can't they heal him?!
I work at a university and many years ago one of my favorite students started to ride – he's amazing. He just registered for his fourteenth PMC and although I've supported his ride each year I found myself thinking – what can "I" do. More and more friends have been affected by cancer – some we've lost and some have survived – and the growing numbers are terrifying. So what can "I" do?
I started volunteering for PMC in 2009 – yes, that's what I could do, get in there and help. I'll never forget that first time – I was at a water stop unloading trucks at 4:30 a.m. and the excitement and comradery was nothing short of astounding. Everyone had a story – everyone had been affected in one way or another by cancer – everyone was there to help. When those first riders came through I was nearly in tears I was so excited and honored to be part of the PMC.
Fast forward to 2017: I've worked water stops, on the ship, cooking chicken, and my favorite – site beautification (a.k.a. you're on trash duty, lady). I'll never stop volunteering – it's too important; every effort helps to ensure the event is a success and it's heart-warming to know that the riders appreciate the volunteers as much as the volunteers appreciate the riders. This is a team effort from soup to nuts; together we work toward a common goal – together we succeed.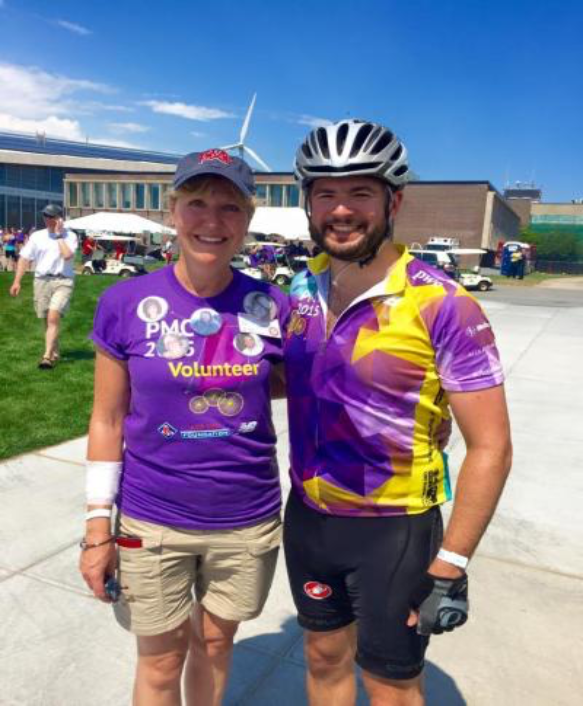 I wear my loved ones (in memory of and in honor of) on my clothes at every PMC – they are with me, starting with dad at the top. One day I pray the number of pins on my shirt will stop growing – one day I hope we can look back and remember when cancer WAS a problem but no longer is.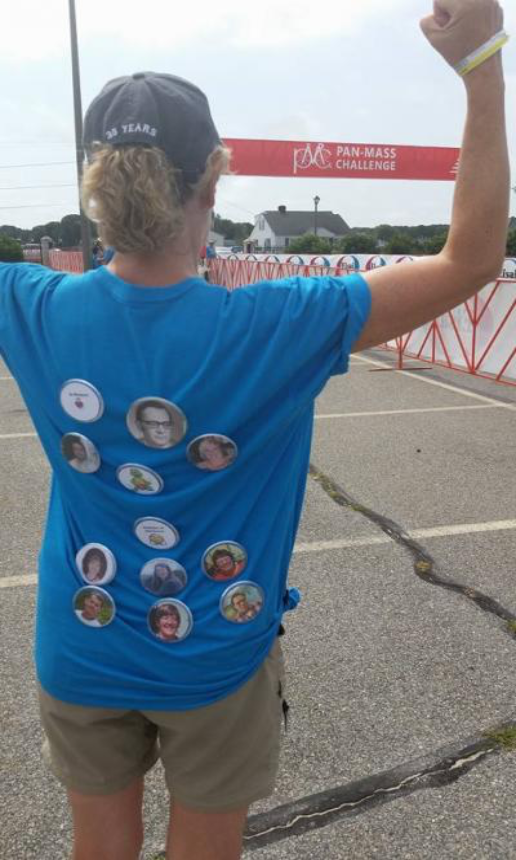 PMC is an indescribable experience – words pale in comparison to the energy, excitement, love and respect that envelops us all that weekend.
Thank you for all that you do, Billy Starr. Thank you to all the PMC staff, the riders, and all the volunteers. What a team!