#WhyIPMC guest blog by John Phelan, 11-year rider
Why I PMC.
In 2008 both my sister Kathleen and one of my friends from town, Jim Rice, were diagnosed with cancer. They were young, in great shape, and it was hard to believe this disease would affect them. I thought "I wish there was something I could do to help". And there was. Cancer had taken my dad in 1995, and I was familiar with the PMC so In early 2009 I signed up for my first Pan-Mass Challenge. I hadn't ridden a bike in 20 years, but that didn't matter to me – I wanted to do this. Training was VERY tough at first, but slowly, as the miles added up and I got stronger, I began to really look forward to the heat of August and "the ride". Sadly, as I trained Jim succumbed to the disease, passing at the too young age of 49.
I dedicated my ride to him that year, and although I had heard stories of how amazing the PMC was the actual experience blew me away. After the ride people would ask "what was it like?" and I'd simply reply "Love". That what it is – riders trying to help patients and doctors, volunteers helping riders, people along the streets cheering you on, and everyone – every single person – with a common cause – to see the end of cancer. It's the best of people.
We got some good news as my sister's treatment was successful, and I decided to commit to ride for 5 years. Sounded like a nice number. Then, as I approached the finish line during the 2013 ride, I scanned the crowd and saw most of my family, but my wife Cathy was missing. She never missed anything, and I had a passing thought that "something must be wrong with her." But I had no idea that our lives were about to be turned upside down.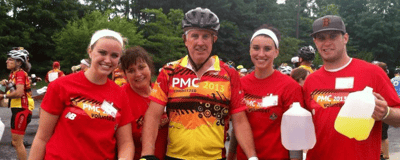 This is Cathy and our kids Elizabeth, Sarah, and Matt volunteering at the Whitinsville water stop in 2013. Seemed so normal that day, but just a few days later she was diagnosed with stage 4 colon cancer.
When I got back to our house she was bedridden and in pain. After a series of tests, we got the horrible news of stage 4 colon cancer. Ironically, Cathy worked as an endoscopy nurse, treating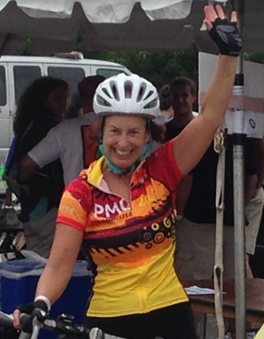 people and working to detect and prevent the very disease she now had. She fought courageously for 7 months, a time we got to see the doctors and nurses who work in the cancer field and how much they mean to the patients – they truly are an amazing group of people. But sadly in early March 2014 we lost her to the disease. It was the toughest time of my life. During those seven months we spoke often of the future – specifically of my future and how I would live without her. We had been together since high school and just celebrated our 25th wedding anniversary –and she was worried about me. That's who she was, always caring for others, even during her own treatment for cancer. She was a great mom, a caring nurse, a good friend, and a PMC volunteer – working the Whitinsville Water stop for several years. She was a truly beautiful person. She wanted me to keep living, to not give up, and to be happy. I promised her I'd do that, and I try to honor that promise every day. And my 5 year commitment to ride has turned into 10 – and I'll ride my 11th this year.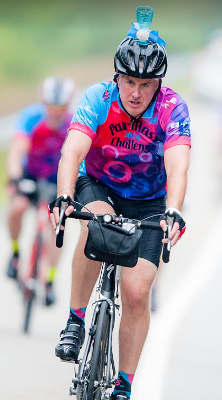 Me riding in the PMC 2014. Cathy loved the color blue, wine, and the ocean, so our helmet toppers are a blue wine glass with a sand dollar she had found on the beach
I ride for Cathy, and for Jim, and my dad, and everyone else I know who has been affected by cancer. And I plan to do so as long as I am able.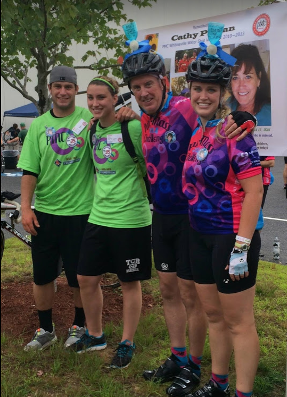 Me and our kids, Matt, Sarah, and Elizabeth in front of a poster honoring Cathy at the Whitinsville Water Stop. Elizabeth rode with me and Matt and Sarah volunteered!