My name is Jennifer Sweet, I live in Franklin Massachusetts, and this will be my second year riding in the PMC Sturbridge to Provincetown. I never really knew about the PMC until I cheered on my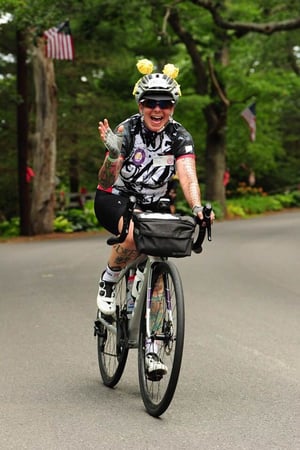 aunt as a first year rider in 2018. My whole family came out to cheer her on as she rode by my cousins house in Bellingham (which is on the route). I could feel the energy and emotions of all the riders and I knew I had to be part of that experience. I hadn't rode a bike since I was a kid nor did I have one. I bought a brand new road bike one week later. I started riding immediately. I bought an indoor trainer and trained all winter. I signed up for PMC 2019 immediately when registration opened. I was very nervous to raise $5,000 but I was determined. I ended up raising $15,371 my first year. I was blown away by the support I received. I actually raised the minimum $5,000 in 3 weeks. PMC 2019 was the most humbling experience I've ever had. I knew I was hooked and couldn't wait to signup for 2020. When I hear all the success stories of people beating cancer it's my motivation to keep training and raising money for the research. I have a very physical job as an Electrician and Electrical inspector so most days I don't want to train but the pain and physical exhaustion I go through when I'm training is nothing compared to cancer treatments. That's what gives me the strength to push through. Everyone has been touched by cancer in one way or another and that's why I became so passionate to do my part.
Anyone that donated to me last year in memory of someone I had their names body painted on me by my wonderful local tattoo artist on the Friday before I went to Sturbridge.