#WhyIPMC guest blog by Jeanne, 3-year Living Proof volunteer, and Paul Craigie, 8-year Living Proof rider, virtual rider and volunteer
"A bicycle ride is a flight from sadness, it is your freedom." - James E. Starrs
In 2013 my husband Paul Craigie rode his first PMC. Later that year he was diagnosed with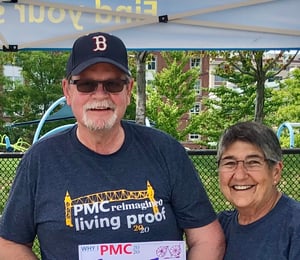 aggressive prostrate cancer, during that recovery time he made up his mind to ride the Pan-Mass Challenge 2 day ride ...in August of 2014 he did...it was for him his freedom from cancer and his passion to cycle for a cure, throughout the next 3 years he rode alone, or with a Team or friends and each year got better and better. Yes , all while raising money to help find a cure while cycling. Every year he had Pedal Partners. The first was for himself and family, then the next year had a helmet which donned the names of all we knew who were fighting or passed not an inch of that helmet was clear. He then rode for our dear friend Mary battling metastatic breast cancer then Joe battling Hodgkins and finally young Anna , a little girl from Switzerland who was in remission from Leukemia , the last remaining name on his helmet!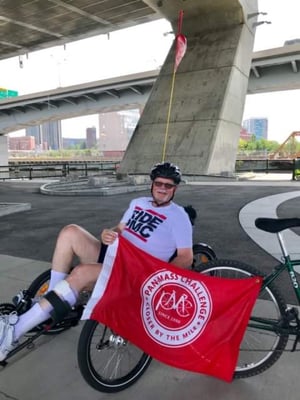 His passion, desire and commitment was as noble as it gets ...then in March of 2018 stricken with his severe hemorrhagic stroke. He withdrew from the physical ride of 2018 knowing he could not ride, but stayed connected and rode as a virtual rider...while not physically able he had to have a goal to once again cycle and cycle for a cure. Last year he rode his two day at Spaulding Cycling ...11 miles in two days...in the high heat along the beautiful wharfs with Olivia from Therapeutic Recreation Department at Spaulding. This was his two day..something we had hoped for but not sure it would ever happen..his freedom , his courage and yes his sweat.
While he is still unable to ride the streets this year we made a commitment to volunteer and ride virtually. The COVID 19 hit , he quickly switched gears into a virtual rider ... this past weekend he received several donations from family friends surpassing his small goal to over $1500.00.
Among those 6800 riders and 4000 volunteers are people like Paul who has this motto; in life you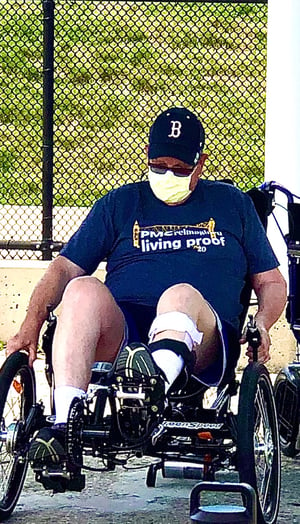 have three choices never give up, and never give in or give it all you have! The ride is really only part of the story, the people make it happen. He rides stationary two days a week at Spaulding with an amazing staff and clients socially distanced with masks outdoors. This year we honor with our donations Bernie , Kristen , Queenie and remember dear Luanne , Mary, Annmarie ...fight on warriors ..ride on Cyclists!
As a survivor and Wife of a rider who has greatest respect and love for everyone involved in the PMC. A wonderful event, a life changing experience.... Giving back and being here to do it is the greatest gift!
Research saves lives!
Many who are facing what is probably their greatest challenge, at one of the most difficult times in their lives. Go for it, being kind , while doing good and smiling!
A huge thank you to the PMC family for sending my husband And me our 2020 survivor (Living Proof) t-shirts . He has been driven to ride again and the cycling at Spaulding has allowed that to happen, he created his own two day ride because he found his inner strength.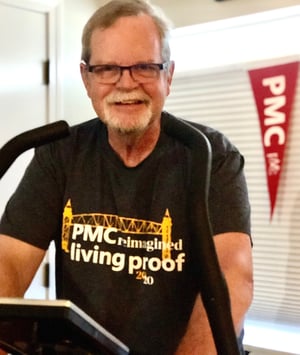 The day that shirt came he was so happy and proudly wore it to his next cycling session at Spaulding .
These pictures show his spirit one year ago and again this year before 2020 Reimagined PMC.
With much gratitude for all you do!