My first PMC ride was back in 2000 and I rode in support of my friend's Father, Ken, who was battling pancreatic cancer. I had participated in other fundraising rides in the past but quickly discovered the PMC experience was like no other. I met so many inspiring people along the route and even had the privilege of crossing the Bourne finish on Day 1 with Tom (3-time cancer survivor and one of the oldest riders that year) and his daughter Karen. The ride was magical. I distinctly remember turning onto Cherry Street in Wrentham, where every tree was decorated with a big red bow; a group of young children lined up with their hands raised high so they could high-five us as we passed; and the firehouses where firemen and women held up water hoses for us to ride through and cool down. The PMC isn't just a bike ride, it is a growing community of people who unite every August to support the fight against cancer.
In 2012, I fought my own battle with Breast Cancer and underwent surgery, chemotherapy and radiation treatments. Thanks to the support of my family, friends and the many caring and compassionate doctors and nurses along the way I am now cancer-free. Currently, I have a wonderful Oncologist – Dr. Michael Constantine of the Dana-Farber in Milford – who not only cares about my physical health but keeps close tabs on my mental health as well. A few years back I accidentally missed my quarterly appointment and apologized profusely for missing it. He cheerfully responded, "No need to apologize, I'm glad you're not thinking about it." That comment continues to speak volumes to me. The Dana-Farber staff is truly top notch.
So, why do I PMC? Because it's a community I am very proud to be a part of. Simply seeing the growing number of people in the LivingProof photos is inspiring in itself. As I prepare for my 8th PMC, I reflect on those I have lost and support the many people who have been affected by the disease in some way.
Special thanks to the countless number of people who make the PMC great, and of course to Billy for his tireless commitment to the cause. We got this!
My Journey:
PMC 2000:
Ken – sporting a PMC ball cap – cheered me on at the Franklin Pit Stop. In 2001, I rode in his memory. Such an inspiration.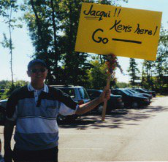 Ken with his Wife, Daughter and Grand Daughter at the Franklin Pit Stop.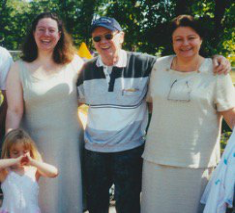 With Tom, Karen, Lee and the Lifesaver Sisters cheering us up the hills of Truro.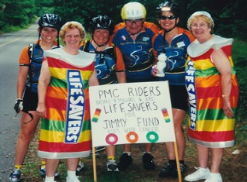 At the Brewster Pit Stop with my new friends Lee, Karen and Jack when he was only 5!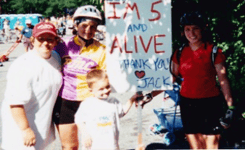 September 2012:
Celebrating the completion of my fourth and final chemotherapy treatment with my husband Steve, my sister Kathy and my cat Freyja – who is responsible for alerting me to the lump in my breast. One Saturday morning while we were sleeping she leaned against me a certain way that caused an unusual pain – it was then that I discovered the lump. I credit Freyja for saving my life!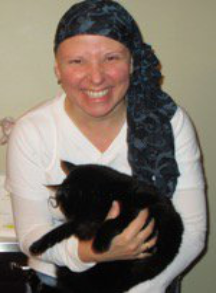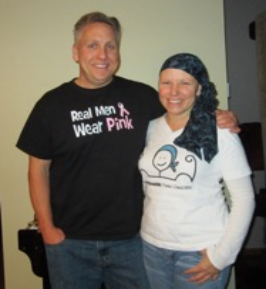 My sister Kathy – a long time PMC supporter – ordered personalized t-shirts for the entire family, hers reads "I wear pink for Jacqui" and mine reads: "I am stronger than cancer!" The support I received from family and friends was incredible – I couldn't have gotten through it without them.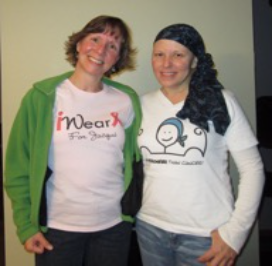 I adorned my helmet with felt flowers and each petal carried the name of a survivor or someone actively fighting Cancer that I personally know. There were 33 names in total and included individuals ranging from 5 months to 82 years of age. Cancer does not discriminate. My helmet also carried a flower with the names of those who courageously fought the disease and have since passed.