#WhyIPMC guest blog by Fiona Hannafin; current PMC Summer Intern / former Kids Ride Coordinator and Volunteer
When you're a kid and people ask you what you want to be when you grow up the typical responses are; astronaut, pop star, professional athlete, etc. As kids grow their passion and ideas mature with them. I was no different. My mom is a nurse, so I evolved through the career paths of doctor, nurse, and scientist. Never a germaphobe or squeamish, I could tackle any calamity head-on. When my dad had surgery, I was his nurse at the age of five equipped with a stethoscope and my mom's nursing cap making sure he was icing and elevating. I was sure I would be a nurse or doctor as that was how I understood I could help others and make a difference.
At the age of seven, I really honed my focus to oncology, I wanted to be a "cancer doctor." My friend was diagnosed with neuroblastoma. I was too young to understand what was happening, but I knew he was sick and he could not always participate in what we were doing. His mom always found a creative way to allow him to join the fun that was less risk to his health. When he could not swim in the pool due to his porta-a-cath or white cell count, she armed him with a water gun and we would spend hours laughing and dodging his splashes. I can still hear his laughter as we splashed around in the pool and he chased from the outside. I can easily recall his spider-man costumes and watching the Patriots while eating mini-hot dogs with spicy mustard, his favorite. The profound loss I felt at the age of seven when his battle with neuroblastoma was over is still palpable. To this day I struggle with the weight of this loss for all who knew my funny, silly, beautiful friend. His mother was the pillar of strength to her sons, her family and his friends. Through this total, life altering devastation this amazing and inspirational woman started an organization and wrote a children's book titled, Joey's Blood Buddies to help pediatric cancer patients understand what was happening in terms easily understood and relatable to children. Her characters are the team who fight cancer, Mr. White Cell, Mr. Red Cell, Madam Platelet and of course the head of the team, Dr. Senor Stem Cell, all working together to fight the Curious Cancer Cell. This amazing woman, whom I have always admired, took her utter devastation and turned it into something useful and incredible for other families.
After my young friend's death, I could not sit back. I wanted to do something so no family had to suffer the way my friend's family had suffered. Even as a young child I knew the sadness was too great. I had heard of the PMC, my dad had ridden once and my mom had volunteered. They often talked about their experiences with the PMC. My brother and I decided to sell hermit crabs at the beach for a quarter to donate money to the Jimmy Fund in honor of my friend. I remember one man gave us $5.00 just to put the hermit crabs back in the ocean. We raised $35.00 and donated it all to the Jimmy Fund. We raised money through lemonade stands, and when I was old enough, I began volunteering at the Barnstable PMC water stop on PMC weekend.
In 2008 my brother Ian and I heard about the PMC Kids Rides, although we had moved to Maryland we contacted the PMC and inquired about hosting a ride. Even though Ian was only 13 and I was 11 the PMC gave us tremendous support. We rallied our friends from school, church, sports and posted signs all over the county. that first year I think we had 35 riders. Our ride started small but for two young kids, I thought it was a huge success. We continued our annual PMC Parkton, Maryland Kids Ride for 8 consecutive years. It became an annual summer event in Baltimore County. We had about 70-120 riders per year and raised almost $40,000!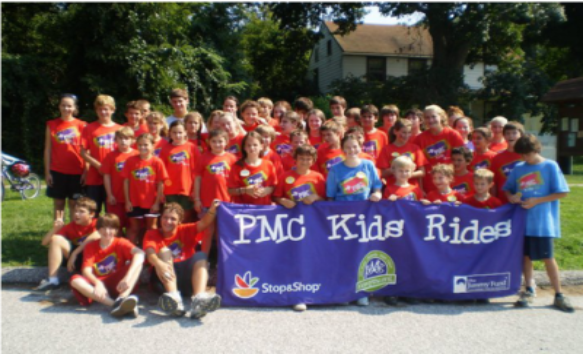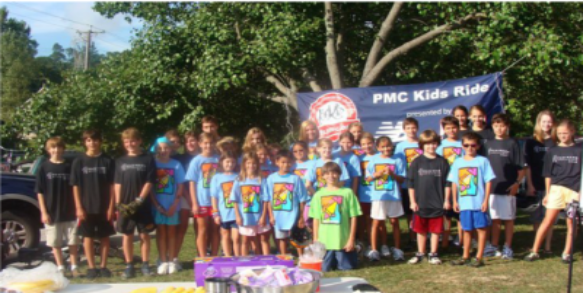 (The first and second Parkton PMC kids rides)
While in high school my passion for science took a back seat as I discovered the humanities and a love of language. I still wanted to make a difference in the fight against cancer, but I knew I would not be doing it from a laboratory. I would be doing it with rally cry. I wanted to motivate and instill my passion in others through philanthropy and giving back. Cancer continued to affect those around me. The day after our final Parkton PMC Kids Ride, our biggest supporter through our first seven years, my kind, hilarious, and loving grandmother, succumbed to ovarian cancer. In eighth grade, another friend lost his battle to leukemia. I worked to co-create create a Senior Swab Day where seniors in high school could register for the National Bone Marrow Registry. To this day we have registered 2,000 students to the registry and found 8 matches! During my junior year a girl I was blessed to call a friend, lost her battle to melanoma. Seeing the impact her fight had on my community was powerful. By the end of the school year almost every student in our small, all girls in high school had cut and donated her hair to Pantene Beautiful Lengths. People want to help and want to know their efforts will make a difference. I want to help them figure out how to find their passion and direction.
When I decided to attend college at Boston University it made perfect sense to contact the PMC and inquire how I could use my passion to continue to support the PMC mission. I applied to be an intern at the PMC Needham headquarters. It was the best decision I have ever made. Seeing first-hand the inner workings of how Billy took his own grief and turned it into something so amazing and selfless is an awe-inspiring experience that I will hold with me forever. Growing up in school I was once asked, "If you could meet anyone in the world for dinner who would it be?" My answer was Billy Starr. When I came to the PMC to interview for the intern position, I was "Starr" struck.
The PMC was my catalyst early on to make a difference. In turn, I believe my passion has inspired others or a least demonstrated how giving a little of one's self can create a greater impact in the community and the lives of others. I believe our support and passion here at the PMC will bring the resources to the scientists in the Dana Farber laboratories to help find the cures so desperately needed. No family should have to suffer, the burden it too great. We can and must make a difference. The PMC has made this difference possible for so many patients and I am humbled to be a part of something so amazing.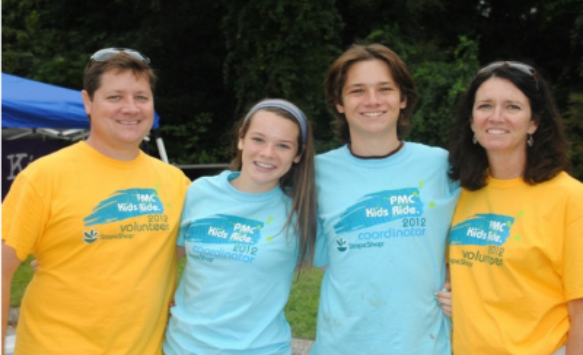 (My brother, Ian, and I with our parents at the 2012 Parkton Kids Ride)