A major reason why I cycle in the PMC can be seen dressed as a shark in the photos below.

Theresa Welsh, 12-year PMC-er, Living Proof rider, member of Team Kinetic Karma, shark impersonator, laughter enthusiast, also happens to be my partner.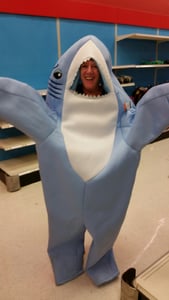 A 2016 melanoma diagnosis and surgery were followed in 2021 by metastatic melanoma, more surgery, and current enrollment in a multi-year clinical trial at Dana-Farber. In 2021, a group of friends helped her to reimagine the ride, in 2022 she was back at it, and in 2023 I'll ride with her in my very first PMC.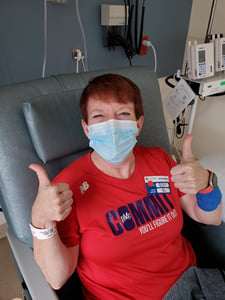 Supporting the PMC mission of raising funds for cancer research and treatment at Dana-Farber is a cause close to my heart. Theresa, her dad Ed, and many of our friends and colleagues, have received their treatment and care at Dana-Farber. I believe that if you're looking for hope personified, you'll find it within the walls of this amazing institution.

I'm grateful for the strides made in cancer research, and for the phenomenal care received at Dana-Farber – which is all made possible by funds raised by the PMC community. My hope is that I can give back and contribute in a small part to the goal of cancer one day becoming a distant memory