#WhyIPMC guest blog by Amy Oliver, 2-year participant
I ride for my guardian angel (always) and I ride because I almost couldn't (again)! My statement for the 2018 PMC and now again in 2020!
I'm back riding the Pan-Mass Challenge in 2020 for an even greater cause. So many of us have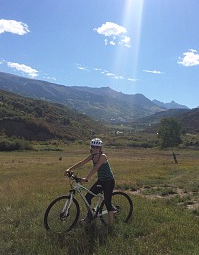 been connected to someone living with cancer or someone has gone through the fight. A few weeks ago I was too. Receiving news that Marc Harding, a long time college friend, has cancer. I knew the PMC is what I had to do…to help and show my support to him. I told Marc I was riding for team #FOW (a hashtag he has named his tumor aka for all those with potty mouths - F Off Walter). As he starts his fight, I start mine – a fight against cancer, one pedal at a time!
I completed my first Pan-Mass Challenge August 2018; a goal I thought might never happen and almost didn't. I set my goal after my father passed away and promised myself that I would ride before the age of 40. But just before I turned 40 I heard four little words that stopped my tires right in its tracks You've had a Stroke. I thought I was done, never completing my bucket list! But Big Steve got in my head, reminded me to never give up as he always did and I know he pushed me that August 4th day. My father was an avid cyclist (and skier) and always pushed me to attain my goals. I didn't want to let him down or me. Together with him looking down on me we pushed to the finish line through the rain. It was an amazing feeling, a feeling of incredible accomplishment. I knew I had to do it again.
But in September 2018 during a simple weekend ride, I crashed, suffering head and neck injuries and was incredibly lucky they were not more severe. PMC was not even an option, it took me over 10 months to get back on a road bike. But I made it!
Unfortunately, I unable to ride the weekend of the PMC so instead I have become a virtual rider for the PMC this year. A virtual rider is a unique program that allows those unable to ride on August 1st a way to be part of the PMC goal to fund cancer research at the Dana-Farber Cancer Institute. The key for the virtual rider program as stated by the PMC is the rider's passion for fundraising, a belief in the PMC and the desire to be small part of a path to finding a cure. I TRULY believe in all of that! On Saturday, June 20, 2020 I'll ride my own PMC here in NJ. I will ride for Big Steve; my guardian angel, I will ride for the 2nd (and 3rd) chance I was given at life and now I ride for #FOW and to support my good friend Marc Harding.
Please consider making a donation to honor TEAM #FOW, to honor Marc and for all those that can't ride! Thank you so much!