#WhyIPMC guest blog by Haley Holland; 17-year PMC participant / Team Bourne to Ride member
My involvement in the Pan-Mass Challenge started in 1993 when I was just a year old and my nana Bette Geilear passed away from lung cancer. That year my aunt Patti rode with her father-in-law, Tom Phillips, who at the time was the oldest rider. My mom volunteered for the first time that year along with my Papa and many other family members to honor my Nana. Two years later, my mom was thrust into coordinating a water stop and has been continuing with it for the past 23 years. Although the water stop location has changed many times, it has always been the stop after lunch with the Pedal Partners. When I was three years old, I made my PMC debut at the stop located at the Bridgewater Veterans Club. I didn't do much but hold a sign, wear a costume, and look cute but I was there clapping away.
It started out as a fun weekend where we could cut up lots of fruit and tell people they're "looking good". As the years went on it continued to be a fun weekend but the themes became more intense and we really got into the costumes. We would do line dances and make up songs. In the weeks leading up to the ride my cousins would come over and help my sister and I make posters and color signs; some inspirational signs, some mile marker signs, and some for our own family. We would get so excited to get the truck from headquarters. We decorated the outside and my favorite part was pulling out the Pedal Partner signs and seeing which teams were sponsoring which child. At the end of the Saturday ride, we would also have to return the truck to MMA which was a highlight. The atmosphere inside MMA is electric. We would dance and eat and celebrate the end of a successful first day. My mom liked to be there so she could enjoy the living proof celebration and get in the picture.
A few years we even went to Truro and stayed in a hotel. We would wake up before dawn to camp out on the side of the road to be sure we gave those speed riders some motivation. We would stay late and give the last riders the motivation to keep going because they needed it the most. The years we didn't go down the Cape we would be in Bridgewater; right at the end of my neighborhood, to cheer on the riders doing the one day ride back to Wellesley. My mom has taken me to heavy hitter dinners and we have gone to check presentations. All these amazing aspects of something bigger than just one weekend. It was always more than just that weekend for us. The week leading up we would get ready and the week after we would wind down and think about our theme for next year.
As I got older I began to realize that it's not just about the fun and celebrating the riders' efforts. I started to notice more of the logistics and the effort it takes to coordinate the stop. There are so many moving parts that I never totally noticed. There are people to keep in contact with the few days before the weekend to make sure the stop is ready, making sure you are talking with your volunteers, checking in with the bike mechanics, showing up on Thursday to supervise the company setting up the tents. I respect my mom for all her hard work over these years. Being able to run a water stop with a few hundred volunteers all while thousands of riders roll through is a lot of responsibility and she always pulls it off.
I used to say "when I'm 18 I'm riding for my first time". That was before the age was 16 years old. Although it took me some time to register to ride, I've been in the background volunteering my whole life. With all that time serving the riders under my belt, I was so appreciative being on the other side as a rider. All of the volunteers who would come right over to hold my bike for me or make sure I had fresh water. The people in their driveways along the route with chairs set up handing out popsicles. These things that seem so small and were quite easy to do as a volunteer now made me so thankful as a rider. It made me emotional thinking about how many people I probably helped get through the day over the years. It was a very rewarding realization and made my first time riding very eye-opening.
My first year riding was something I will never forget. I rode with my friend Kerry and her dad Sean who had ridden a few times before with a team called Bourne to Ride. Everyone on the team really helped make it an amazing first time and eased my nerves completely. I had a ton of support and family following me all along the way which also made a huge difference in my positivity during the day. We had made a wrong turn and went off track a few miles but ultimately ended the day in decent time.
My second year riding with the Bourne to Ride team was just as great as the first. Even though it was only my second year I felt like a seasoned pro! The team spirit helped a lot again and knowing what I was in for made a big difference. Kerry and I had a better ride and finished stronger than the year before despite the rain.
This year I will be riding the PMC SOLO! This is going to be a personal challenge for me and I'm actually excited to have a ride all to myself. I know it will change the whole dynamic of my ride and the day as a whole but I'm not worried. I have all the support of my family and friends, not to mention a whole lot of angels pushing the wind at my back.
In my fundraising letter, I wrote " The PMC is a family and you'll never know until you get involved. Donate, Ride, Volunteer, whatever works for you but I promise your life will change forever." Your life will change forever and you will be hooked! Whether you have been affected personally or know someone who cancer has affected it will be a hugely rewarding experience. My family has been affected by cancer in too many ways and that is why we PMC. I PMC for my family, for your family and everyone who has been affected by cancer.
I PMC for future generations to see a day without cancer. I PMC to make sure that we have the resources to make that happen. But at the end of the day, I PMC because it is part of my family and something that will continue to be in my family for a long time.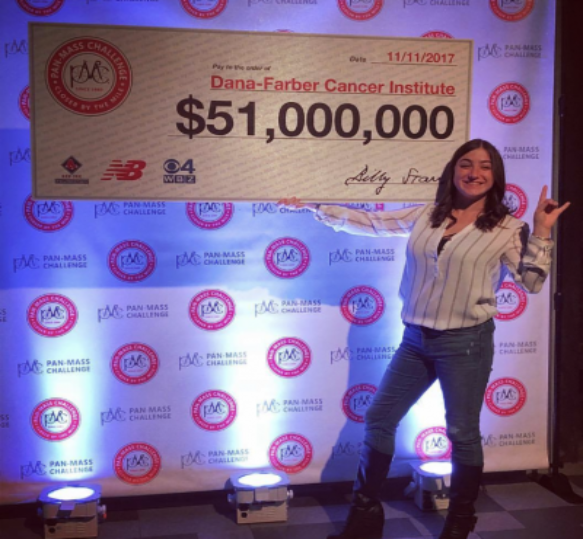 I am Haley Holland, I am Committed, and I PMC.