#WhyIPMC guest blog by Alan Einhorn, 35-year rider, Captain Team Bill
This year will be my 35th year riding the PMC. For four of the last eleven years, I captained a fund-raising team for the PMC called Team Alpana, named for a young, smart, vivacious colleague in my law firm who died of cancer, way too early.
I was unfortunately inspired to change the name of my team--not because we no longer ride for Alpana--we do; but because, in May seven years ago, I lost a very close and very dear friend of mine of over forty years to this dreaded disease. Bill Copacino was a wonderful and loving husband to his wife Jan, father to 3 great kids, and brother, a great friend, and a great guy. He was also an accomplished athlete and an extraordinarily successful businessman and philanthropist. It was only seventeen short days between the date Bill learned that the cancer he had battled for 10+ years had metastasized and his death. Yet, during that time, Bill was the warm, gracious, charming, funny, energetic and incredibly organized human being he had always been--only more so. In those seventeen days, Bill accomplished more than the rest of us ordinarily accomplish in a year. He made sure his personal affairs were in order (I'm sure they already were), personally went out and purchased a family cemetery plot and planned his funeral, facilitated the transition of his Board chairmanship at the Carroll School to his successor, informed and said good-bye to his many friends, spent loving time with his wife, brothers and family, attended his daughter's high school softball games (she subsequently became a starter for four years on a Tufts Division III team that was national champion for two of those years and will soon be going to medical school), and attended the college graduations of his twin sons--one in upstate New York and one in Atlanta, Georgia. He was, and always will be, an inspiration, and with his passing, the world is a lesser place. He is truly missed.
About four years after Bill's passing, I unfortunately had another very good reason to ride the PMC. Another of my very closest friends from college, Jim Gordon, lost his extraordinarily valiant, difficult fight against multiple myeloma. After five separate hospitalizations over a one year period, Jim received a bone marrow transplant and underwent massive bouts of chemotherapy. The prognosis initially looked good, but things turned in an ominous direction and, though he fought the good fight with incredible grace and good humor, ultimately cancer won. Jim was a great guy, a great friend, and a tough cookie. His extraordinary support system, comprised of a LEGION of MANY friends and family, was a wonderful testament to both him and his wife Ann. Jim was another true friend I was lucky to have, and I, and all who knew Jim, miss him and think of him (and think of that twinkle that was always in his eye) often, and with a smile.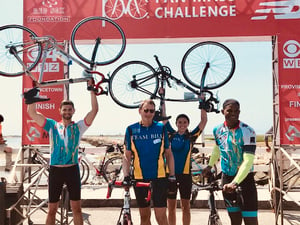 I am fortunate to be joined on Team Bill by my children, Alexandra and David, and our friend, Kennie Taylor. Neither of my children is able to ride this year (Alex, because of an out of town wedding and because she is expecting our first grandchild, and David, because he is living in LA and working for SpaceX), but they have ridden the PMC for ten and nine years, respectively. Team Bill rides for Jim Gordon and his wife Ann, for Bill and his wife, children and brothers, for Alpana, for many other friends who also battle this disease, and for everyone else who is battling, has battled, or who cares for someone who is battling or has battled, cancer.
During the last 34 years, I have watched the PMC grow into an incredibly efficient, effective, and innovative fund-raising juggernaut, which does extraordinary work on behalf of the Dana-Farber Cancer Institute's research efforts. I have also watched the PMC become a gigantic family, which has built a unique sense of camaraderie and mission-driven focus among riders, volunteers and those touched by cancer. The result has been an experience which is both inspiring and gratifying. The PMC has become an important part of my life, and I plan to continue to ride and support this wonderful event, and its cause, for many years to come.