Dear PMCers,
I am honored to share details about how your monumental work drives discovery at Dana-Farber and continues to make this one of the most remarkable partnerships in the nation. The PMC has now given more than $547 million to Dana-Farber Cancer Institute since 1980 and continues to raise more money for charity than any other athletic event in the country. What an incredible achievement! I recognize that it took enormous effort from every rider, volunteer, sponsor, and supporter to reach this extraordinary level of support for our research. On behalf of our patients and families, thank you.
The 2016 ride was one of my first experiences as the incoming President and CEO of Dana-Farber, providing me with the opportunity to witness your passionate and dedicated supporters in action. This ride and the people I met along the way truly left me thrilled to step into this leadership position.
Dana-Farber is so very fortunate to partner with the PMC and we are leveraging the funds you raise to further our mission to reduce the burden of cancer. With consistent support on such an impressive scale, the PMC has played a pivotal role in nearly every advancement made at Dana-Farber over the past three decades.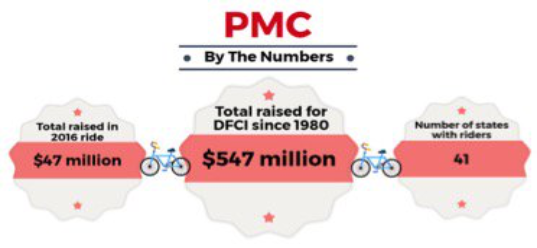 Leading the Way in Research: This is an amazing time in cancer medicine. Physician-scientists know more each day about the underlying causes of disease and are pursuing novel therapies. The PMC provides flexible funding that supports Dana-Farber's most pressing needs and drives our leadership across disease areas and initiatives.
Precision Medicine: Dana-Farber is committed to developing therapies that target individual cancer-driving mutations. For instance, Dana-Farber investigators identified a new mechanism underlying triple-negative breast cancer and are now exploring what could potentially be the first-ever targeted drug for this challenging form of disease, which accounts for 15-20% of breast cancer diagnoses.
Profile: Through our Profile program,we were the first and we remain the only institution that aims to acquire a genetic profile for every patient who walks through our doors. We have now acquired a genetic profile for more than 16,000 tumor samples, enabling us to explore new targets and therapies.

Immunotherapy: Discoveries made at Dana-Farber have transformed scientific understanding about immunology—my personal area of research—and clarified the role of the immune system in cancer. Dana-Farber's Gordon Freeman, PhD, discovered the PD-1 protein and spearheaded research that led to FDA approval of a PD-1 inhibitor to treat melanoma. Therapies that harness the power of the immune system are now approved to treat 6 types of cancer, including 2 new FDA approvals in 2016. F. Stephen Hodi, MD, and his colleagues are leading new clinical trials and studies to further expand use of these drugs for patients with different forms of cancer.

Novel Detection Approaches: Dana-Farber scientists including Geoffrey Oxnard, MD, are exploring the use of liquid biopsies, which are less invasive and could provide a new, low-risk way to detect cancer-driving mutations.
The Role of Lifestyle Factors: Our physician-scientists discovered that having higher levels of vitamin D can benefit patients with colorectal cancer. To learn more about otherlifestyle factors that could impact outcomes and risk, they are leading studies exploring the roles of exercise, dietary patterns, aspirin use, and more.
Providing Comprehensive Patient Care: Thanks to the incredible commitment of everyone involved with the PMC, Dana-Farber can continue to provide compassionate care to address the complete needs of our patients and their families during treatment and survivorship.
Beyond Therapy: We proudly offer the finest patient care services, including emotional and psychosocial support, spiritual care, financial assistance, and nutrition counseling. Since these services may not be covered by insurance, PMC funding ensures we can continue to offer these important measures.
Understanding Financial Burden: A study by Kira Bona, MD, highlighted the financial impacts of a pediatric cancer diagnosis on patient families. Her survey found that 20% of surveyed families were low-income at diagnosis and almost 30% of these families faced food, housing, or energy insecurity 6 months after diagnosis. More than 50% of employed parents reported working reduced hours and losing wages, including 15% who were laid off or quit their jobs to care for their child. Our researchers are using these findings to shed light and help alleviate the economic burden on these families.
Bridging the Funding Gap: In this challenging federal funding climate, philanthropy fills a critical gap. Our partnership with the PMC enables us to direct funds to priority programs that need them the most and allows physician-scientists to pursue their most promising, innovative research.
Supporting New Ideas: Junior-level investigators often need support to bring their fresh perspectives and budding ideas into fruition. PMC support is used to encourage researchers to continue pushing the envelope in cancer science.

Providing Hope: Rare cancers and aggressive forms of disease often attract less funding, but are areas where new treatment options are desperately needed. Philanthropy provides the resources investigators need to better understand these cancers.
Enabling Critical Enhancements: We rely on PMC dollars to make enhancements across our campus that help us stay on the cutting-edge of progress. It is hard to believe that Dana-Farber began as a small basement laboratory started by Sidney Farber, MD, and supported by two assistants. Fueled by the PMC, we have continually expanded to accommodate our growing research programs, clinics, and more than 4,500 faculty members and staff.
As these highlights demonstrate, ours is a truly remarkable partnership that is integral to our work at Dana-Farber. Please know how grateful I am for your passionate dedication, which has been critical to our progress. I am so very excited to ride with you all again soon, and to continue working together toward our shared mission. Not unlike a 192-mile ride, the challenges ahead in cancer medicine are formidable but not insurmountable. Thanks to the unwavering commitment of PMC riders, volunteers, and all supporters, the future of Dana-Farber and cancer care is bright.

President and CEO
Dana-Farber Cancer Institute