Dear PMCers,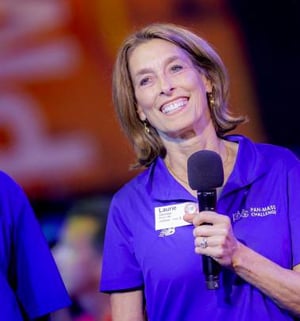 For four decades, you have taken us on an amzing ride! Since 1980, the PMC's partnership with Dana-Farber Cancer Institute has generated a staggering $654 million to foster adult and pediatric patient care and research at the Institute. So, it is fitting that this year's 40th anniversary is represented by the ruby, a gemstone that symbolizes eternal commitment. A special thanks to Billy Starr and everyone on the Pan-Mass Challenge team for your tireless efforts, organizing and contributing to this amazing feat year after year.
Your unshakeable dedication in 2018 led to another record-breaking year for the PMC, when you raised $56 million to further strengthen our shared goals. Congratulations to all of you — 6,345 riders, including hundreds of cyclists who are cancer survivors or current patients, as well as volunteers, sponsors, supporters, and staffers. I was thrilled to take part in my third Pan-Mass Challenge last year, and to meet many of you along the way. On behalf of our patients and families, thank you for your Herculean tour de force!
As Dana-Farber's largest single contributor, the PMC plays a critical role in our mission to reduce the burden of cancer. Year after year, the PMC's consistent and impressive fundraising has fueled innovations in discovery science and enabled us to maintain the highest standards of excellence in patient care. I am honored to share some highlights of how PMC funds have bolstered our work.
Leading the field in discovery and innovation
Dana-Farber is at the vanguard of two key revolutions in cancer science: immunotherapy and precision medicine. Thanks to the funds raised through the PMC, our physician-scientists are leaders in these areas, while also making inroads in early detection of cancer.
Immunotherapy: Our investigators have discovered that a class of retroviruses present in all human cells could provide a potential target and create a radically new approach to immunotherapy. Now, Dana-Farber researchers are working hard to discover biomarkers that could identify, in advance, which patients are likely to respond to immunotherapy. In one study, for instance, our scientists have singled out biomarkers in melanoma that could tailor immunotherapy treatments to maximize the benefits for patients while reducing the likelihood of severe side effects.
Precision Medicine: The Institute has made significant headway toward treatments that target individual cancer-driving mutations. Among the milestones: a recent study that shows real-time DNA sequencing in advanced pancreatic cancer can guide precision medicine treatment and improve patient outcomes. In addition, Dana-Farber has launched the Thyroid Cancer 360 Program, which specializes in targeted treatments to improve diagnostic and treatment strategies for patients with advanced and aggressive thyroid cancers. And, our emerging research in
precision immuno-oncology is revealing the potential for personalized therapeutic cancer vaccines.
Early detection: Our scientists are leveraging the power of artificial intelligence to develop a new technique to diagnose ovarian cancer early and accurately. And, in one of the first studies to explore whether sequencing blood-borne DNA is a feasible approach to early cancer detection, Institute researchers have shown the potential of a blood test to detect early-stage lung cancer.
Providing the best outcomes for more patients
The generosity of the PMC community enables Dana-Farber to enhance the compassionate care we have always provided to our patients and their families before, during, and after treatment. Your collective support also empowers us to discover and try novel approaches to treating patients.
Enhanced care: Our patient care is holistic, extending beyond therapeutic treatments. An array of services, such as spiritual care, financial assistance, and nutrition counseling are centered around the unique needs of each patient and their loved ones.
Survivorship: Advances in cancer care and research now mean that a considerable majority of people who receive cancer treatment survive the disease. Dana-Farber offers comprehensive services for cancer survivors and conducts research on survivorship and quality of life. In a large study of non-metastatic colon cancer survivors, our researchers confirmed that patients who followed a diet low in carbohydrates and other foods that raise insulin levels can sharply reduce their risk of recurrence.
Treatment Options: Research led by Institute investigators determined that a combination of immunotherapy and a PARP inhibitor can be significantly more effective than either drug alone in women with hard-to-treat ovarian cancer.
Drug development: Dana-Farber researchers have shown in multiple studies that daily low doses of interleukin-2, which regulates the white blood cells responsible for immunity, can safely benefit adult and pediatric patients who develop chronic graft-versus-host disease following stem cell transplants.
New technologies: Using CRISPR technology, Institute researchers mutated one gene at a time to reveal a protein target in neuroblastoma—the most common solid tumor to form outside the brain in children—which appears to be vulnerable to newly-developed drugs. This discovery sets the stage for related clinical trials.
Investing in talent and resources
The PMC's philanthropic commitment makes it possible for us to maintain our position as a world-leading cancer hospital, as demonstrated in these developments.
Top rankings: In 2018, for the 18th consecutive year, Dana-Farber Cancer Institute was the top-ranked cancer hospital in New England by U.S. News & World Report, and we were again
the only cancer center in the country ranked in the top four for both adult and pediatric cancer programs.
Highest impact: The influence of Dana-Farber's scientific publications is the highest of the 12 leading cancer centers in the U.S., according to analysis by The Lancet Oncology.
Expanded services: To make our world-class oncology services and innovative care available to more patients, Dana-Farber has established new partnerships and strategic alliances in Connecticut, Maine, Western Massachusetts, and Rhode Island. In addition, in 2020, we will open new satellites in the Merrimack Valley and Foxborough, and an extension of our Longwood Campus in Chestnut Hill. Our international services are expanding as well. Last year DFCI launched a Chinese-language website, helped to open the Boao Evergrande International Hospital in China's Hainan province, and opened a cancer clinic in Haiti in collaboration with Partners in Health.
These are just a few highlights of the progress at Dana-Farber that was made possible thanks to the tremendous support of everyone involved in the Pan-Mass Challenge. Not only do you raise record funds each year, but you also raise awareness of the resources needed to solve the intractable challenges in cancer medicine.
We are so grateful for our vital 40-year partnership with the Pan-Mass Challenge and are confident the years ahead will lead to even more breakthroughs for patients. As Billy Starr has said, "The impact of the PMC community is truly unparalleled." I wholeheartedly agree.
Thank you!
President and CEO
Dana-Farber Cancer Institute