The Pan-Mass Challenge is excited to introduce new PMC Profile Pages featuring a brand new training integration with Strava, a new photo gallery display, and an updated look for PMC 2020 Reimagined! Log in to your account or search your name at profile.pmc.org now to see your new and improved PMC Profile Page!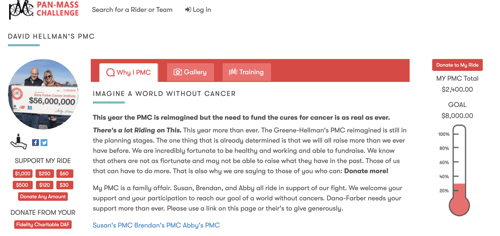 The new PMC Profile Pages have distinct sections that can be viewed by tab:
Training

Connect Strava with your PMC Profile Page to add the Training tab to your profile page. As you get ready for your PMC 2020 Reimagined, show your donors not only why you PMC, but how you PMC. Read about how to integrate Strava with your PMC Profile Page below or at pmc.org/strava.

Only new – not past – Strava activities will display in your Training section. If you do not integrate Strava, this section will not display on your page.
Why I PMC

Update your Story in your profile page editor to tell your supporters why you PMC. This is the first section visible on your profile page – and the only one that will display if you do not integrate Strava or add photos to your gallery.
Gallery

Your photo gallery now displays in its own Gallery tab on the profile page, rather than accessed by clicking on your profile photo. Add photos to your gallery within the Photo Gallery section of your profile page editor.
---
How to Add Strava to Your PMC Profile Page
If you do not yet use Strava, take a minute now to create an account. Strava is a fitness tracking app with free and paid subscriptions. Both versions allow for activity recording, which is the feature needed to display your rides on your PMC Profile Page.
Log into your PMC account and click Profile Page on your PMC Manage page.

In the new Training section of your Profile Page editor, click Connect with Strava. If you are not logged into Strava, you will be prompted to log in at this time.

Once logged into Strava, click Authorize to connect your Strava account to your PMC Profile Page.

Text in the training section of your PMC Profile page will confirm that your Strava account is now connected. Click Save Changes to view your profile page where you can see future Strava activity displayed on the new Training tab!
Learn more at pmc.org/strava – now go ride!