Meet Jennifer Abramson, a three-time two-day PMC cyclist
When Jennifer Abramson, 31, of Somerville was nine, she learned her mother, Linda, was diagnosed with a malignant meningioma brain tumor. Shortly after, it was discovered that her mother also had low grade non-Hodgkin's lymphoma and leukemia.
Linda bravely endured two 6- to 12-hour brain surgeries followed by chemotherapy and proton-radiation therapy treatments years later. Today, thanks to medical advancements made possible in the last 20 years, her mother's tumor has stopped growing and has even reduced in size, being reclassified from malignant to atypical. Additionally, she has a clean bill of health from her leukemia and lymphoma doctor.
"When my mom was first sick, I was too young to really grasp the gravity of the situation," says Jennifer. "My parents also did a remarkable job maintaining a sense of normalcy for me and my brother. Since relocating back to Boston in 2007, my mother has undergone both chemo and proton therapy. Upon receiving the news that treatment was required, I entered it's time to either sink-or-swim mode. If it's going to have to happen, what better place to happen then here in Boston where some of the best hospitals and treatment in the world are just around the corner from us."
Although Linda has experienced several visual, cognitive and balance side effects, she remains in good spirits and serves as an inspiration to her daughter as she pedals to raise money for cancer research. On Aug. 2 and 3, Abramson will ride the two-day 163-mile PMC route from Wellesley to Provincetown in what will be her third PMC experience.
"Our tale is one that is nearly fantasy, a loving wife and mother of two is diagnosed with leukemia, lymphoma and a meningioma brain tumor in the early 90's and 22 years later is, with all things considered, doing great," says Jennifer. "I ride because I recognize how lucky I am to have had the previous research to support my mother's care and I ride for all of those who aren't as lucky, those who would have benefited from additional research to support their treatments."
Abramson will ride as a member of Team Quack Out Cancer, named in memory of a college friend whose rubber ducks would cheer her up during treatment. Abramson continues to spin her wheels for the PMC because she knows first-hand the importance of the money raised by its riders and supporters. Her mother is living proof that funds raised through the annual bike-a-thon can make a difference. To date, she has raised more than $15,600 for the cause in her mother's honor.
"It seems as if cancer is the most unifying cause that exists because it feels like everybody has been touched by it and everybody has their story," says Jennifer. "The camaraderie, gratitude, hope and excitement exuded by the seas of riders, volunteers and spectators makes the PMC one of the most uplifting events and weekends of the year!"
You can register to ride in the 35th annual Pan-Mass Challenge, which is set for Aug. 2 and 3, and/or support Jennifer Abramson or another PMC cyclist.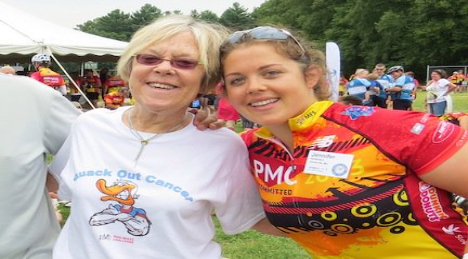 From left to right: Linda Abramson, wearing a Quack out Cancer t-shirt, and her daughter Jennifer during the 2013 PMC weekend.
Post courtesy of Allison at Teak Media + Communication