Why I ride the PMC
I ride because I can imagine a world without cancer.
I come from a family of 6 kids, we grew up in the Buffalo, NY area, and I still have family there. My mom and dad come from a very small town in upstate NY, a 3 hour drive north of Syracuse. My dad had only 13 kids in his High School graduating class and my mom about 20. My mom and dad were high school sweethearts and married when my mom was 19. By the time my mom was 28 she had six kids and a very busy household. I'm the third child and I have 2 sisters and 3 brothers. We were always one of those families that always had to stop what we were doing and be home for dinner and, thankfully, my mom loved to cook and bake.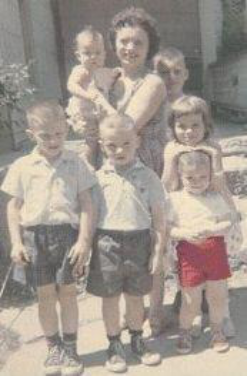 Mom and Family, 1967
During April of my sophomore year in college my mom experienced some pain in her abdomen; she went to the doctor and was diagnosed with cancer. She began treatments right away. I finished my exams and was home by May 5th that year. I drove her to the hospital and was able to help around the house, and I was thankful for the chance to help. She was home on May 19th to celebrate her 43rd birthday with the family that year and we kids made her a cake, but she couldn't manage to eat more than a bite. Three days later she went back into the hospital and passed away that evening.
That was a tough summer for my family, we got through it by focusing on celebrating my mom's life rather than focusing on her death. I continue to celebrate my mom's life, and honor her memory, by personally donating all that I can for cancer research.
I ride to support the mission of the Dana-Farber Cancer Institute: provide expert, compassionate care to children and adults with cancer while advancing the understanding, diagnosis, treatment, cure, and prevention of cancer and related diseases.
This year will be my 10th ride.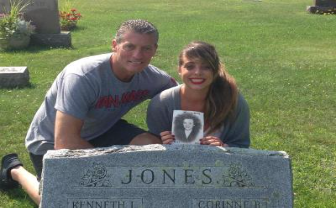 Corinne and Bruce Jones visiting Edwards, NY. Birthplace of Corinne's Grandmother and Grandfather.
Together, we ride the PMC. Together we imagine a world with out cancer. Together we imagine a world where every grandmother lives to see her grandchildren.
Last year my oldest daughter, Corinne, named after my mom, rode the PMC with me. It was a remarkable experience, for us, and to celebrate the legacy of her namesake. We recently went back to that small town in upstate NY where my mom and dad grew up.