After 20 years away, Patrick Byrne returned to the Heavy Hitter stage Friday night and did what he does best: he raised the ante. At the close of his comments to 700 Heavy Hitters assembled at the InterContinental Boston, Byrne declared that if the PMC raises $60 million - $2 million more than the posted $58 million goal - he would kick in an additional $1 million! The crowd voted "yes" with their applause.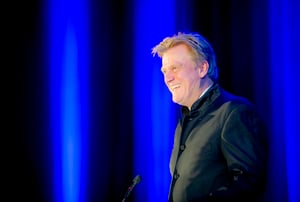 This is the second time since 2000 that Byrne has issued a million-dollar challenge. That year, Byrne pledged in his speech (which you can watch and read here) $1 million if the PMC raised $11 million, which both the PMC and Byrne achieved.
PMC Executive Director Billy Starr was elated and said with a smile, "I'm going to have to invite Patrick to Boston more often. I like the symmetry of $60 million for the 40th year. The entire PMC ridership is capable of this kind of philanthropy. We love a challenge. It's in our DNA!"
View photos from the 2019 PMC Heavy Hitter Evening