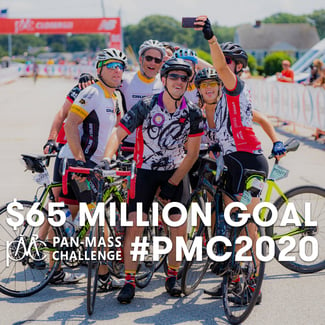 Today, the Pan-Mass Challenge announced a record-setting $65 million goal for its 2020 fundraising campaign. This follows last year's record $63 million gift, one hundred percent of which supported lifesaving cancer research, treatment and care at the world-renowned Dana-Farber Cancer Institute. If achieved, this would bring the organization's 41-year contribution to more than $782 million.
A $1 million donation from Robert, Karen and Judith Hale of Massachusetts helped jumpstart fundraising for the organization. This $1 million gift is the third donation of $1 million or more that the PMC has received over the last seven months, a reflection of the organization's continued growth and its resonance with philanthropists. As an organization that donates one hundred percent of every rider-raised dollar directly to the cause and Dana-Farber's largest single contributor accounting for 57 percent of its Jimmy Fund's annual revenue, the PMC makes an unparalleled impact in the fight against cancer.
"It is thanks to the unwavering commitment of our dedicated riders, volunteers, sponsors and donors – including generous supporters like the Hale Family – that we are able to raise the fundraising bar for Dana-Farber year-after-year," said Billy Starr, PMC founder and executive director. "Records are made to be broken and we are confident that our passionate community will rise to the challenge in pursuit of our $65 million fundraising goal for 2020."
When the PMC started in 1980, there were fewer than five million cancer survivors in the world. Today, there are more than 17 million, a result of the advancements in treatment and research, many of which were developed at Dana-Farber, due, in part, to the tremendous efforts of PMC riders and volunteers. In fact, the United States saw the largest drop in cancer death rate ever between 2016 and 2017 according to a report from the American Cancer Society, a testament to the progress made in cancer treatment, research and patient care in recent years.
On August 1 and 2, 2020, more than 7,000 cyclists and 4,000 volunteers will come together for the two-day, 192-mile bike-a-thon across Massachusetts. The PMC is presented by the Red Sox Foundation and supported by more than 200 corporate sponsors providing more than $7 million in essential funds, products and services each year.