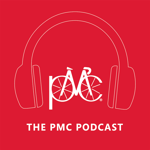 We're excited to share that The PMC Podcast, co-hosted by PMC Director of Marketing and Strategic Partnerships, Bill Alfano, alongside 5-year PMC rider and marketing expert Kristin Sundin Brandt, has received a Gold w3 Award for Public Service & Activism for Podcasts.
The podcast's first season, which made its debut in early 2020, featured in-depth interviews with PMC riders, cancer survivors, PMC sponsors and volunteers. Over nine episodes, Bill and Kristin facilitated meaningful conversations that introduced audiences to different facets of the organization and our dedicated community and provided advice on how to get involved with, and train for, the PMC. It's through sharing incredible stories like these that we can inspire others to commit to our mission, continue to grow our PMC family and increase our collective impact in the fight against cancer.
Receiving over 3,000 entries from across the globe, the w3 Awards honors outstanding Websites, Marketing, Video, Mobile, Social, and Podcasts created by some of the best digital content creators across the industry. The PMC Podcast's second season was postponed due to implications of the COVID-19 pandemic but is now in the planning phase to return in 2022.
Listen to all episodes of The PMC Podcast here. You can also find the podcast on Apple Podcasts, Spotify, Google Podcasts, Stitcher, iHeart Radio, TuneIn, and Buzzsprout.