PMC Leaps to #4 U.S. Peer-to-Peer Fundraiser
The Pan-Mass Challenge, which raised $64 million for Dana-Farber Cancer Institute in 2021, has been named the 4th largest peer-to-peer fundraising organization in the country. The PMC rose three spots from #7 on the 2020 list, which is produced annually by Peer-to-Peer Professional Forum.
Already the top cause-related cycling organization in the U.S., the PMC demonstrated resilience and growth, even compared to all the top peer-to-peer fundraisers. "This year's Top Thirty study reflects impressive levels of innovation that the pandemic fostered in some organizations and the progress many groups made in operating in the COVID-19 environment," said David Hessekiel, president of the Peer-to-Peer Professional Forum.
The 2021 Peer-to-Peer Fundraising Top 30 by Gross Revenue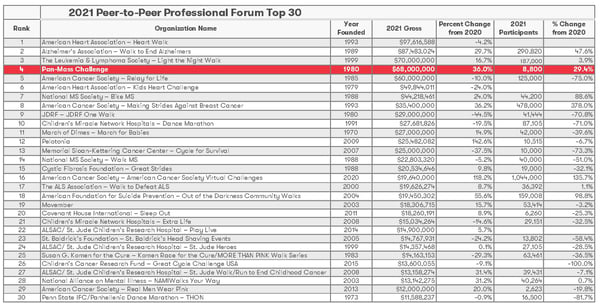 The PMC's gross revenue, as reported here, includes the $64 million gift to Dana-Farber as well as revenue from sponsorship, registrations and merchandise. 100 percent of every rider-raised dollar goes to Dana-Farber; this fundraising made up the $64 million gift to Dana-Farber.
Peer-to-Peer Professional Forum, which released the survey, provides managers of peer-to-peer fundraising programs with practical information, valuable connections and recognition for outstanding achievement. The organization has collected this data since 2007.
The PMC, PMC Winter Cycle, and PMC Kids Rides programs all contributed to last year's record-breaking gift to Dana-Farber and the #4 spot on the list. Thank you to everyone who helped us reach this achievement!