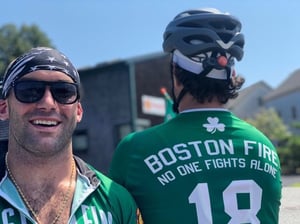 I rode my first PMC in 2015 as an individual rider with a good friend and his family. I had a little trouble raising the funds on my own, but the PMC weekend itself more than made up for the struggle. During the weekend of the ride, two things really stood out to me that have continued to drive my involvement every year since. First, the entire weekend appeared to run seamlessly. I was so impressed by the logistical coordination, the support from riders, volunteers and fans, and the infectious positivity of it all despite the inherent sadness around loved ones battling cancer. The second thing that struck me was a lack of representation from the fire community.
Back in 2014, while I was fundraising for my first ever ride with the PMC, I was in my first year working on the Boston Fire Department. All I kept hearing about that year was the inherent risk of cancer facing all fire fighters. But the idea of cancer being the leading killer of fire fighters was a new idea; up until recent fire departments had always identified heart attacks as the number one reason for fire fighters' deaths.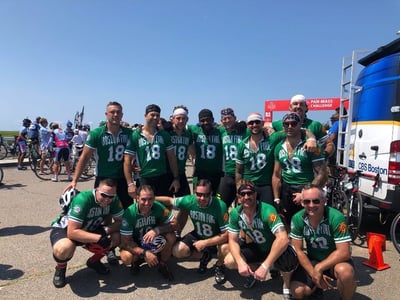 In the following years and still on-going, important research began pointing to devastating evidence of cancer's presence in fire fighters. It was really a no-brainer that the fire community play a larger role in the Pan-Mass Challenge. I played around with the idea in my head for a bit, talked it over with some friends over the next year, and we decided to put together a team of five riders for the 2017 PMC.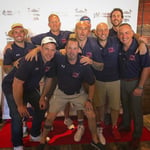 Our goal was to grow slowly as our team gained recognition, so we wouldn't end up with a fundraising number that we couldn't achieve and have riders struggling to meet their goals. So far we have lived up to that goal. As a result of our inaugural team ride in 2017, Team Boston Fire ended up raising over $31,000. In 2018, our team of 13 riders again exceeded our goal and raised nearly $94,000. This year, our team has nearly doubled once again. We are 23 riders strong and plan to crush our minimum fundraising goal of $115,000.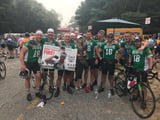 Our team is a collection of athletes, military veterans and cancer survivors who all ride with our own individual motivations, but as a whole, we ride in honor and support of our brothers and sisters who've faced, and continue to fight their battle with cancer. Team Boston Fire looks forward to another goal shattering year, and a lasting presence in the PMC community.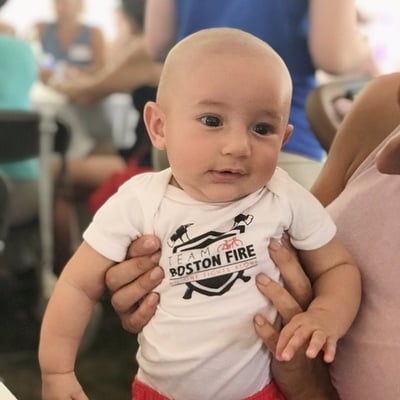 Team Boston Fire is hosting The PMC Classic Golf Tournament on May 30th at Brookmeadow Country Club. All proceeds go directly towards Dana-Farber Cancer Institute through the PMC.