In August I'll be riding my third Pan-Mass Challenge in support of the critical mission of the Dana-Farber Cancer Institute. But this year is even more special, as I'll be riding the 186 miles of the original Sturbridge to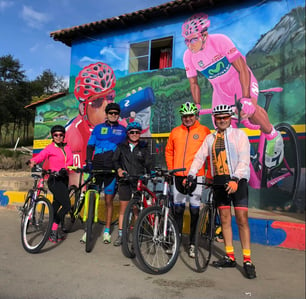 Provincetown route for the first time! As a Colombian, I feel committed to highlighting the importance of such a wonderful cause to my people back home and how the efforts of all riders, volunteers and donors have global impacts that will keep bringing us closer to a cure.
I grew up in Colombia surrounded by an amazing cycling culture, watching riders like Santiago Botero, Rigoberto Uran, Nairo Quintana and Egan Bernal conquer the most prestigious cycling competitions around the world. Having the opportunity to bike around the mountains that surround my beloved hometown of Tunja, and seeing my parents participate in mountain biking events with me as a "logistics" crew member certainly strengthened my interest in the tough but rewarding sport of cycling.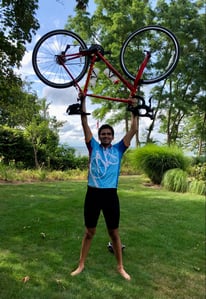 In the year 2020 there was an estimated 55,000 deaths from cancer in Colombia alone. This horrible disease has touched the lives of many close to me, and I am convinced that it is a global issue that needs an equivalent worldwide level of commitment to overcome.
The Pan-Mass Challenge came to my life as an amazing and humbling opportunity to put this passion for cycling to a good use and contribute as much as possible to this battle that millions of people worldwide fight against cancer. I am now working towards bringing the attention of the PMC to my people back home in Colombia. My goal is to share with them the knowledge that, although taking place at a far away location in the USA, the mission of the ride and organization that it supports has the potential to change people's lives on a global scale.
Being a part of the PMC motivates me to contribute to the fight against cancer through my ride and fundraising. I am humbled every year by the thousands of riders and volunteers that raise funds for such an important mission. I am inspired by the fight of all cancer warriors, and ride in honor of beloved family members and the more than 9 million lives prematurely taken by cancer around the world each year.
ESPAÑOL:
En Agosto estaré participando en mi tercer Pan-Mass Challenge en apoyo al Instituto de Cáncer Dana-Farber.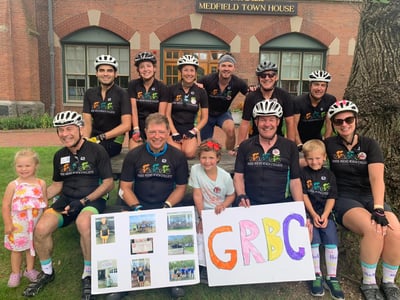 Pero este año es aún más especial, ya que por primera vez estaré recorriendo los 300 kilómetros de la ruta original desde Sturbridge hasta Provincetown. Como colombiano, me siento orgulloso de representar a mi país y de resaltar la importancia de esta causa en mi tierra; y cómo los esfuerzos de los participantes, voluntarios y donantes tienen impactos globales que nos seguirán ayudando a acercarnos cada vez más a una cura contra el cáncer.
Ser colombiano indudablemente significa crecer rodeado de la cultura del ciclismo; viendo a Santiago Botero, Rigoberto Urán, Nairo Quintana y Egan Bernal conquistar las más prestigiosas competencias alrededor del mundo. Haber crecido en mi querida Tunja rodeado de sus montañas y tantos ciclistas, y acompañar a mis padres por muchos años en sus múltiples rodadas sin duda fortalecieron aún más mi gran interés en este duro pero fascinante deporte del ciclismo.
En el año 2020 solamente en Colombia se estima que más de 55.000 personas murieron de cáncer. Esta penosa enfermedad ha tocado la vida de muchos a mi alrededor, y estoy convencido de que esta es una problemática global que requiere de un compromiso igual de grande para ser combatida.
El Pan-Mass Challenge vino a mi vida como una increíble oportunidad para poner mi pasión por el ciclismo a un buen uso, y contribuir de cualquier forma posible a la batalla que libran millones de personas alrededor del mundo contra el cáncer. Actualmente me esfuerzo por aumentar el interés en el PMC de la gente en Colombia. Mi meta es compartir con ellos el hecho de que, a pesar de ser un evento desarrollado en Estados Unidos, la misión de este evento y la organización a la cual apoya tiene el potencial de cambiar la vida de millones de personas a una escala global.
Hacer parte del PMC me motiva a contribuir a la lucha contra el cáncer a través de mi esfuerzo y recaudación de fondos. Cada vez que participo me siento inspirado por las historias y la lucha de cientos de personas que realizan este recorrido y donan de cualquier forma posible. Este recorrido lo hago motivado por estos luchadores, y en honor a mis seres queridos y a las más de 9 millones de vidas que se pierden prematuramente cada año alrededor del mundo a causa del cáncer.