#WhyIPMC guest blog by Pete Dickson, 22-year rider, Heavy Hitter, Captain Team Ruby Wines
I ride for my friends Fran "Dude" Brennen and Dr. Joe Vita. Both lost their battles 4 years ago. Fran was diagnosed as a child and fought for 50+ years. He was a well-known character around town at Dana and had the ability to put a smile on anyone's face. I'll never forget his spirit and optimism even while he was going through chemo. Fran was one of the main reasons I began riding in 1998.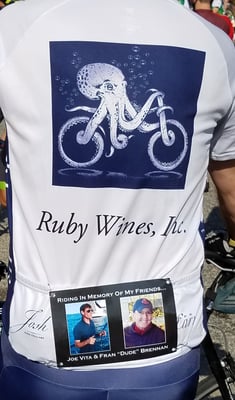 Joe received his diagnosis in January 2014 and lasted less than a year. Doctor, father and friend. Joe was an avid sailor and loved to travel. He never had the chance to ride the PMC but I'm sure he would have. These guys get me up the hills and thru the rain!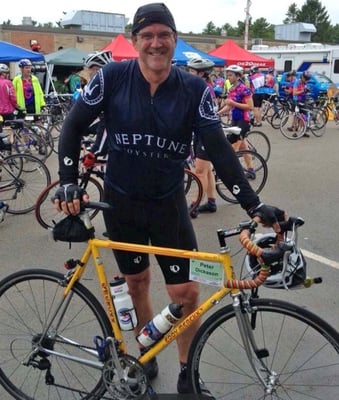 I couldn't not mention my mom. 88 years young and she still walks to the bottom of her driveway (it's a long driveway) in Needham every year to cheer the riders departing Babson College. Mom is an inspiration through both her determination and loyalty to the cause. And yes Mom, I always wear my helmet.