My name is Mary McGunnigal and this will be my 6th PMC ride. My first ride, in 2015, I rode on a tandem bike with my dad, Steve. We rode from Wellesley to Bourne. My brother met us at MMA to pick me up and to swap bikes with our dad, so he could continue the ride to Provincetown the following day. It was so much fun, that we rode tandem for the next three years. Riding on a tandem bike is a unique experience, and cannot be done with just any partner. My dad and I had to learn how to communicate every little thing, from if there was a pothole coming up, so I could prepare myself, or if he had to suddenly stop pedaling. The first year was definitely the most difficult, but it quickly became second nature to us both. Weekend morning training rides were always fun, as I could gaze at the scenery we passed while he had to focus on the road.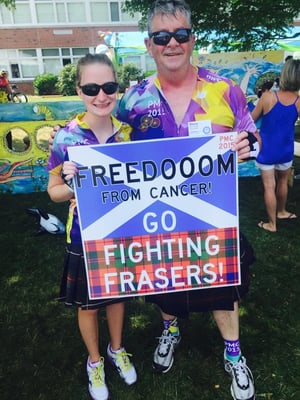 Our PMC rides were also unique in the way we wore our Scottish kilts during our rides. My dad started this tradition as a fundraising challenge when he first started riding in memory of his mother, who passed away 1996. Who doesn't want to see someone riding a bike in a kilt, and even on a tandem bike!
He had set up the team "The Fighting Frasers" to help me with my fundraising (Fraser being our Scottish clan).
For 12 years my dad rode the PMC- always the two day ride from Wellesley to Provincetown. His 13th ride, and my 5th, looked different from our others, though. In February 2019, he was diagnosed with Squamous Cell Carcinoma of the Inner Ear. I signed up to ride the 50 mile Wellesley-Wellesley ride, knowing I would be riding on my own. As the PMC approached, my dad felt strong enough to bike next to me on his own bike. It was a tough ride for us both- for me because I was used to him doing most of the work on the tandem and for him because he was undergoing treatment at the same time.
Here we are in 2021, and I knew I wanted to ride the PMC again. I signed up about a week before my dad entered hospice care and I was excited to share with him that I would be continuing his legacy of riding. He'd tell me how he would still like to go on rides with me when the weather got nicer, but sadly my dad passed away on March 2nd, 2021 after a two year fight with his cancer. Updating my fundraising page to "In Memory of" was one of the hardest things to do. Although the PMC team "The Fighting Frasers" has lost its founder, my brother, Stephen, has decided to join me this year. Thanks to the PMC and other organizations, our dad had access to wonderful and caring doctors and nurses who worked tirelessly to care for him and our family.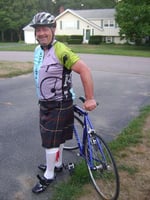 Skin Cancer of the inner ear- it doesn't make sense- but it did not stop my dad from spreading joy and love in the two years since his diagnosis. It did not stop him from fighting to be a part of his grandchildren's lives. It won't stop us from riding the PMC