#WhyIPMC guest blog by Leenie Glickman, 9-year Living Proof volunteer
I PMC for many reasons….
In my family, we have had breast cancer in 3 generations. In January of 2006, I had a bilateral mastectomy after my breast cancer diagnosis. In December of that same year, my younger sister Marilyn died from breast cancer. I can't begin to tell you what it is like to lose an amazing, loving, vibrant, fabulous sister. It has been 13 years, and it is still hard to process. Our brother Larry, my sister Har, my Mom, all of our family and all of her friends had to carry on.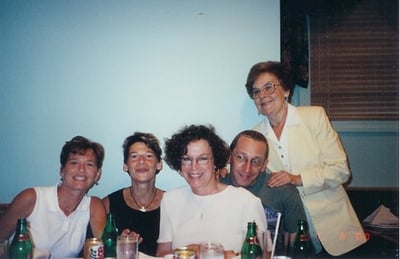 (Marilyn, Har, Leenie, Larry and Mom)
Each year, I volunteer with my mother and my stepfather. This year she is 89 and he is 95!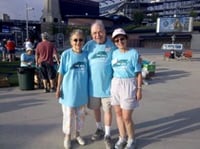 (2012: Mom, Irving and me at a water stop)
In 2013, I had another breast cancer surgery, this time to remove 16 lymph nodes. Then I had chemo at DCFI in Boston and radiation at DFCI in Milford.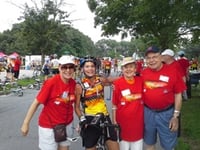 (2013, shortly after my chemo treatments, with my Mom, Step dad and my sister Har riding)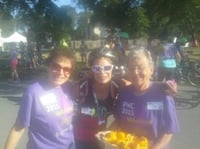 (2015, My sister Har riding, me and Mom volunteering)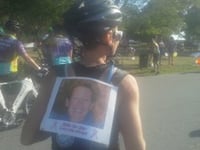 (2015, My sister riding with picture of our sister Marilyn)
We look forward to the PMC every year as an opportunity to give back. It's a family affair! We either volunteer, ride or both. We are grateful every day for our health and to be able to honor those who are no longer with us, and support others who are going through their own challenges with the disease.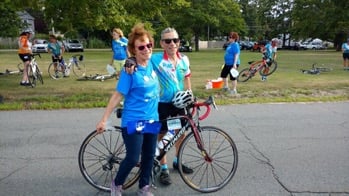 (2018 - Dr. Eric Winer, my DFCI oncologist riding and me volunteering at Wrentham water stop)
My sister Harriet is riding again this year, not only for her sisters and friends, but for her husband, who had kidney cancer surgery this year and is now cancer-free. So much progress has been made in the treatment of cancer. My father died at age 59 from non-Hodgkin's lymphoma and we believe that if diagnosed today, he would be cured.
In November, I hit the 5-year cancer-free mark for the second time! The thought of a world without cancer motivates and inspires me. I am proud to be part of the impact the PMC has bringing so much awareness and funding to this cause.