#WhyIPMC guest blog by Jen-Hartnett-Bullen, 16-year participant and
Command Center Co-Coordinator
In 2003, a dear friend and colleague approached my then-fiancé and me about this athletic fundraising event. You rode your bike for two days across the state of Massachusetts to raise money for the Dana-Farber Cancer Institute. Our friend had recently lost his mother to lung cancer, and we could both relate: my (now) husband had lost his father to pancreatic cancer just a few years before, and my father is a breast cancer survivor. On top of that, we had so many other family members and friends who had overcome or been lost to cancer. It sounded like a tough challenge, but we were so intrigued by the prospect of making a positive impact against cancer that we signed up to ride.
Fueled by our youthful (at the time) bravado, we rode our hybrids through the hills of Purgatory, along the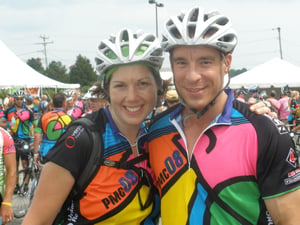 wonder that is Cherry Street, past the Bloody Mary-sipping tourists in Onset, and up and down the torturous hills between Bourne and Wellesley to the finish at Babson College. The spirit of camaraderie that we experienced over the course of PMC weekend was like no other – the support, the cheering, the shared struggles, the armies of volunteers who gave so much of themselves to make PMC Weekend possible. It was so inspiring to us that after that, we were hooked. We continued to ride until 2011, when we wanted a slightly different PMC experience – we wanted to give back to the event in a different way and decided to both volunteer and ride.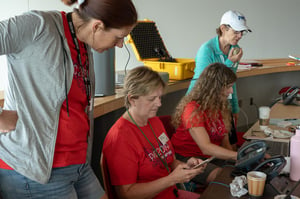 At the time we registered, while we'd done the ride for so many years, we were not familiar with all of the roles, so when we saw the one called "Command Center" we had to learn more. The Command Center is the nerve center of the Pan-Mass Challenge during PMC weekend. We set up operations on the Mass Maritime Academy campus in Bourne and several teams of dedicated volunteers come together to provide cohesive, holistic support for the event non-stop from Friday morning to Sunday evening.
When you call 1-800-WE-CYCLE on PMC Weekend, the call is routed to the Command Center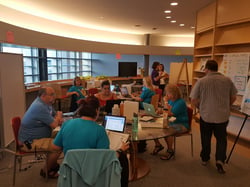 team. Depending on the nature of the call, you will be helped by a team designed to support a specific function. I started out on a team called "Rider Support" which is the team that helps solve problems for riders but also the teams that help the riders (like Road Crew and Waterstops). Do you have a flat tire? Did you accidentally cycle off of the route? Does the Wrentham waterstop need more Gatorade? Have you misplaced your helmet? Did someone accidentally grab your cycling shoes while you were in the shower truck? (This last one actually happened!) Call us, we will help you!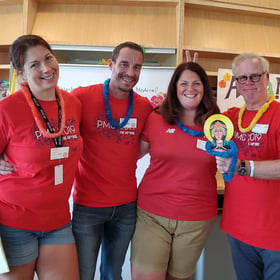 After a few years of coming back to the Rider Support team, and then leading it, this year I was asked to lead the entire Command Center together with my friend Tim Gover. Together, we ensure that all of the details of PMC Weekend are planned and communicated across all of the volunteer leaders. What's different about the route this year? Where is bike parking? What is different with luggage transportation this year? When will the ferries depart? What will we do if it is oppressively hot or if we have torrential downpours? How will we handle emergencies? Our team's preparations begin in the winter, when many of our riders are still deciding whether or not to commit. We meet to plan, prepare, document, and anticipate as much as we can so that when PMC Weekend arrives, we'll be ready for any type of call.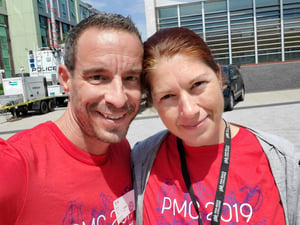 And now, our preparations are really ramping up. Just a few weeks out from the event, I am working on preparations daily – connecting with the head of our amazing Road Crew, our Volunteer Coordinator, and the other Command Center leaders to ensure that we will be ready for whatever PMC Weekend throws our way. We are all so excited to be back at it after being sidelined last year. I am so proud of our volunteers' commitment to help everyone. Each of them is dedicated to ensuring that every participant in the PMC – from riders to volunteers to supporters – has an amazing experience so that we all remain committed to the cause.
That is why I PMC.