Dana-Farber patient rides Pan-Mass Challenge as cancer survivor
As originally posted on The Jimmy Fund blog.
PMC rider and cancer survivor, Don Wexler, with daughters Chloe and Faye and nephew Michael Wexler.
My first Pan-Mass Challenge (PMC) was in 1983. I've been friends with Billy Starr, Founder & Executive Director of the PMC, since kindergarten, and after my first ride, I quickly became part of the PMC family. I remember once in the early years, Billy Starr and I went down to Boston's Esplanade and handed out flyers in an attempt to recruit cyclists to join us in our journey across the state of Massachusetts. Those were the days before social media and online fundraising!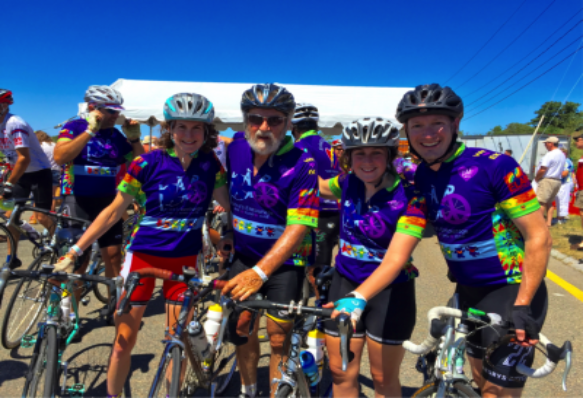 PMC rider and cancer survivor, Don Wexler, with daughters Chloe and Faye and nephew Michael Wexler.
When I was diagnosed with Acinar Cell Carcinoma (a type of pancreatic cancer) on April Fool's Day 2015, I knew that I would go to Dana-Farber Cancer Institute, where I had poured so many years of fundraising, love, energy and support through my PMC efforts. For me, meeting with my care team at Dana-Farber felt like meeting with friends; my energy was their energy and their energy was mine. The doctors, nurses, pharmacists, radiologists, parking attendants, social workers, receptionists, volunteers and all those I encountered were so kind to me and my family. I never felt as if I was just a number.
When I was diagnosed, I knew that somehow I would still ride the PMC. With the help of my physician, Dr. Wolpin, we scheduled chemotherapy treatments around training and riding in the PMC. Riding a bicycle is my passion, it's part of what helped me conquer cancer. It's a special feeling to have participated in the PMC all these years in support of Dana-Farber, and now I'm experiencing the other side as a patient and beneficiary of the PMC's astounding support.
This year's ride will be an exclamation point to my treatments at Dana-Farber and the human spirit. Riding with my family will be filled with tears of joy. Over the years I have ridden with my brothers, nephews, daughters, and numerous friends—many miles filled with many smiles.
I've ridden with my daughters in the rain, wind, and heat. I've had emotional rides; from the child with the sign "I'm here because of you," to riding with a friend who had just lost their mother to cancer. Then last year, all of a sudden my friends and family were riding with me, a patient and survivor! We rode together the whole way, sharing our experience, love and friendship. Alternately talking, laughing and crying along the route. My wife, the backbone of coordinating our PMC operations, who has supported our efforts all these years, will ride with us for the first time riding Day 2.
We ride the PMC with a team of 100 riders, Erica's Entourage, in honor of our good friend Erica who unfortunately lost her battle to rare sarcoma cancer. This year, we will be riding as a team in the PMC for the fourth time. Collectively, over the past 3 years we have raised over $4 million dollars for sarcoma research. Last year, after both my diagnosis of a rare pancreatic cancer and a friend's diagnosis with brain cancer, the team focused our efforts in support of Dr. Brian Wolpin's (my oncologist) research on Acinar Cell Carcinoma as well as Dr. David Reardon's immunotherapy research on brain tumors.
Participating in the PMC is a commitment of mind and body. Through the initial registration, fundraising, and training you are captivated by a sense of purpose. The fundraising is the focus more than the physical challenge of riding. The beautiful thing is they both come together as you reach your PMC goals with the help of family, friends and colleagues who join you on the mission to help find a cure. I am here as a testimony to the power of all the miles pedaled by the thousands of riders each year. Today we'll begin Day 1 of #PMC2016—we hope to see you along the route!
As Albert Einstein said: "There are two ways to live: You can live as if nothing is a miracle; you can live as if everything is a miracle". This last year has convinced me that life is indeed a series of small and large miracles.