In January, 2017, my husband, Kayur was diagnosed with Stage IV Lung Cancer while already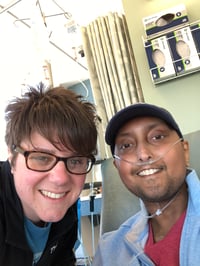 battling the autoimmune disease, Scleroderma. I will never forget the pit in my gut as I watched the doctors gather outside the hospital room. Kayur leaned over and said, "get ready Honey - this isn't going to be good news." And per usual, he was right. We were escorted into a conference room and at that moment our daily routines and our "normal" focuses in life all changed as we were told, "you have multiple tumors throughout your body."
Deciding to fight cancer was never a question. Kayur got his strength to fight from our son, Lucas,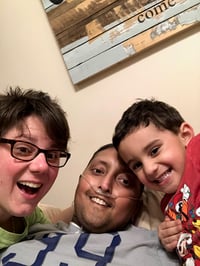 now 4 years old. As determined as Kayur was to fight, I vowed he would never attend an appointment or hospital visit by himself. Kayur experienced numerous radiation sessions, multiple chemotherapies, and reactions to those chemotherapies, immunotherapy, and surgery to freeze a tumor. Through all the ups and downs Kayur kept his sense of pride and humor. He and his oncology team fought a persistent fight but unfortunately Kayur lost his battle to these diseases last year on June 17, 2019.
Throughout this journey, there were two constancies in our life. First, our family and friends, always there for us at any means possible. And second, Kayur's medical team at Dana-Farber. We encountered some of the most amazing, intelligent and caring individuals - at both Dana-Farber and Brigham and Women's Hospital.
I would be remiss if I did not recognize two individuals who impacted our 2 ½ years in and out of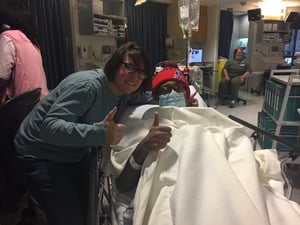 Dana-Farber the most: Kayur's oncologist, Dr. Kwiatkowski and primary nurse, Lynn Colicchio. These two individuals are remarkable. None of our questions were ever stupid - none of Kayur's complaints were ever unattended. Dr. Kwiatkowski worked hard pursuing treatment options to extend Kayur's time with us. His turnaround time to our questions or an "off hour" page as impeccable. Lynn provided us with stability and hope. She always knew when we need one of her "Lynn chats" to refocus during long treatment days or when scan results took over our emotions. I am forever grateful to Dr. Kwiatkowski and Lynn for the medical care, guidance and encouragement they provided for my family.
What does the Pan-Mass mean to me? In 2017 and 2018 family and friends rode the PMC in honor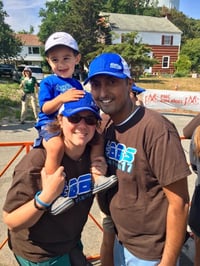 of Kayur. For these two years Kayur and I shared the same thoughts regarding PMC weekend. When cancer came into our lives, it became the most memorable weekend of our summers. It's a time when people from various paths of our lives unite for a greater cause. Our mental status, our worries and fears of cancer were paused or muted for the weekend. Everyone together and witnessing the accomplishments of both physical and mental strides by PMC riders. On the 192 miles of flat and hilly roads you find volunteers, family and friends cheering, laughing and smiling together. Energy and strength is created from generous donors fueling passionate doctors and researchers at Dana-Farber to find advancements in medical treatments.
In 2019 I joined Team BBS as a rider and this year we are up to 9 riders! The PMC keeps me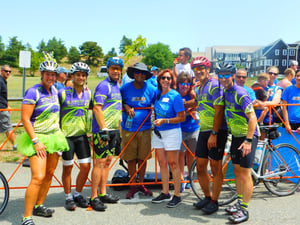 focused on a healthier lifestyle while keeping Kayur's spirit alive and passionately raise funds for Dana-Farber, specifically Kayur's oncology team. When you or a family member gets a diagnosis like we did, everyday counts. Dana-Farber provided my family with many more days, moments and memories. Team BBS rides with hope that every penny we raise can do the same for other families.