The Pan-Massachusetts Challenge hosted the 10th annual Pedal Partner Party this weekend, bringing children from the Jimmy Fund Clinic to Fenway Park to meet PMC cyclists who ride in their honor. It's a special day where new friendships are made and the children fighting cancer meet their teammates – people who will always be in their corner. For the cyclists, Pedal Partners help motivate them to keep pushing through the aches and pains of training and keeps them going on the challenging, hilly terrain of PMC weekend. [vodpod id=ExternalVideo.942322&w=425&h=350&fv=%26rel%3D0%26border%3D0%26]
more about "pedal partner", posted with vodpod
PMC Founder and Executive Director Billy Starr welcomed the 200 families and riders to the annual event. PMCer Mike Mahler, whose son survived cancer, was the featured speaker.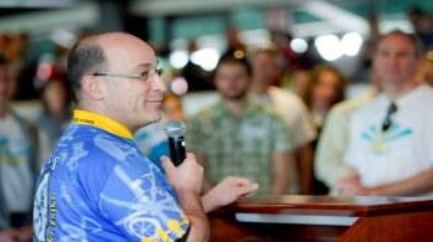 Pedal Partner Party speaker Mike Mahler
Here's Mike's moving speech:
We had just left Children's Hospital and we were standing at the corner of Blackfan and Longwood. It was a bright sunny day, like today, and my son and I were waiting for the light to change (…and waiting…and waiting…), so we could go to the garage and head home. It was his latest follow up to his cancer treatment and I remember it as the day that we were told we now only had to come back two times per year. It was also the day I looked back. I don't know why I looked back, I never did before, and that day seven years ago looking back, and up, at the Jimmy Fund Clinic floors, brought me to where I stand before you now – looking back again. That day was when I decided to start a PMC team so we could support a child going through treatment. Emotionally re-energized, I created Team LEGS so we could join the Pedal Partner Program and ride in support of children and their families going through the most difficult time of their lives. Looking back, I never imagined that I would be honored to captain such a great team of champions - riding for heroes. I never imagined how welcomed we would be into the homes and lives of people going through so much. I never imagined that these very same people would ride with us, in honor of their children, and that these wonderful children would ride in, and even help start, local PMC Kids Rides. The Pedal Partner relationship invigorates and energizes us to ride more often, longer and harder. Each year, our thoughts are about how to make this fun for our Pedal Partners and how to give them a break from the treatments they are going through. Small gestures like the presents of a Wally or Disney Princess doll or Legos help brighten a child's day. To their families it feels, as a Pedal Partner's dad says, "…as if we have a whole new group of friends in our corner". A Pedal Partner's mom told me that the pedal partner program brought enthusiasm back into their lives and that the support from the team was different than all other support systems they had. Their little girl felt like she was at the center of our universe. Our pedal partner families take precious time out of their unfairly burdened lives, to ensure their child enjoys life as much as possible, while going through so much of the impossible. These amazing families bring their children here today to Fenway, join local PMC Kids Rides, come out to PMC Night at Fenway and open their homes and hearts with smiles. Then, of course, there is the trip to Lakeville on a typically hot August day to see their teams ride in and the riders can see their heroes. When we see their smiling faces, we feel as strong and as mighty as they are. What this program does for the Pedal Partner families is immeasurable and it doesn't have to stop in August. Whether visiting in clinic or at each other's homes, attending team BBQ's, or planning a trip together to the aquarium, the support is greatly valued and friendships often blossom. Often, all you need do is ride your bike over and say "Hi!" You will not go unhugged, I assure you. The Pedal Partner Families and Teams are an inspiration to each other. We all believe in the philosophy of giving back, in making a difference, and through the pedal partner program we get the chance make a direct positive impact on children's lives. What they give back is showing us their ability to meet tremendous challenges with courage, strength and grace, which is nothing short of astonishing. In the PMC, we like to say, "It's not a race, it's a ride" and one of our pedal partner families has shown us, "It's not about the destination, it's about the journey, and you never know how strong you can be, until being strong is your only choice."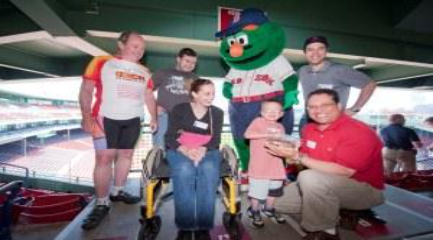 Team NECN and Pedal Partner Ethan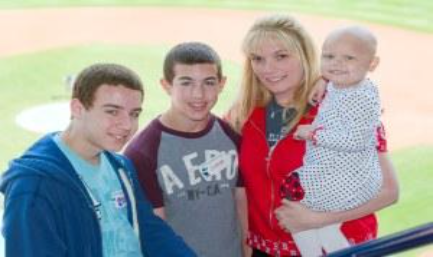 Pedal Partner Savannah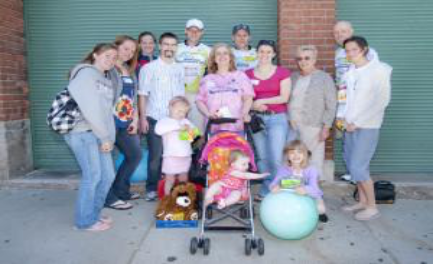 Pedal Partner Ashley with Team Blood, Sweat, Tears and Gears
Photos By MetroDesign