The PMC is pleased to announce that MFS Investment Management® (MFS®), now in its 20th year as a sponsor, has signed on to be the presenting sponsor of the PMC's 2018 Pedal Partner Program. The PMC Pedal Partner Program is an inspiring way for PMC cyclists to connect with pediatric oncology patients of the Jimmy Fund Clinic - the very children who receive more advanced treatments and state-of-the-art care as a result of the funds raised by the PMC.
"We are proud to be a 20-year sponsor of the PMC and believe in its mission to raise money and awareness to help find a cure for cancer," said Michael Roberge, CEO of MFS, who will be riding in his 18th PMC this year. "We are inspired by the courage, grace and determination of the children and their families who we meet each year. We are honored to ride for them - and to be the presenting sponsor of this year's Pedal Partner Program."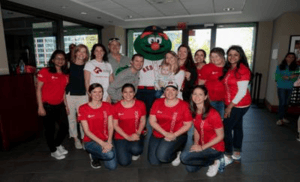 To help mark its 20th anniversary, MFS has also reaffirmed its long-term commitment to the PMC by sponsoring both of the Provincetown finish lines through 2020 and has signed on to be the 2018 sock sponsor, providing all riders with a pair of socks to match the official 2018 PMC rider jersey.
"As a nonprofit that has dedicated nearly four decades to one day eradicating cancer, we always look to align ourselves with companies that share a similar mentality when it comes to investing in a community and a cause. Founded as America's first mutual fund, MFS clearly knows a thing or two about long-term commitments," said Billy Starr, PMC founder and executive director. "On behalf of the PMC family, I thank MFS for its longstanding support through sponsorship, ridership and volunteerism and look forward to working with MFS for years to come."
MFS will field a team of more than 80 riders, plus volunteers, for the August 4 - 5 ride. Since its sponsorship began in 1999, more than 1,200 riders from MFS have helped to raise approximately $11 million for the PMC.