by Jackie Herskovitz Russell President, Teak Media + Communication
PROVINCETOWN, Mass. – At the end, it came down to the why.
While enduring the final two miles of what would be a 41 hour and 33 minute, 163-mile run, the only thing that kept an emotionally and physically exhausted, tearful, nearly delirious Adam-Scully Power plodding toward the finish line were text messages from his running coach reminding him of why he embarked upon the journey to begin with.
"Adam, this was never about you. It was about the cause," wrote Lisa Smith-Batchen, his Wyoming based running coach. "Thank you for your love and dedication and for the gift of running that God has given you."
Smith-Batchen had her friends send text messages as well, sharing their stories of loved ones lost to cancer and thanking him for undertaking such an enormous feat to raise money for cancer research. The messages and photos were texted to Scully-Power's wife, Belen, who was trotting along with him at his side, in the dark, at 11 p.m. after nearly two whole days of running.
Scully-Power, 39, of Ponta Verde Beach, Fla. left from Wellesley, Mass., at 5:45 a.m. on Friday, Aug. 2. With his support team made up of his father, father-in-law, wife and brother, following him along the way in a support van, he completed his goal of running 163 miles in the Pan-Mass Challenge and raising more than $25,000 for cancer research and patient care at Dana-Farber Cancer Institute in Boston.
"I feel pretty good," he said Sunday morning, looking refreshed though understandably a bit slow-moving. "Miraculously, I got just one blister."
Scully-Power said there were "multiple highs and multiple, multiple lows" over the course of the self-inflicted challenge. "During the lows, I questioned what I was still doing running after two sunrises and two sunsets."
What kept him going were the people who were supporting him - from his family that was physically and emotionally with him for the entire journey, to the strangers who'd heard of his endeavor through the media and came out along the route to cheer him on, to the people who would be aided by the cancer research and treatment for which he was working so hard to raise money.
"The highs were the people," Sully-Power says. "Somehow people recognized me as they guy they saw on the news, or heard on the radio or read about in the paper. They beeped their horns and yelled out to support me."
Roy DaSilva of Rochester, Mass, said his wife bumped into Scully-Power along the route while riding their bikes. DaSilva found him again a few hours later and ran seven miles with him as he entered Bourne, Mass., 86 miles from where he'd started that morning.
"You cannot do this without an incredible support crew, caring for you, making sure you are eating," Scully-Power says. "This is not a solo effort, it takes a team."
How he accomplished a feat so few would even consider to attempt goes back to the fall of 2011. At nearly 40 the father of four, with a stressful career in finance that required a lot of travel, found himself with a pudgy physique that was the result of his lifestyle. "I saw a picture of myself and I was surprised that that was who I'd become," says Scully-Power, who'd been an athlete in his youth.
At the same time, his naturally petite and health-conscious wife had seen a film about the virtues of veganism and implored him to watch it. After switching to a diet that is made up of 90 percent fruits, vegetables and whole grains, Scully-Power's life changed.
"Weight began to melt off me and I had so much energy, I didn't know what to do with it," he says. He took up running. "I'm just a regular guy who happens to run long distances. I don't run fast, but I can run for a long time. I think it is because of the way I eat."
While running for 163 miles, each hour Scully-Power consumed 300 calories, 30 to 40 ounces of fluid, and electrolyte tablets.
Before attempting to run the Pan-Mass Challenge, Scully-Power had run two ultra-marathons – about 110 miles each – in approximately 24 hours.
He was inspired to run the Pan-Mass Challenge, a bike-a-thon that spans Massachusetts with 11 routes ridden by more than 5,500 cyclists over one or two days, to raise money for cancer research and to honor the victims of the Boston Marathon bombings and runners everywhere.
Together with the cyclists, Scully-Power is part of the PMC team whose goal is to raise $38 million for cancer research at DFCI. The money is still coming in. If the PMC reaches its fundraising goal, the organization's 34-year contribution to Dana-Farber will be $417 million. The PMC is the most successful athletic fundraising event in the nation, raising and contributing more to cancer research than any other in the US.
What is next for a now very fit father of four with a demanding career in finance? "My wife says we have to take a break from distance running for a while," he says. To learn more about Adam Scully-Power's PMC run visit www.whywerun.com.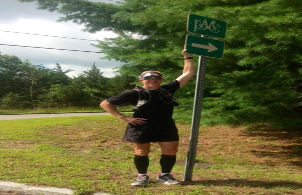 After running for 12 hours of what would be a more than 41-hour run, Adam Scully-Powers knew he was on the right path when he came upon the PMC sign.