You've decided to commit to ride the Pan-Mass Challenge – congratulations! If you register to ride in the 2020 PMC, you'll be one of nearly 7,000 riders making a difference by raising funds for cancer research and treatment at Dana-Farber Cancer Institute.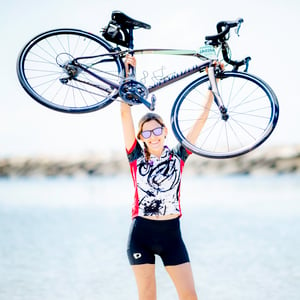 You may know exactly which route you want to ride and all the PMC logistics you need to know, but if not, read on for some guidance about registering to ride!
When Is PMC 2020?
The PMC is always the first weekend in August. In 2020, the PMC is August 1 and 2. Check-in is Friday, July 31.
When to Register to Ride
If you are a first-time rider, you can register to ride on January 10 at 9 AM. PMC Heavy Hitters (riders who raised $8,500 or more in 2019) can register on January 3 at 9 AM and all PMC alumni can register on January 7 at 9 AM.
You should register as soon as possible, as routes, transportation and lodging options will sell out.
Which Route to Choose – Mileage & Fundraising
Whether you're an experienced cyclist or you're new to cycling, there is a PMC route for you! You can choose to ride one day or two days of PMC weekend. The shortest route is 25 miles (one day, Babson College in Wellesley to Patriot Place in Foxboro) and the longest route is 192 miles (two days, Sturbridge to Provincetown).
The fundraising minimum commitment varies per route and increases if you register after March 1. (The fundraising minimums for the 25-mile and 50-mile routes from Babson College in Wellesley on Sunday do not increase after March 1.)
All PMC routes are fully supported with water stops approximately every 20 miles. Water stops have restrooms, food, water, medical and mechanical assistance.
You can view the list of routes and fundraising minimums on this chart or explore the routes by map. Choose the route that fits your schedule, cycling ability and fundraising capacity.
Which Lodging Options to Choose
Saturday – Mass Maritime Academy in Bourne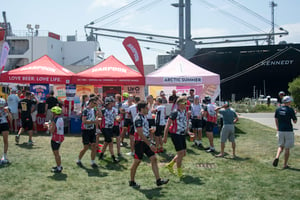 If you're riding a two-day route (or a one-day route from Bourne), you may need Saturday night lodging. All Saturday routes end at Mass Maritime Academy in Bourne.
If you do not need Saturday night lodging in Bourne, select "Staying Off Campus" during registration.
If you need Saturday night lodging in Bourne, select one of the following options during registration:
Staying on Campus in a room – Dorm. Dorm rooms house up to four riders. Select either a mixed gender or single gender room. The dorms are not air conditioned.
Staying on Campus in a room – Ship. Rooms on the ship are single gender only and hold from 30 to 90 riders in triple bunk beds. The ship has air conditioning.
Staying on Campus in MMA Gym. Stay indoors on a mattress in MMA's gym. This is communal lodging with designated male, female and mixed gender sections.
Staying in my own tent. You may bring your own tent as part of your luggage and stay on the MMA campus. You are responsible for setting up and taking down your tent.
Saturday night lodging in Bourne is included in your rider registration fee. All lodging options are based on availability.
Friday – Optional Lodging in Sturbridge or Wellesley
If you're riding from Sturbridge or Wellesley on Saturday of PMC weekend, you may need Friday night lodging in either location. Friday lodging is not included in your PMC registration and is an optional additional expense.
If you are riding from Sturbridge, you can request Sturbridge lodging while registering to ride the PMC. A PMC representative will contact you before you are charged for a Friday night room.
If you are riding from Babson College in Wellesley, you can book a room at the Babson Executive Conference Center; enter 2007PANMAS as the group code.
Which Transportation Option(s) to Choose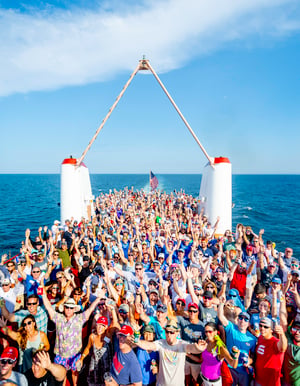 There are bus and ferry options available to help you get to and from your start and finish locations on PMC weekend. Please register for your transportation when selecting your route. If you do not need PMC transportation, select Own Arrangements.
Friday: Buses depart from Wellesley and Boston to bring riders to Sturbridge.
Saturday: If you're riding a one-day route Saturday that ends in Bourne, buses are available to bring you back to Wellesley or Sturbridge.
Sunday: Provincetown riders can choose from buses to Bourne, Sturbridge or Wellesley, and/or ferries to Boston. Ferries sell out quickly, so reserve your spot as soon as possible.
Sunday riders starting from Babson College in Wellesley can select a bus from Patriot Place back to Babson College.
When Your Fundraising Commitment Is Due
Your fundraising minimum commitment is due October 1, 2020, but the sooner you start fundraising, the more successful you will be! During registration, you will pay your registration fee (fees vary per route) and agree to your fundraising minimum commitment. Explore some fundraising tools and tips now!
You are responsible for your fundraising minimum whether or not you participate in the PMC ride. The registration fee is not refundable and does not apply towards your fundraising minimum. Registration, including route and transportation options, are not transferrable and no other person may participate in the PMC in your place.
Questions?
If you have additional questions about registering for the PMC, read the FAQs, review the PMC 2019 Event Handbook, or reach out to the PMC office at panmass@pmc.org or 781-449-5300.
We hope to see you in August for PMC 2020!