Just off of our $69 million gift announcement to Dana-Farber Cancer Institute, we're already planning for PMC 2023 to be even bigger and better. PMC 2023 is August 5 and 6, 2023, and if you're like us, you can't wait until it gets here!
Read on to learn about what we're planning for PMC 2023 and what you need to know before you register.
Registration Dates & Fundraising Minimums
Rider registration will open at 9 AM on the following dates:

January 5: Heavy Hitter registration (those who raised $9,500+ in 2022)
January 9: Alumni registration
January 12: General registration

Fundraising minimums will remain the same as in PMC 2022

; registration fees for some routes will increase $25 from last year.

View the 2023 routes and minimums chart here.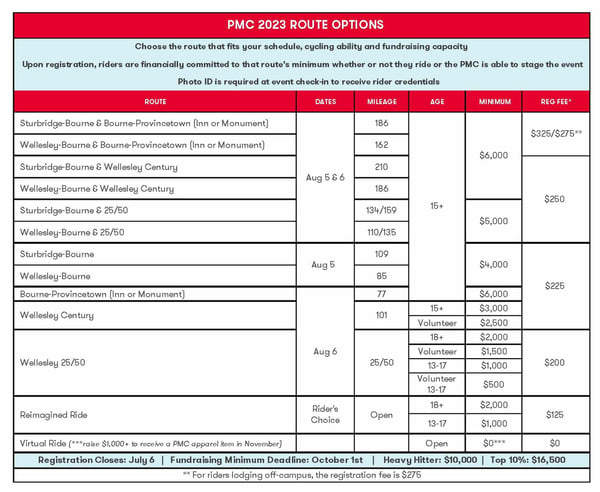 Routes
All routes offered in 2022 will be available in 2023. Ride Saturday from Wellesley or Sturbridge to Bourne, Sunday from Bourne to Provincetown or 25, 50, or 100 miles starting in Wellesley, or ride a combination on both days! Explore all route options here.
Vaccination Policy
The Pan-Mass Challenge will not require riders or volunteers to show proof of Covid-19 vaccination to take part in PMC 2023. However, Mass Maritime Academy has not yet determined if it will require Covid-19 vaccination in order to sleep on campus on Saturday, August 5.

If MMA or a relevant authority does impose such a requirement, a rider registered to stay on campus but unable to provide adequate proof of Covid-19 vaccination must find off-campus accommodations; they will be entitled to have their MMA lodging fee either refunded or attributed to their fundraising balance.
Guest Policy
Guests are welcome to join riders at most PMC start and finish locations in 2023. Guest meal tickets will be available for Sturbridge, Wellesley (Friday and Sunday), and Provincetown Monument Finish. Guests are not allowed at Mass Maritime Academy or Provincetown Inn because of space constraints.
Rider Jerseys, Credentials & Check-In
The official PMC 2023 jersey, socks, water bottle, and credentials (e.g., bike tag and wristband) will be received at the rider's start location on PMC weekend, where riders will be required to present their government-issued ID. Each rider must check in and cannot send another rider, family member, or friend to check in on their behalf.
Lodging
Mass Maritime Academy (MMA) lodging will be available but capacity will again be limited. The 2022 options at MMA are your own tent, dorm rooms, and other indoor shared spaces are options now. The ship, with 600 beds, is unavailable for 2023.

Sturbridge area hotels will be available as they were in 2022 (not included in registration fee).

Babson Executive Conference Center rooms will be available (not included in registration fee).
Transportation
Bus transportation will be available, with buses delivering riders from Boston or Wellesley to Sturbridge on Friday, back to their starts on Saturday, or back to their starts on Sunday.
Ferries from Provincetown to Boston will also be available, including the largest ferry at 3 PM on Sunday.
Additional PMC Weekend Logistics
Class 1 e-bikes will be permitted at PMC 2023; the PMC will make charging support available on longer routes.

PMC merchandise will be available for purchase in Sturbridge, Wellesley, Bourne (MMA), and Provincetown.
Heavy Hitter teams calculation will exclude PMC virtual, Reimagined, and 25/50 riders, as well as PMC Winter Cycle and PMC Unpaved riders. Read more about the Heavy Hitter team calculation

here.
Volunteer registration will open in March.
The Pan-Mass Challenge is co-presented by the Red Sox Foundation and M&T Bank.