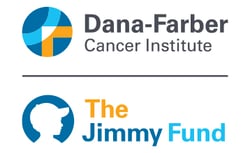 Dear PMC family,
This week, Dana-Farber Cancer Institute publicly announced its $2 billion fundraising campaign to Defy Cancer. The campaign began in October 2017 and is already halfway to its goal with three and a half years remaining.
We invite you to watch an introduction to the Defy Cancer Campaign – either a two-minute recap video or the full one-hour program – to learn more about how this new campaign will dramatically accelerate Dana Farber's life-saving work. Dana-Farber's impact is vast and, to quote the video, "In the last 10 years, our community of cancer-fighting champions has been involved with nearly 1 in 4 FDA-approved cancer drugs."
Throughout our 42 years, the PMC community has steadfastly provided critical funding to fuel Dana-Farber's mission. Last year, our fundraising represented more than 64 percent of the Jimmy Fund's revenue. So with every ask you make and pedal stroke you take, you are defying cancer, because 100 percent of every rider-raised dollar goes to Dana-Farber.
Did you know that you or one of your donors can make a special gift to the Defy Cancer campaign through your PMC account? Please contact PMC CFO Michele Sommer if you would like to learn more.
Closer by the Mile,
Billy Starr
PMC Founder and Executive Director
42-Year PMC Rider
Josh Bekenstein
Dana-Farber Cancer Institute Chairman, Board of Trustees
29-Year PMC Rider