I am so thrilled for year two to see the team grow and to raise more money for
Dana-Farber
.
In January of 2020, I was introduced to
Billy
and
Meredith
Starr through Project 351; a statewide nonprofit dedicated to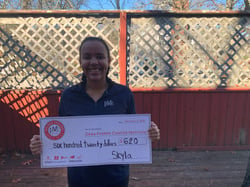 leadership and mentorship training through community service and activism. I read the PMC book by Ken Burns and was instantly inspired. Meeting them was incredible, and has allowed Meredith and I specifically to foster a very positive relationship to this day, over a year later. I knew I wanted to ride, and when COVID struck, I took comfort in bike riding as a way to get out, stay active, and see the world. As the state started to reopen again, I biked all new parts of the Cape, including the Falmouth bike path, the Cape Cod Canal, and the Cape Cod Rail Trail, all in training for what would be my first PMC.
I started my fundraising in July, and was astounded by the generosity my community blessed me with. I proudly raised $620 dollars, and plan to raise even more as a second year rider. PMC has this beautiful way of bringing people together, and reminding everyone that we are all connected in our humanity, most certainly through service towards one another. Receiving the huge paper check in the mail, wearing PMC merch, and seeing myself in the handbook and video made me feel so proud to be a part of this wonderful PMC community. I want to be an active member in the fight against cancer, and the pan mass challenge is the most beautiful way to do that. I also want to show that youth can play a powerful role in leadership, community service, fundraising, and being a part of something bigger than oneself. If every minute that I spend on my bike helps my fellow neighbor keep up the good fight, I will happily pedal on.