#WhyIPMC guest blog by Holly White, 10-year PMC volunteer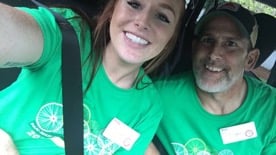 I can remember when I was younger and walking down the street to watch all the bikers go by, waiting to see my dad Matt White. He now has been participating in the PMC by riding, volunteering or both for over 20 years - starting before I was even born. He is the main reason not only me, but all of my siblings are involved in the PMC.
He rides for everyone, but for the ones who have affected him personally, my family, or my town, he has a t-shirt he wears every year and writes the names of those who sadly lost their battle. These are the people who motivate him and the rest of my family to continue participating.
I started volunteering with PMC the summer before starting 8th grade. This year will be my 10th year at the Whitinsville water stop. Every year I have worked at the peanut butter banana sandwich table, either with friends or my siblings, and at this point I have estimated I have made over 2,500 sandwiches over the past 9 years. Nothing beats waking up at 4 AM working in the pitch dark and then before you know it having thousands of hungry bikers before you.
I used my story volunteering when applying to college and even pushed back my job start date this summer in order to guarantee I will be there this year. I plan to find a banana costume to wear to mark my tenth year so look for the ginger in the banana in Whitinsville!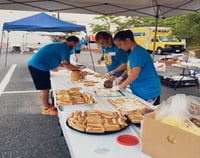 The Pan-Mass Challenge is a day I look forward to every year and has impacted my life greatly. I truly have loved every minute of volunteering, building bonds with other volunteers and with riders. Nothing feels better than recognizing the same people every year and getting to see new faces.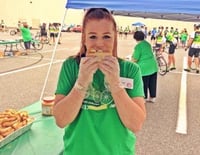 The PMC has given me so given me so much and is a special time I love to share with my family and close friends. I plan on volunteering for many many more years and maybe one day even ride.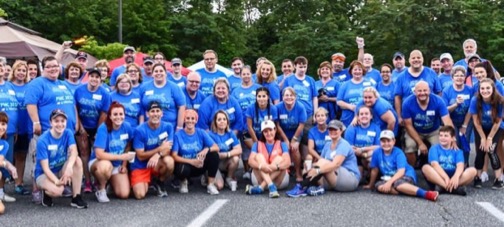 Since I am not riding I would appreciate any donations to be sent to my Dad's ride instead, good luck to all the riders and I can't wait to meet you!