The Pan-Mass Challenge is happy to announce that as an Official PMC Sponsor, Primal is the Preferred Cycling Apparel Company and Sock Provider of PMC 2020 Reimagined. In addition to the sponsorship, Primal will continue its Primal Gives Back Program offering to donate 15% of all custom sales directly back to the PMC teams in support of their PMC fundraising efforts.

"We are honored to continue supporting the Pan-Mass Challenge and the teams that help make the event so special," said Stephen Blackband, Senior Account Executive of Primal. "We put everything we have into designing and creating cycling apparel that tells the amazing story of the individual teams participating in the Pan-Mass Challenge. Each story has a purpose, has a meaning, and should be shared."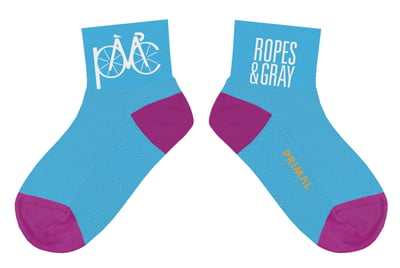 All registered riders will receive the official PMC 2020 socks – provided by Primal and sponsored by Ropes & Gray – in their exclusive rider collections sent to their homes in the second half of July.
The PMC is the nation's single most successful athletic fundraising event, having raised more than $717 million for Dana-Farber Cancer Institute since its inception in 1980, including $63 million last year alone. PMC Reimagined 2020 will kick off with an Opening Ceremonies television broadcast on Friday, July 31. On Saturday, August 1, more than 11,000 participants will come together virtually for PMC 2020 Reimagined with the common goal of raising critical funding that supports life-saving cancer research and treatment. The PMC donates one hundred percent of every rider-raised dollar directly to the cause as Dana-Farber's largest single contributor, accounting for more than 57 percent of its Jimmy Fund's annual revenue.
"The Pan-Mass Challenge is a model in their commitment to making a difference in the world through the unvarying passion they share with the community of riders that rally to the cause," said Jessica Lozano, COO of Primal. "We are proud to continue our support of such a landmark event in the fight against cancer."
"We are thrilled to have Primal on board as the preferred cycling apparel company, sock provider and a sponsor for this year's reimagined ride," said Sarah Mercurio Hall, PMC Director of Creative, Events and Merchandise. "Thanks to the Primal Gives Back Program, a portion of our riders' custom jersey purchases directly impacts their PMC fundraising efforts, adding even more meaning to riders' team designs."
To learn more about PMC 2020 Reimagined or to make a financial contribution, visit pmc.org, or call (800) WE-CYCLE. Connect with #PMC2020 #PMCReimaginedon Facebook, Twitter, Instagram, and LinkedIn.
To team up with Primal for your custom cycling jerseys and join the Primal Gives Back program, visit primalwear.com/PGB.
About the Pan-Mass Challenge
The Pan-Mass Challenge (PMC) is a bike-a-thon that has raised more money for charity than any other single athletic fundraising event in the world. The PMC was founded in 1980 by Billy Starr, who remains the event's executive director, an annual cyclist, and a fundraiser. The PMC has since raised $717 million for adult and pediatric patient care and cancer research at Dana-Farber Cancer Institute through the Jimmy Fund. The event donates 100 percent of every rider-raised dollar directly to the cause. The PMC generates more than 57 percent of the Jimmy Fund's annual revenue and is Dana-Farber's single largest contributor. The PMC has successfully melded support from committed cyclists, volunteers, corporate sponsors and individual contributors. All are essential to the PMC's goal and model: to attain maximum fundraising efficiency while increasing its annual gift. The PMC's hope and aspiration is to provide Dana-Farber's doctors and researchers with the necessary resources to discover cures for all cancers. For more information on the Pan-Mass Challenge, visit pmc.org.

About Primal
Our purpose is to help our customers, partners, athletes, and friends pursue their Everything. And along the way, we instigate fun in every way possible. We believe in cycling as a positive influence globally. We are dedicated to increasing the number of people that choose cycling as a means of recreation, environmental conservation, and health. Together, we are bonded by our love of the fresh air and pursuit of adventure on two wheels. The pure joy of getting on a bike and doing crazy things. Our care and concern for others keep us motivated to do better. We do whatever it takes to make a difference in this world, and we hold ourselves and others to this standard. This is why we give back and why we continue to make industry-leading strides to create lasting change. Cycling is our passion, apparel is our craft, fun is our mantra, and giving back has become our Everything.
To learn more about Primal, visit primalwear.com.
---
Media Contacts:
Tim Baker - Marketing Director
Primal Wear - 800-275-6953
tim.b@primalwear.com
Ameara Harb
Pan-Mass Challenge
Ameara.Harb@porternovelli.com
617-939-8318