All riders and guests are invited to attend the ceremonies at Sturbridge Host Hotel (SHH) on Friday, August 4, 2017.
To get a seat in the Hawthorne room, please arrive by 6pm –please do not reserve seats.
The program will also be broadcast in the Rider Registration area and tennis court at SHH as well as in Wellesley under the big tent in the Trim Parking Lot at Babson College starting at 6:30pm.
The program will also be streamed online starting at 6:30pm at pmc.org and WBZ-TV
2:00 – 7:00pm - 105.7 WROR live broadcast with Jaybeu Jones - SHH
2:30 – 6:30pm - King Philip High School Steel Band - SHH, Lakeside
5:15 - 6:10pm - Live Music – Kamryn Richard - SHH
6:10 – 6:55pm - Billy Starr – The State of The PMC - SHH, Hawthorne Room
7:00 – 8:00pm - WBZ-TV Presents #PanMass2017 Opening Ceremony – LIVE - SHH, Hawthorne Room
WBZ Broadcast hosted by Lisa Hughes and David Wade, with reports from WBZ-TV's Weather Team live from Babson College in Wellesley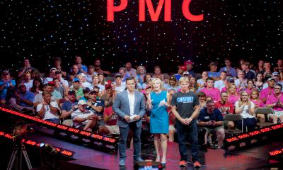 *Be sure to set your DVR to record the WBZ-TV broadcast!