A Letter to Billy Starr & the PMC Community
from Dr. Laurie Glimcher
Dear Billy,
In these historic times, everyone at Dana-Farber joins me in offering our sincere appreciation and thanks to you and the Pan-Mass Challenge. Your generous commitment to generate pivotal funding for the Institute's Emergency Response Fund means so much and will have a multifaceted impact on our staff, patients, and families when we need it most.
As we move together through the uncharted waters surrounding COVID-19, I am reminded of the PMC motto, "Commit: You'll Figure it Out." In that spirit, the PMC's unwavering dedication gives us help and hope as we figure out each day how to continue advancing our shared mission. Fortified by these flexible resources, we will redouble our efforts to drive potentially lifesaving cancer research and deliver compassionate care while meeting the shifting demands of this unprecedented moment. With the PMC's cornerstone support, I know we will overcome this challenge, emerge even stronger, and usher in a promising future.
As our community bands together to weather this pandemic, I am heartened by your exceptional foresight and profoundly grateful for your partnership. Thank you again on behalf of all of us at Dana-Farber, and I hope you and your loved ones are keeping well and staying safe.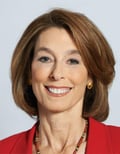 Warmly,

Laurie H. Glimcher, MD
President and CEO, Dana-Farber Cancer Institute
---
Webinar: How Dana-Farber Is Meeting the Challenges
Posed by COVID-19
On April 14, Dana-Farber Cancer Institute leadership briefed some of their top supporters on how their lifesaving work perseveres during the COVID-19 pandemic. To learn more, we encourage you to view the 43-minute video recording, "How Dana-Farber Is Meeting the Challenges Posed by COVID-19."
The webinar features insights from the following Dana-Farber Cancer Institute staff:
Melany Duval, Senior Vice President and Chief Philanthropy Officer

Laurie Glimcher, MD, President and CEO

Meghan Baker, MD, ScD, Hospital Epidemiolgist
Anne Gross, PhD, RN, Senior Vice President, Patient Care Services and Chief Nursing Officer
Craig Bunnell, MD, MPH, MBA, Chief Medical Officer
Kevin Haigis, PhD, Chief Research Officer