Back Bay Roasters is proud to join the Pan-Mass Challenge as its Official Coffee and to support riders during PMC weekend. Back Bay Roasters has committed to three years as the PMC's Official Coffee.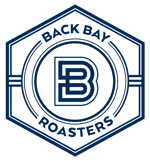 The beauty of the PMC is two-fold. First and foremost, riders help ensure that those battling cancer have a better chance of beating the disease and creating new life moments," said Doug Caplan, Back Bay Roasters co-founder and PMC rider. "From personal experience, I also know that the riders create and develop emotional bonds along the journey. PMC riders truly experience what it means to make a difference, and we are so very proud to support their efforts during this special weekend."
Caplan and his fellow Back Bay Roasters employees will either ride in the 2019 PMC or volunteer along the route.
Back Bay Roasters coffee will be available during PMC weekend at Sturbridge, Babson College, Mass Maritime Academy, Patriot Place, Brewster, and Middleboro.
Discount for the PMC Community
Back Bay Roasters would like to offer the entire PMC community a 25% off discount code on any online orders. Use code PMC2019 to receive 25% off your first order of coffee from Back Bay Roasters.
Boston-based Back Bay Roasters is the maker of Beacon Black Cold Brew Coffee, the only cold brew coffee that is brewed, packaged, shipped and stored cold.