Dear PMC Community,
Thank you for participating in the 42nd Pan-Mass Challenge! I am proud and inspired to be a part of the PMC community as a 6-year rider. Whether you were out on the course as a rider, rode your own way in PMC Reimagined, or volunteered to support friends, family, and colleagues, the PMC spirit was as strong as ever as we came together again this past weekend to change the future of cancer.
The impact of the PMC is tremendous, with 100 percent of every PMC dollar raised supporting Dana-Farber Cancer Institute's efforts to forge scientific breakthroughs that we can translate into new, promising therapies for our pediatric and adult patients. Last year, in the middle of the COVID-19 crisis, PMC riders, donors, and volunteers banded together from near and far to raise $50 million, an incredible feat. And this year, you did it again, showing incredible perseverance to help bolster key areas of cancer research and care, while providing funds to help support our patients who continue to face tough financial burdens due to the pandemic. Thanks to the PMC, Dana-Farber remains the steady source of hope on which our patients and families can rely.
The PMC is also a vital partner in The Dana-Farber Campaign, our ambitious, multi-year fundraising effort to raise $2 billion to accelerate revolutionary science, extraordinary care, and exceptional expertise. Funds from the PMC are giving great momentum to this effort, allowing us to continue providing the best, most inclusive care for every single patient, including those who have traditionally been underserved. Every dollar raised and every mile pedaled brings us closer to changing the future of cancer for patients in Boston and around the world.
The 2021 PMC goal is $52 million, and if achieved, the PMC will have raised $819 million since 1980. This year's fundraising total will be announced in the fall, and I know we have the drive and commitment to meet this goal. I continue to be so grateful for our partnership with the PMC and for the commitment of all our riders and volunteers — you are central to our work to defy cancer.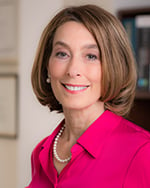 Warmly,

Laurie H. Glimcher, MD
President and CEO, Dana-Farber Cancer Institute
Richard and Susan Smith Professor of Medicine, Harvard Medical School