The PMC is thrilled to introduce Art of the Ride – a vehicle for philanthropic artists and collectors to support the Pan-Mass Challenge and its mission to raise money for life-saving cancer research and treatment at Dana-Farber Cancer Institute.
Hosted at the 2022 PMC Heavy Hitter evening on May 6 at the InterContinental Boston, artwork will be on view for guests attending the event. Artwork may also be viewed online.
Online bidding begins April 28 and will conclude on May 6 during the PMC Heavy Hitter Evening. Patrons do not need to be present at the event to bid.
The 2022 PMC Heavy Hitter Evening featuring PMC Art of the Ride is open to 2019, 2020, and 2021 Heavy Hitters. Heavy Hitter Evening includes a PMC Impact speaking program, dinner, dessert, drinks, coffee, and the Art of the Ride art auction.
Successful bidders may designate funds to an individual rider or team's account.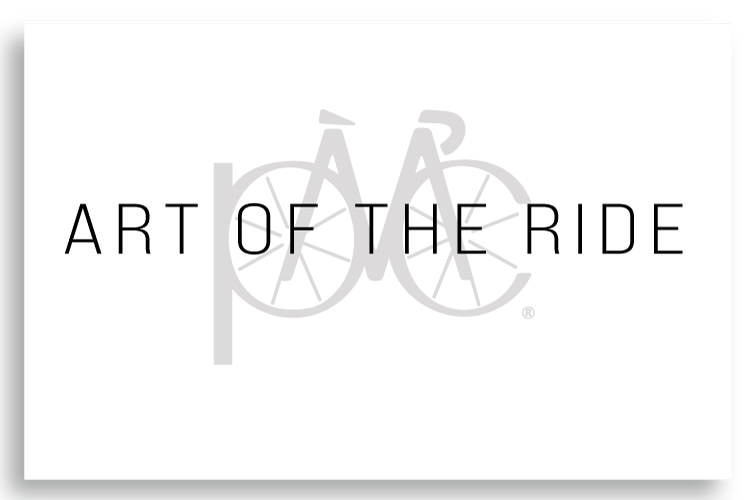 2022 PMC Art of the Ride Collection
Each piece of art has been generously donated to the 2022 PMC Art of the Ride. 100 percent of the proceeds from the art sales will go to Dana-Farber Cancer Institute.
View the available art now and start bidding online on April 28, 2022.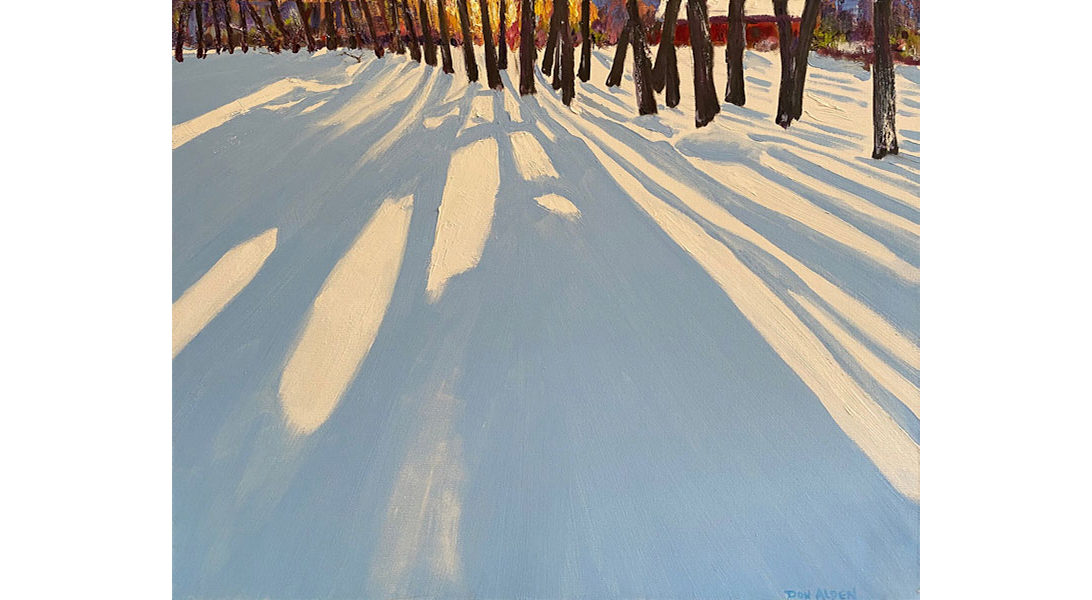 Don Alden
Winter Light, 2021
Oil on canvas
20 x 30 in.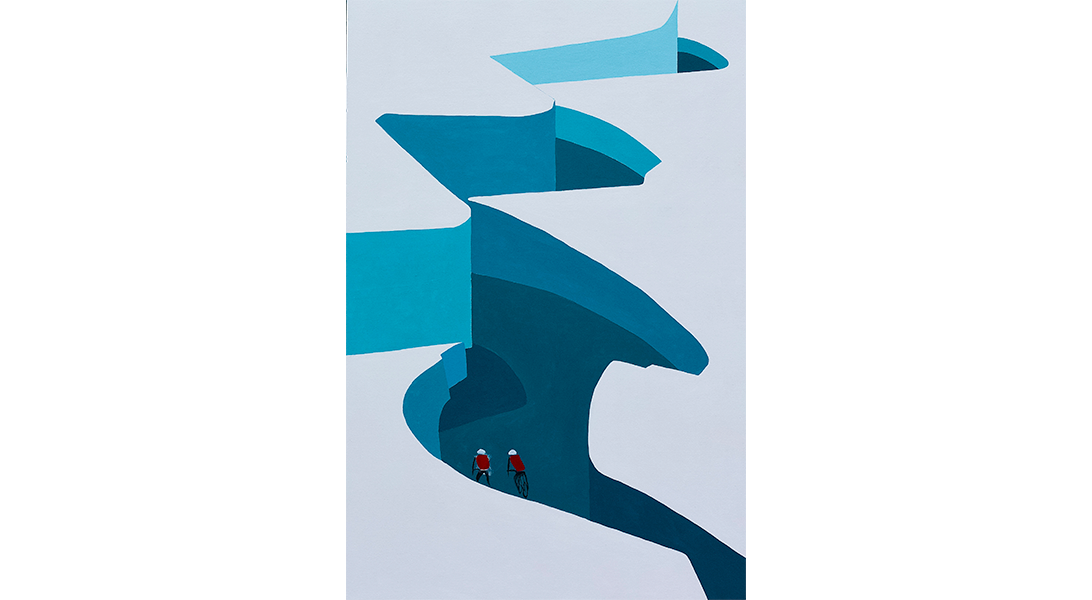 Richard Banfield
Snowy Ride, 2021
Acrylic on stretched canvas
60 x 48 in.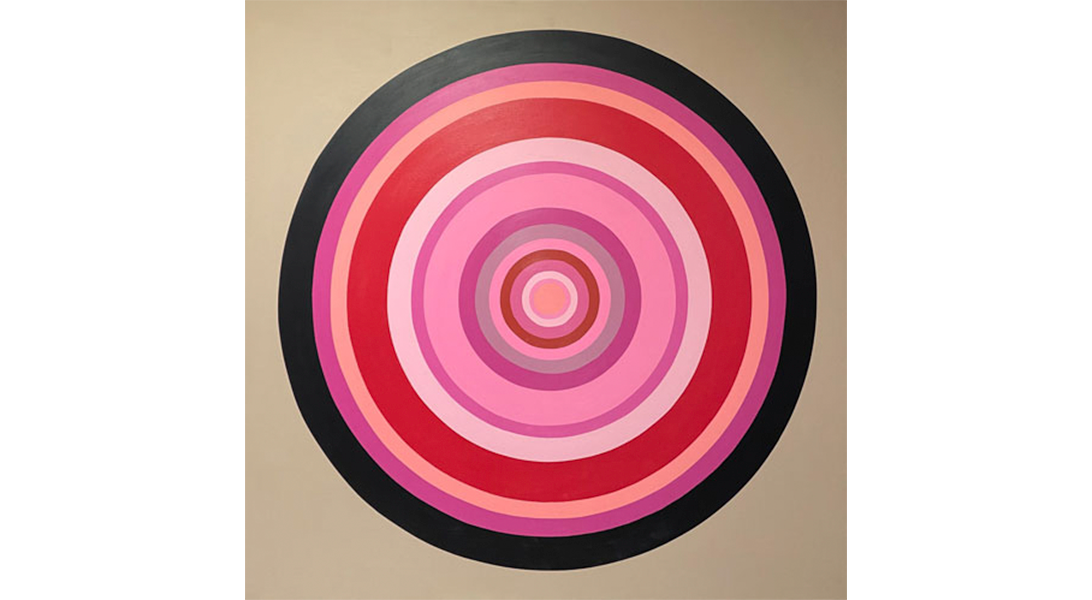 Richard Banfield
The Giant Boob, 2022
Acrylic on stretched canvas
48 x 48 in.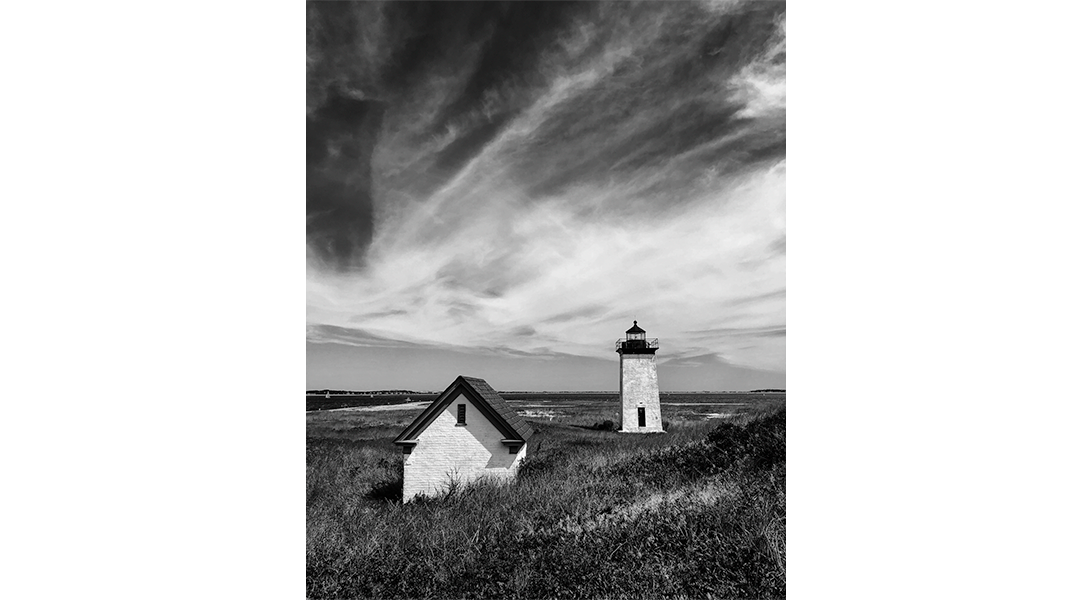 Gabriel Beaton
Northeast at Long Point,
#3 of 50,

2021

Photograph
28.25 x 23.25 in.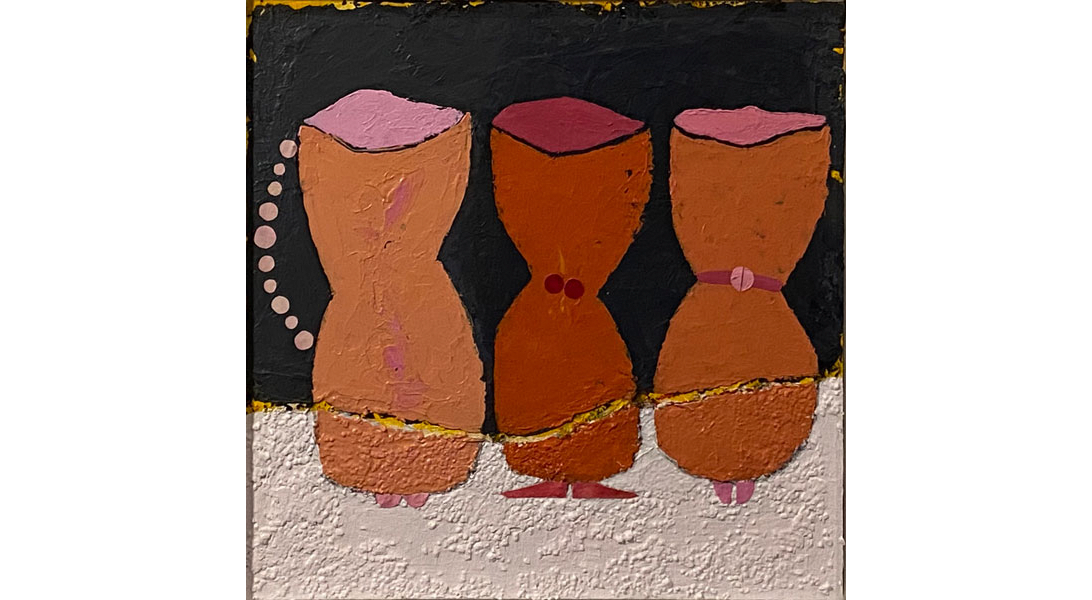 Judy Bramhall
Pink Ladies, 2020
Acrylic and mixed media
12 x 12 in.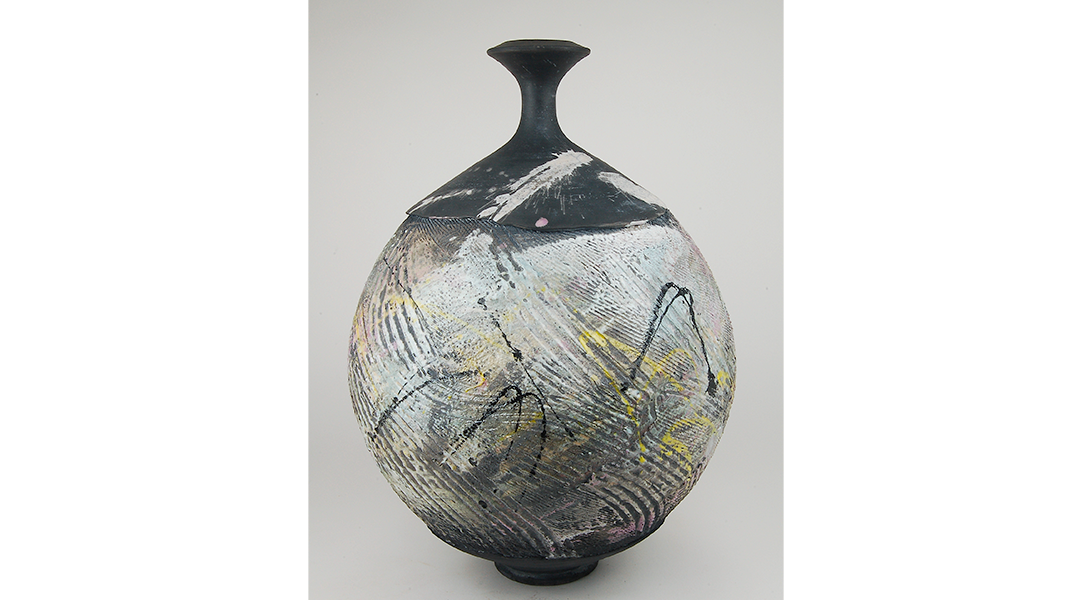 Steven Branfman
#1528 Raku Vessel, 2020-2021
Ceramic
18 x 13 in.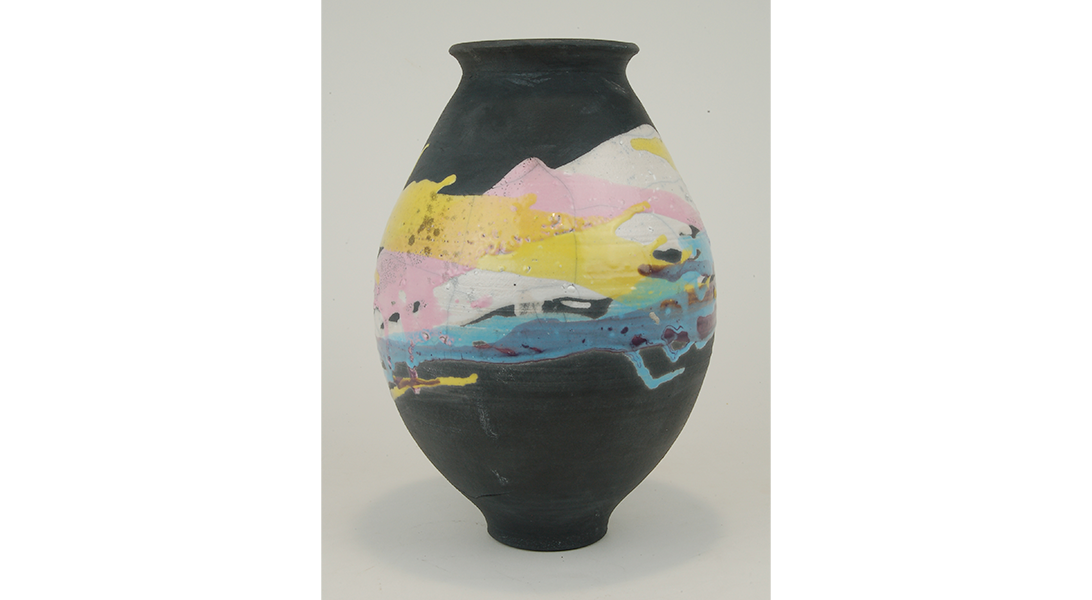 Steven Branfman
#1557 Raku Landscape Vessel, 2020-2021
Ceramic
11 x 7 in.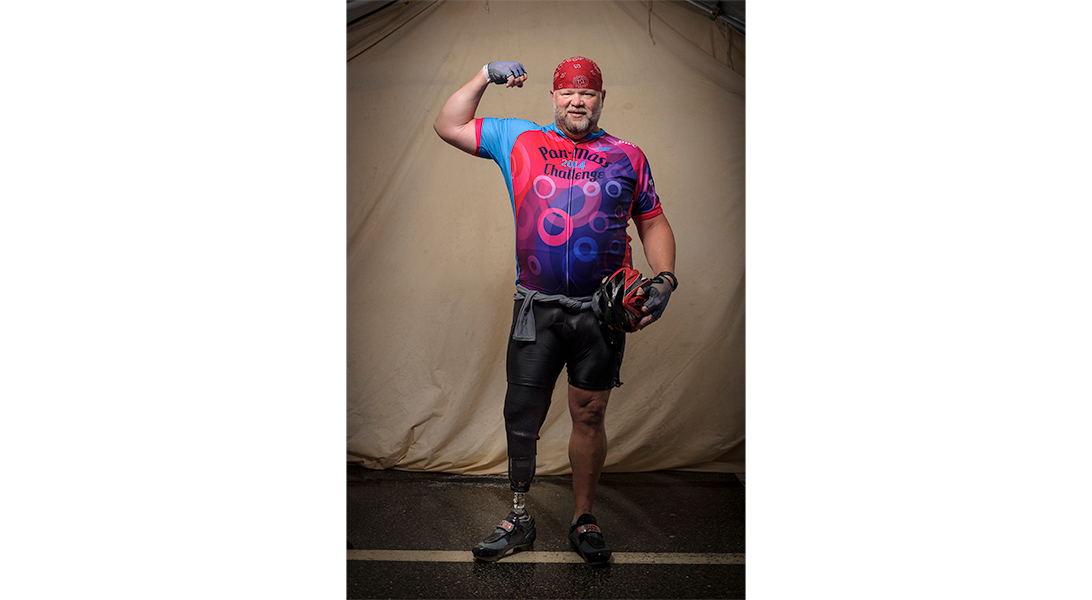 Mike Casey
Brian Lutes, Living Proof, 2014
Photograph
28 x 24 in.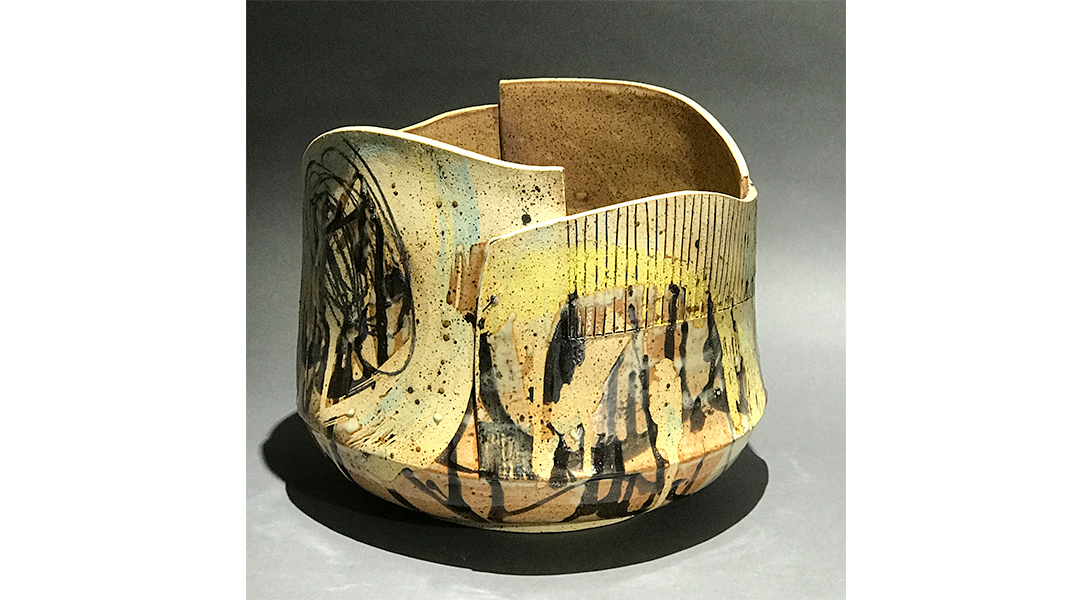 Ellen Clancy
Celebration Vessel, 2018
Ceramic (hand-built stoneware vessel with multiple glazes and surface decoration)
11 x 11 x 9 in.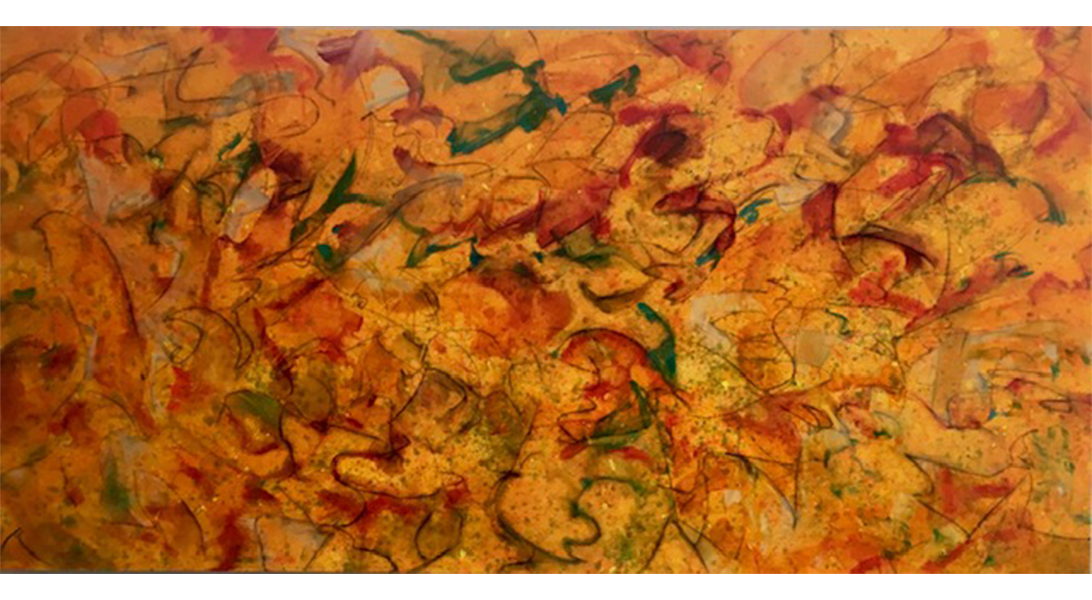 Russ Cox
Red Fish, Blue Fish, 2019
Oil on canvas
36 x 72 in.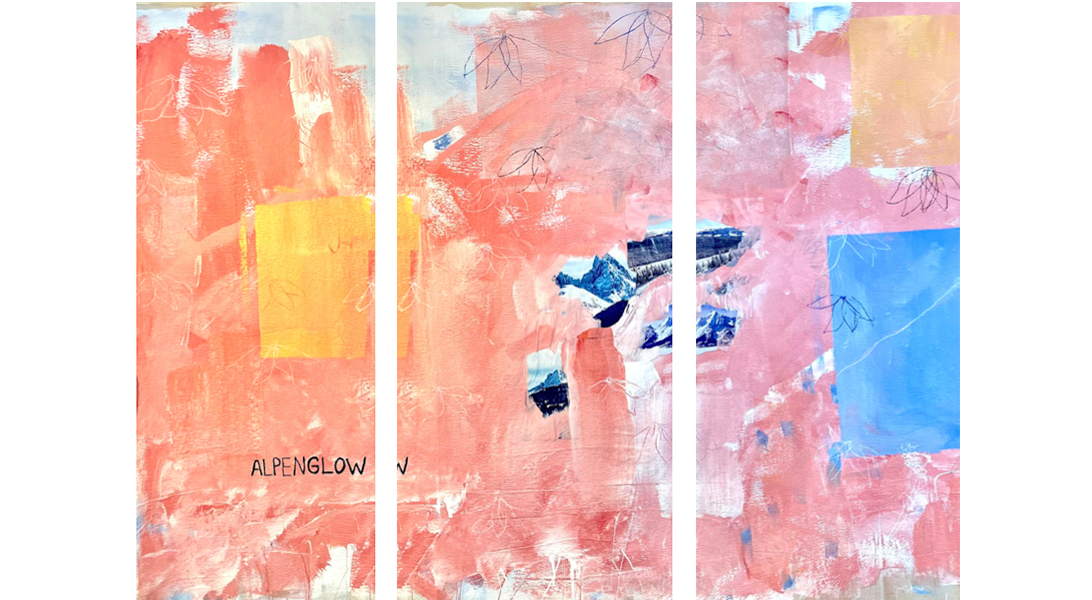 Abigail Greene
Alpenglow Triptych

, 2022
Acrylic and collage on un-stretched canvas
40 x 60 in.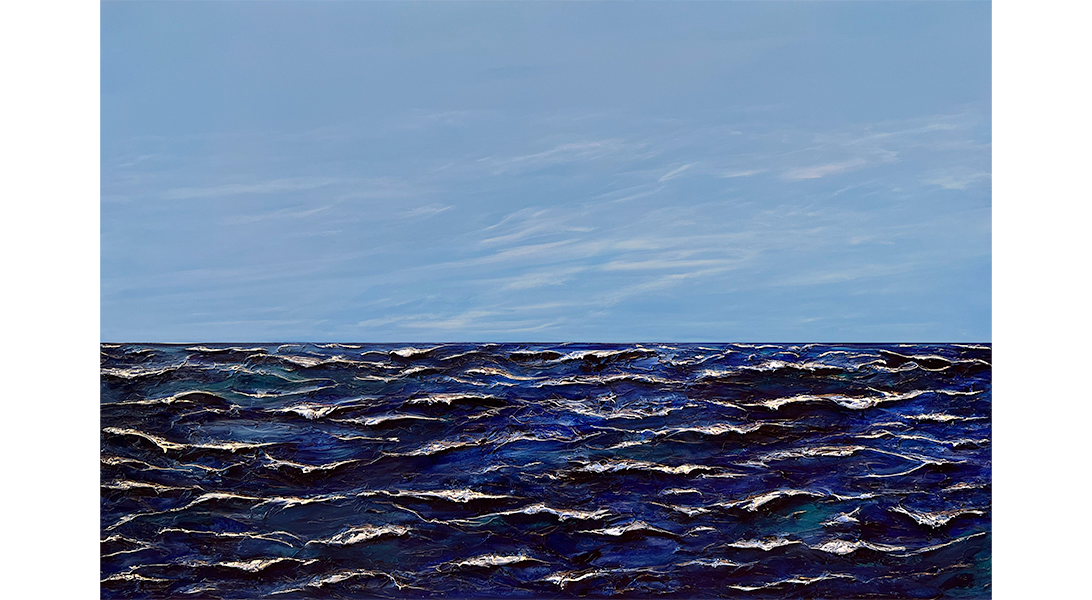 Nicholas Heaney
Midday Melody, 2022
Acrylic on canvas
40 x 60 in.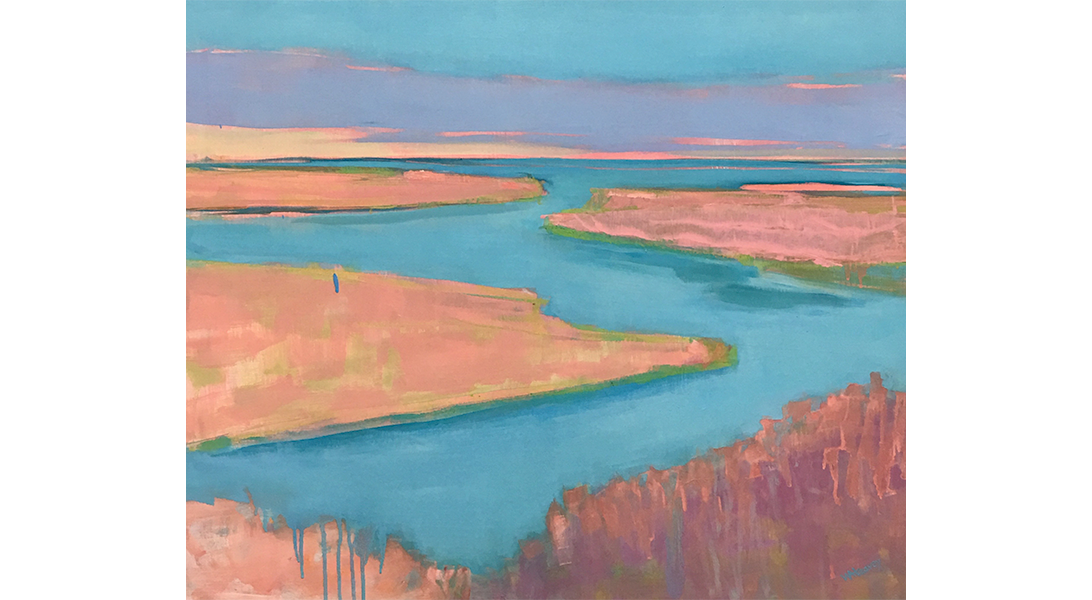 Whitney Heavey
Delight, 2018
Oil on panel
24 x 30 in.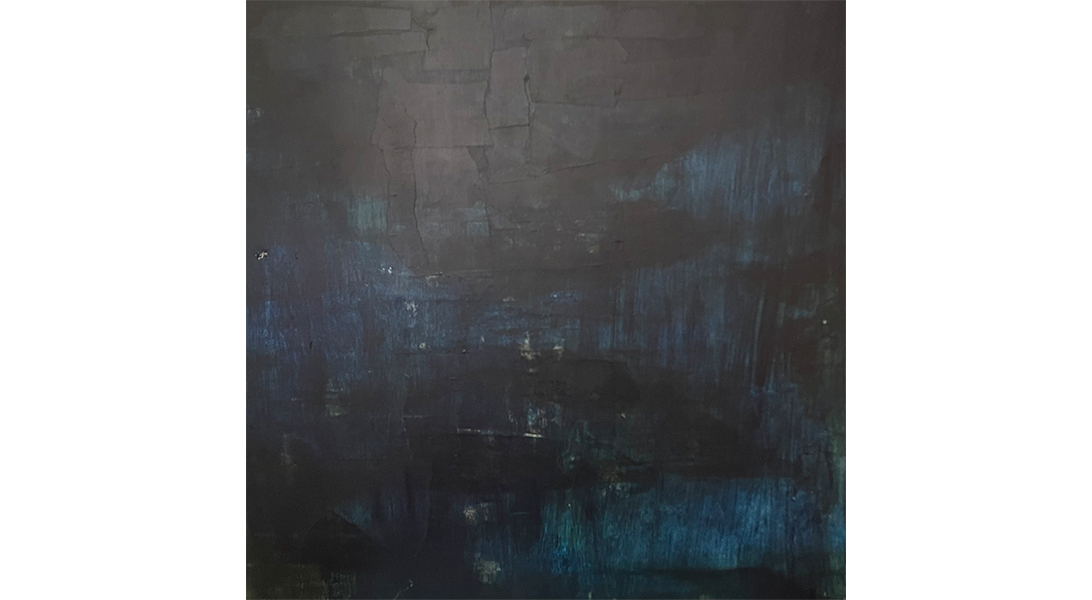 Kasey Kaufman
Foggy Lullaby, 2022
Acrylic
36 x 36 in.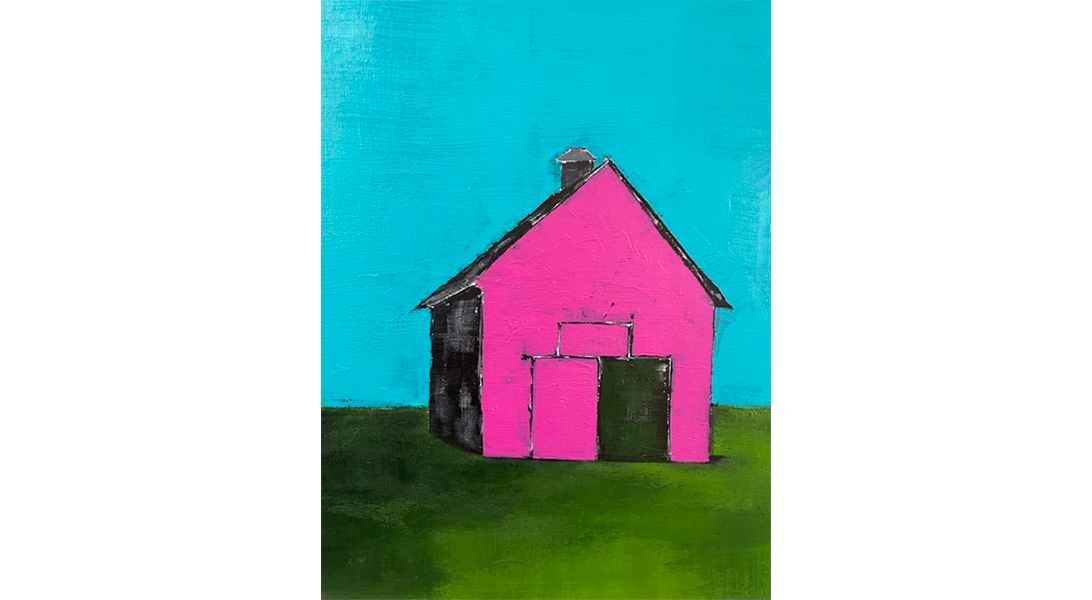 Kasey Kaufman
Valentine Farm, 2022
Acrylic on canvas
18 x 16 in.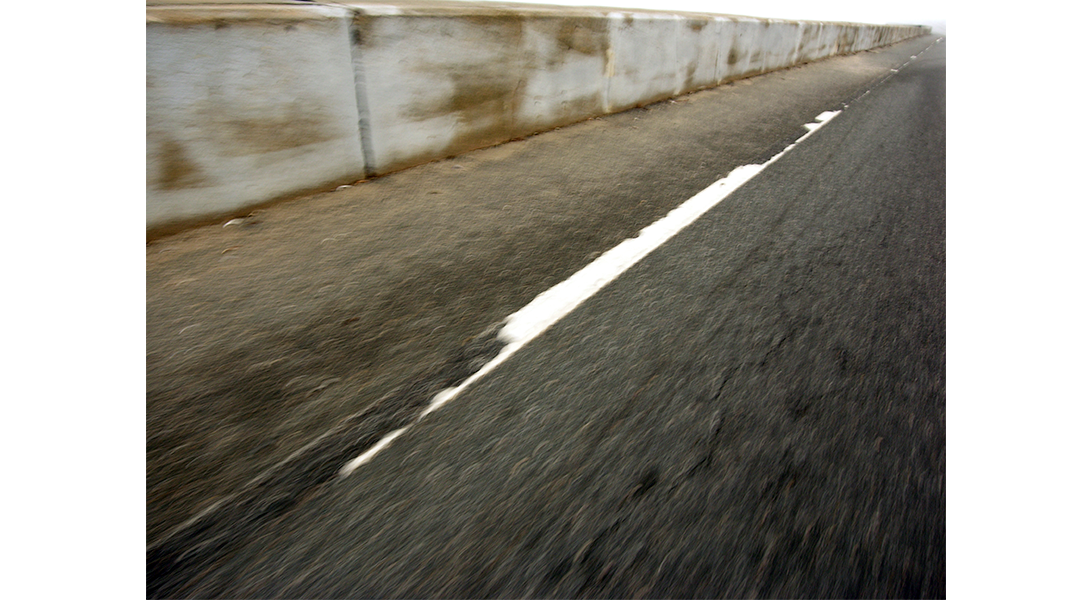 Andrew Kessler
The Void, 2005
Photograph
72 x 96 in.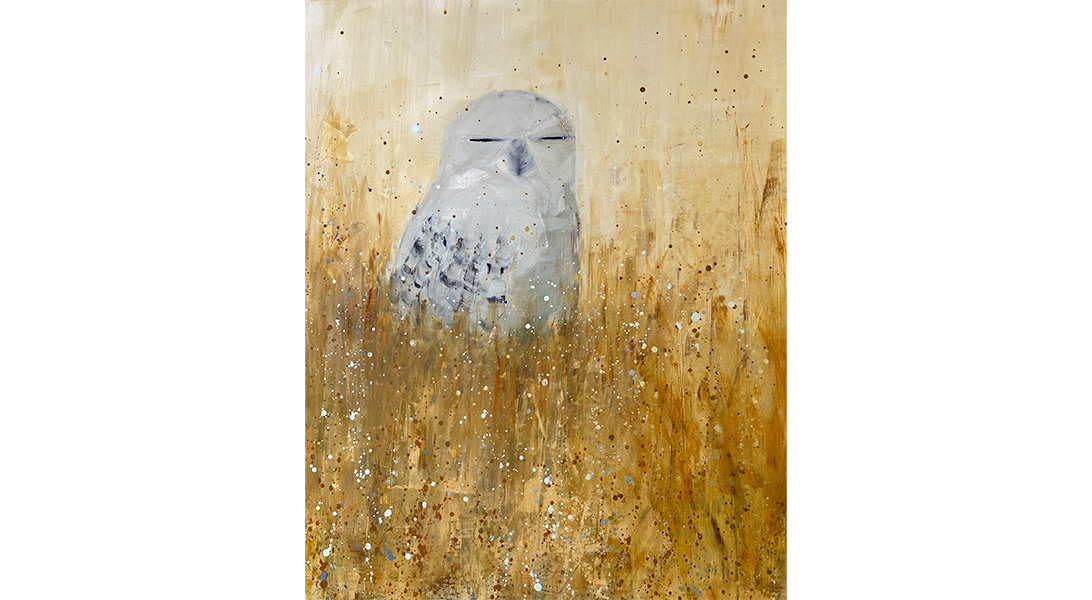 Rebecca Kinkead
Snowy Owl (Golden Field), 2022
Oil and wax on birch panel
30 x 24 in.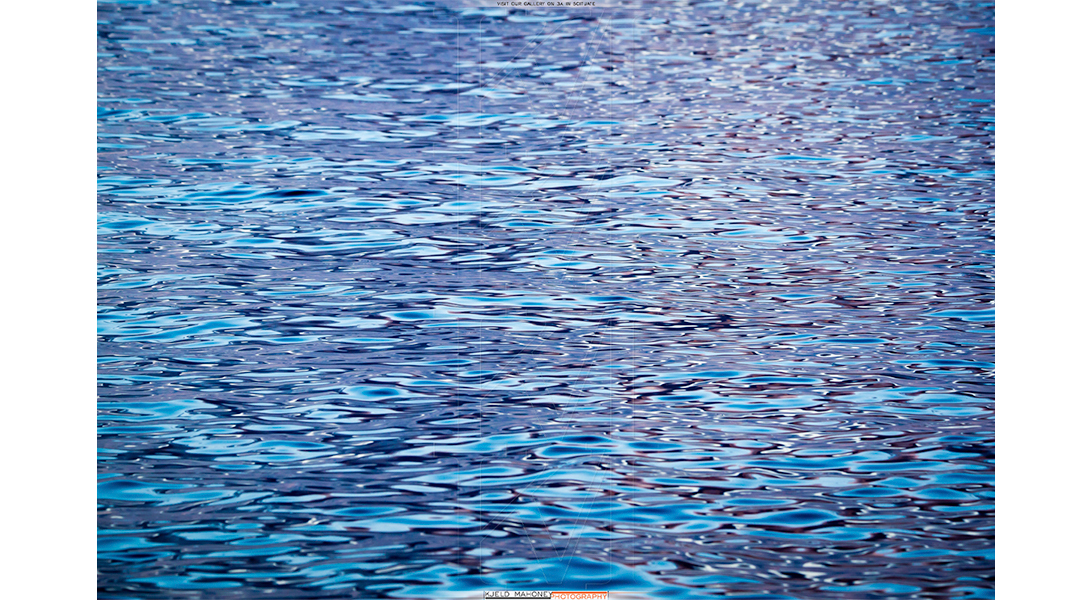 Kjeld Mahoney
Harbor Ripples, 2016
Photograph on canvas
40 x 50 in.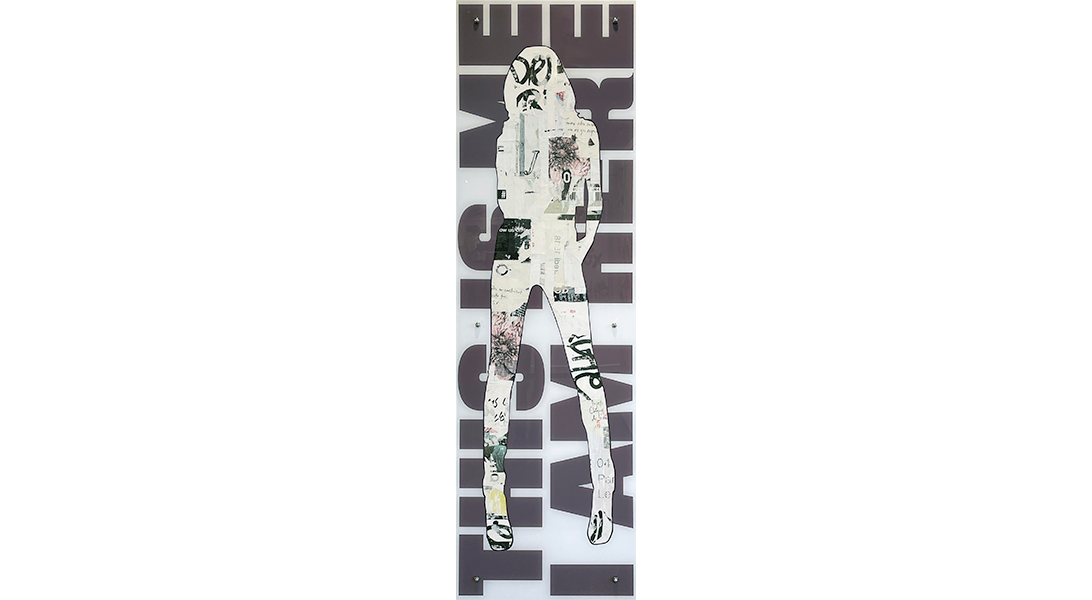 Jane Maxwell
This Is Me, 2021
Mixed media beneath plexiglass
77 x 23.5 in.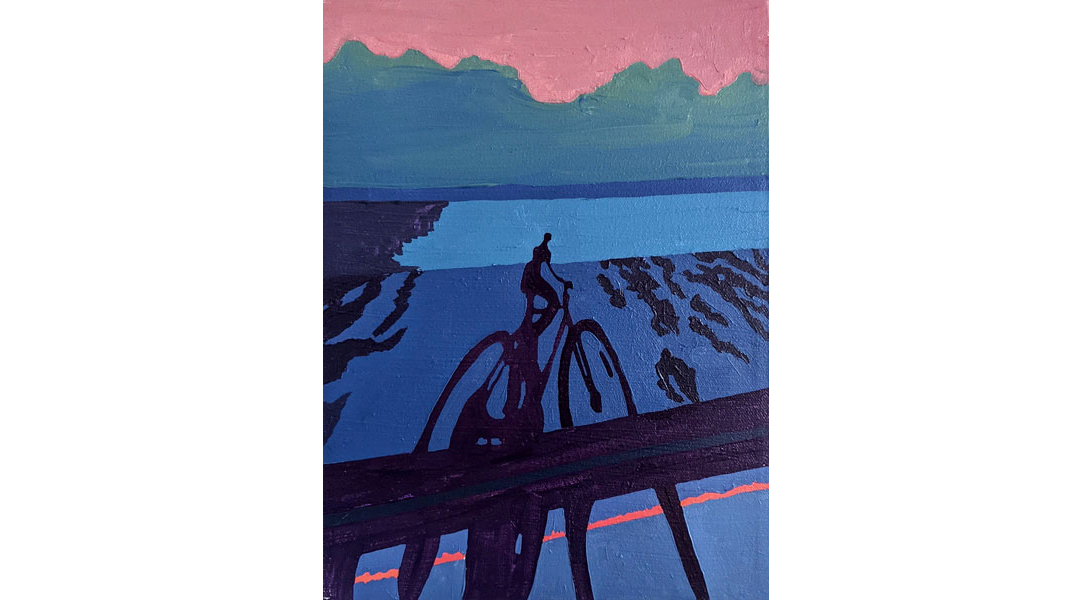 Timothy McCool
Sunset Bike 1, 2021
Acrylic on canvas
12 x 9 in.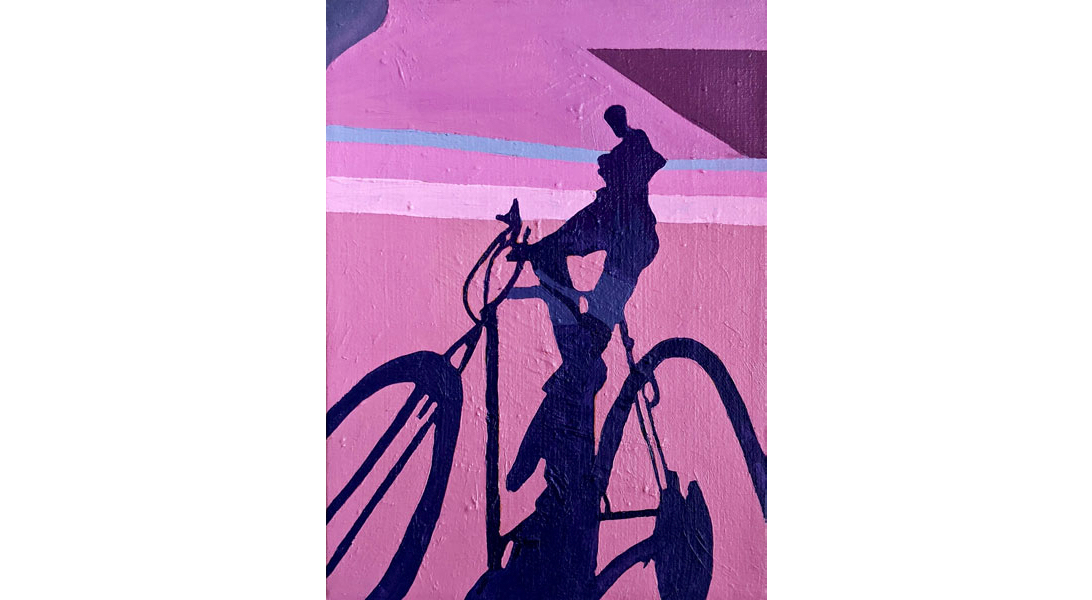 Timothy McCool
Sunset Bike 2, 2021
Acrylic on canvas
12 x 9 in.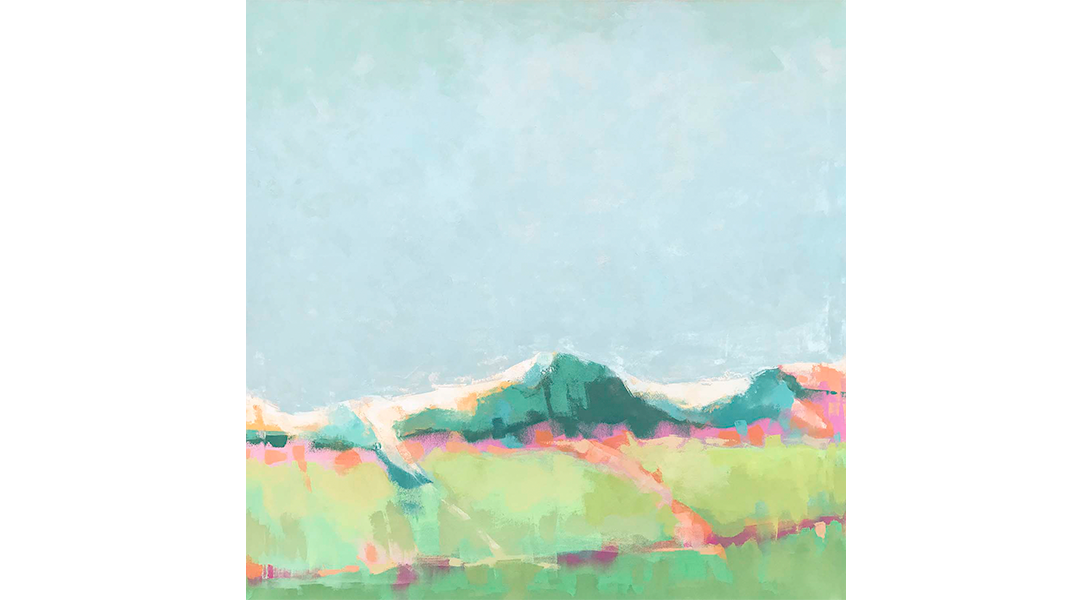 Carrie Megan
Towards Abstraction, 2020
Oil and cold wax on canvas
36 x 36 in.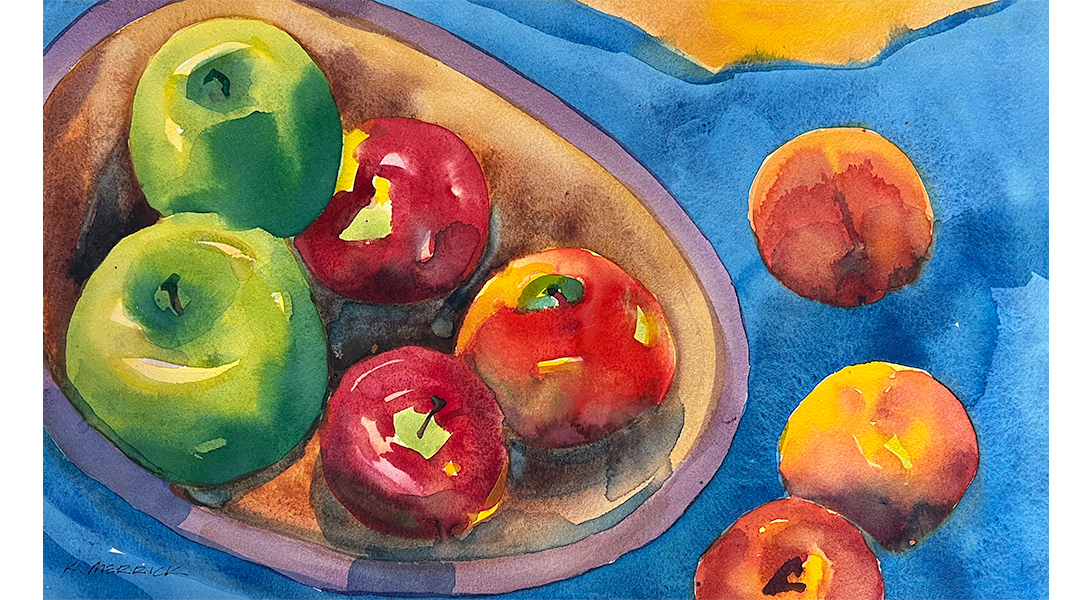 Kate Merrick
Apples & Peaches

, 1995
Watercolor on paper
10.75 x 17.5. in.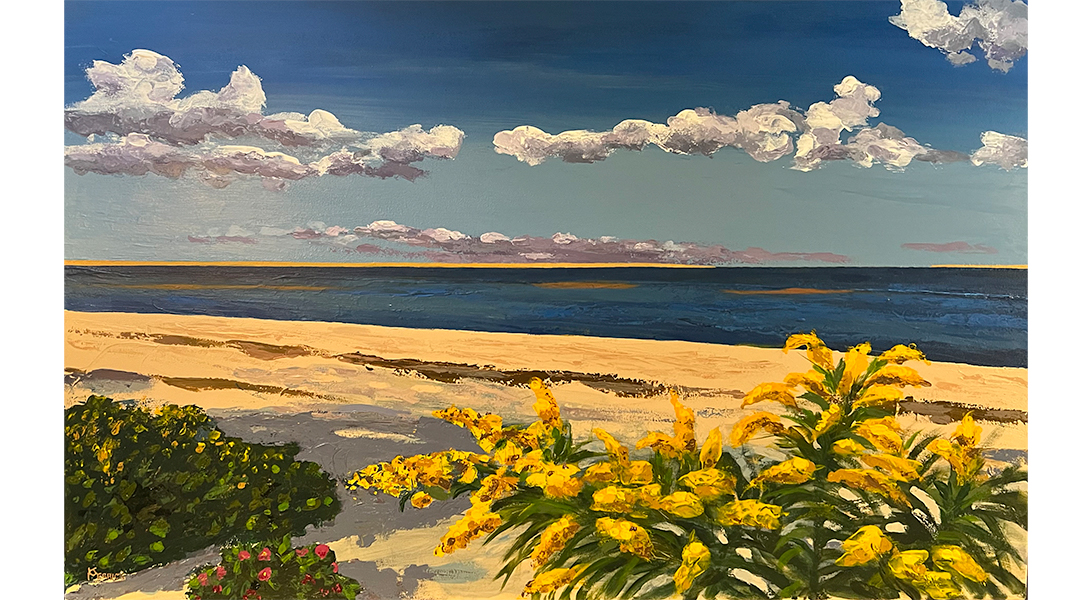 Kate Merrick
Sleeping Bees at the Cow Yard, 2022
Acrylic on stretched canvas
30 x 48 in.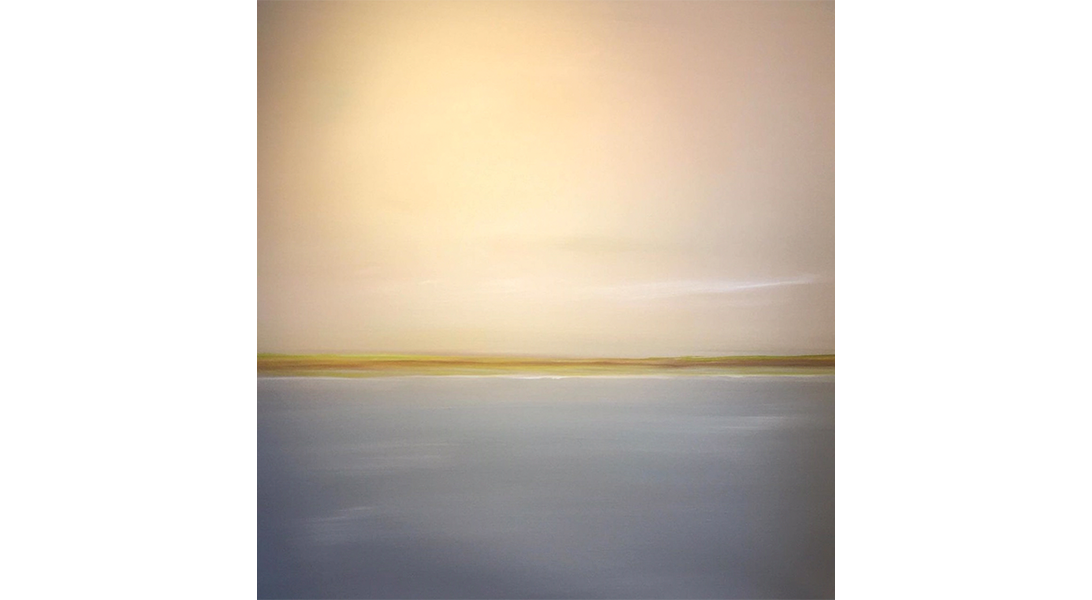 Becky O'Toole
Untitled, 2021
Acrylic on linen
36 x 36 in.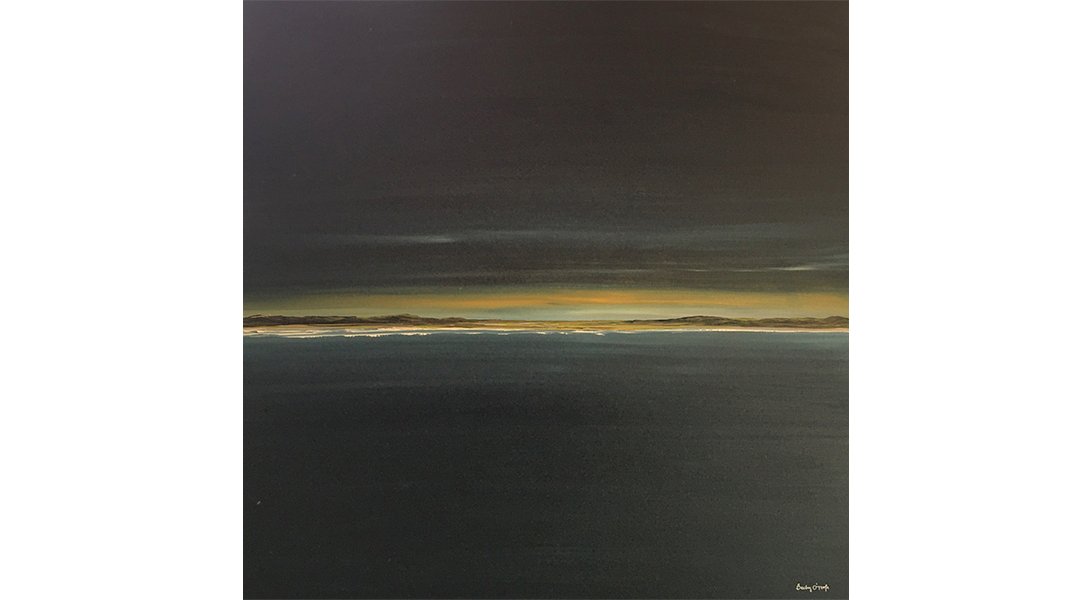 Becky O'Toole
Untitled, 2021
Acrylic on cotton canvas
36 x 36 in.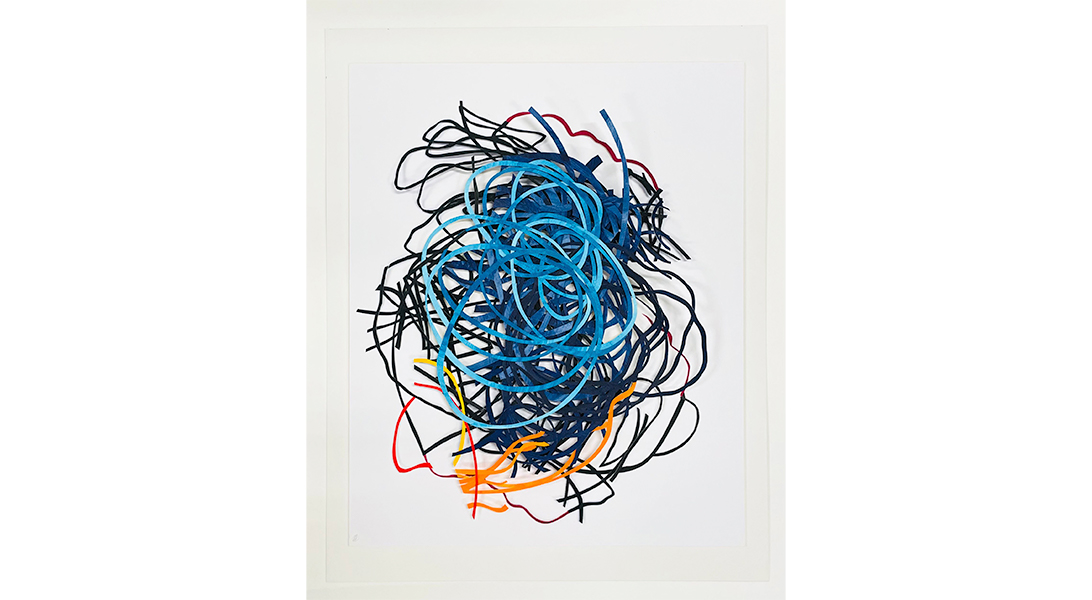 Barbara Owen
Drawing With Cut Lines XI, 2017
Acrylic and ink on paper
17.25 x 14.25 in.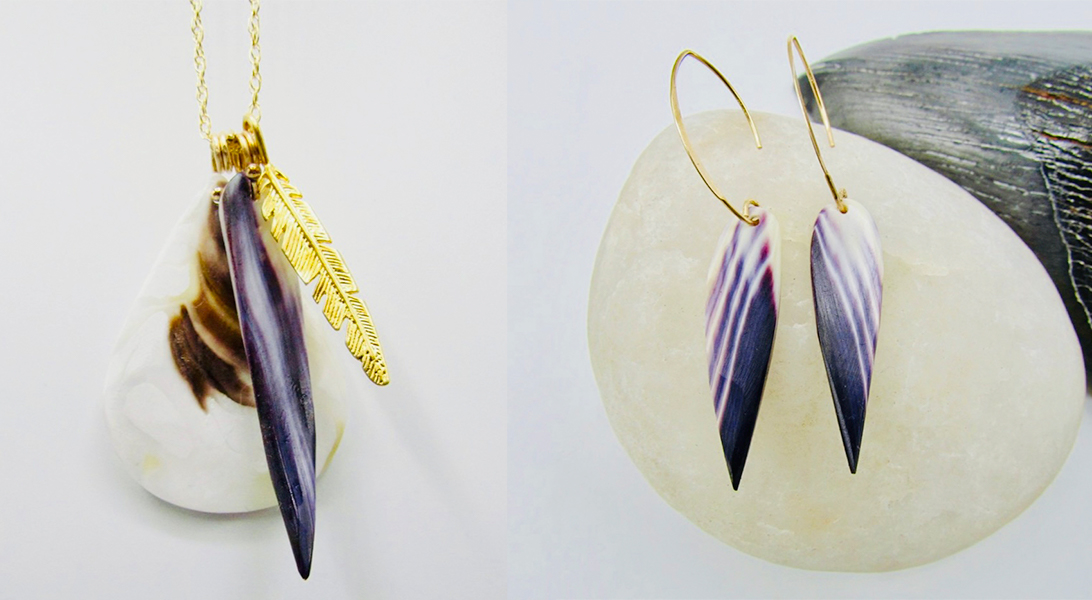 Mercy Moon Reed & Martha Lucia Nunez
Cape Cod Girl Necklace, Wampum Feather Earrings, 2022
Shell jewelry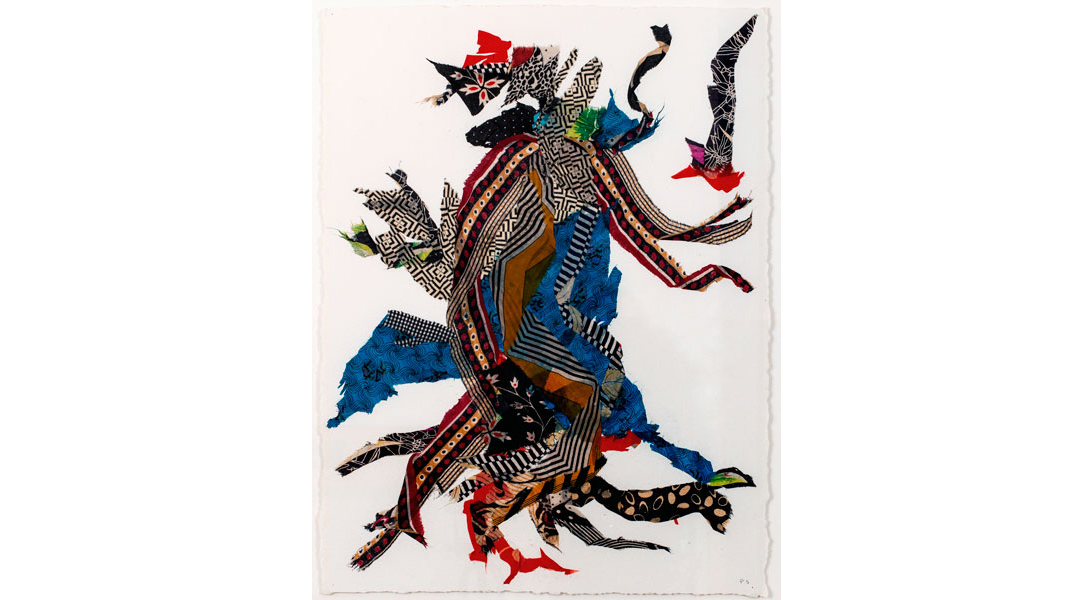 Peter Sacks
Sangoma Series No. 26

, 2020
Mixed media on paper
30 x 22.5 in.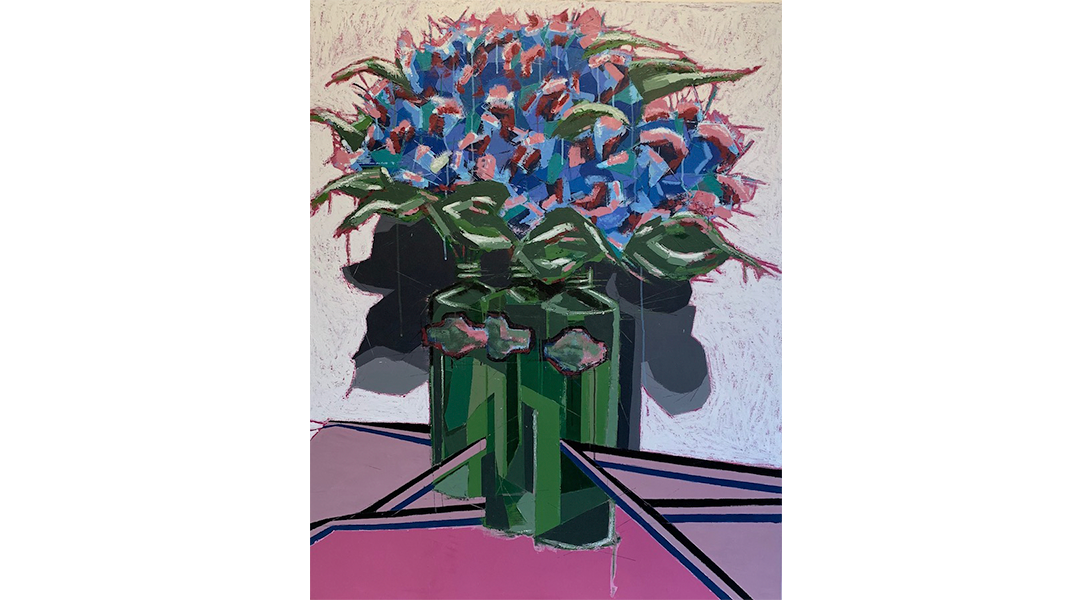 Carlos Santiago
Pink Table, 2018
Acrylic and oil pastel on canvas
60 x 48 in.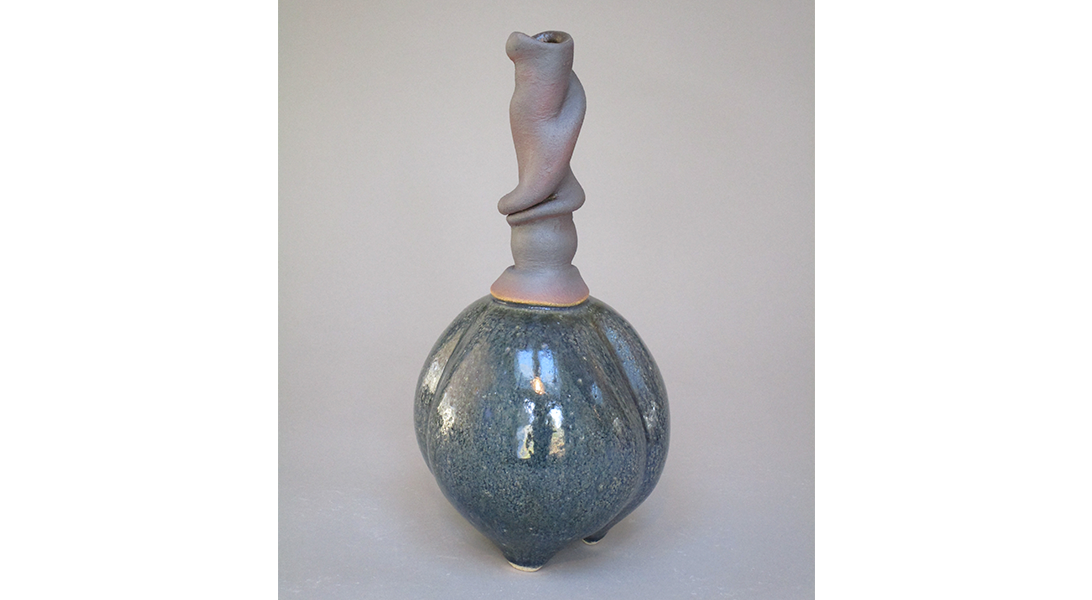 Ellen Schön
Teal Bottle, 2020
Stoneware
14.5 x 7 x 7 in.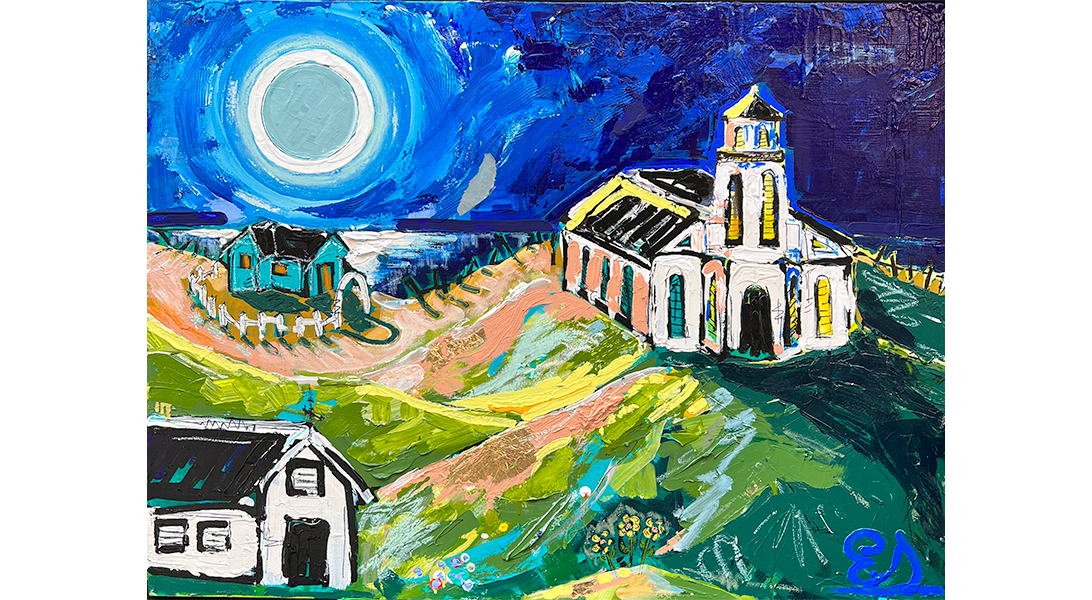 Evan Sharma
The Innermost House, 2022
Acrylic and mixed media on canvas, 40 x 1.5 x 30 in.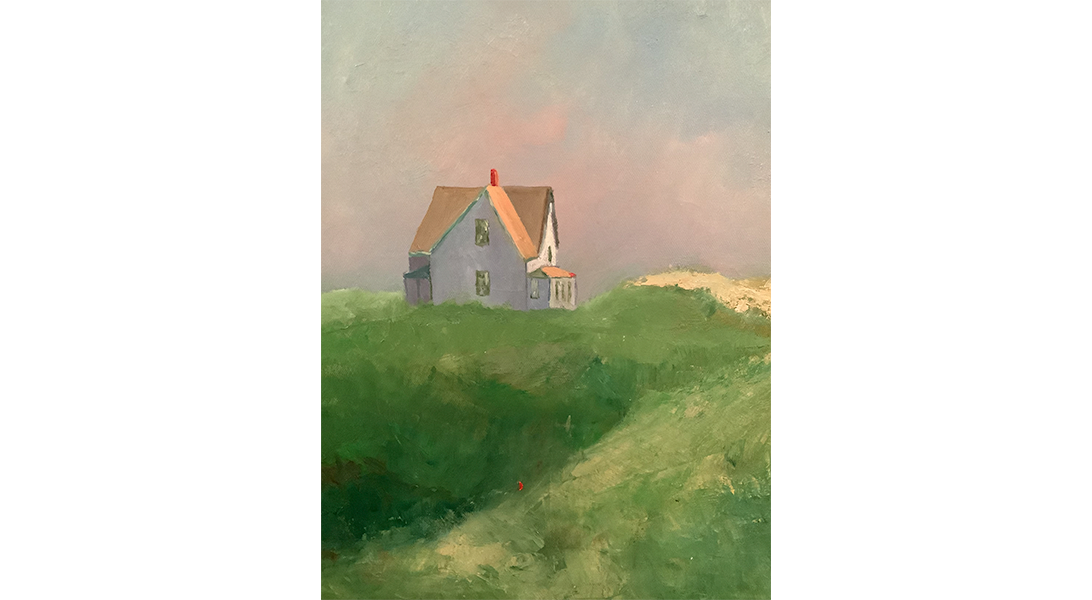 Greg Shoukimas
House on the Hill, 2022
Oil painting
20 x 16 in.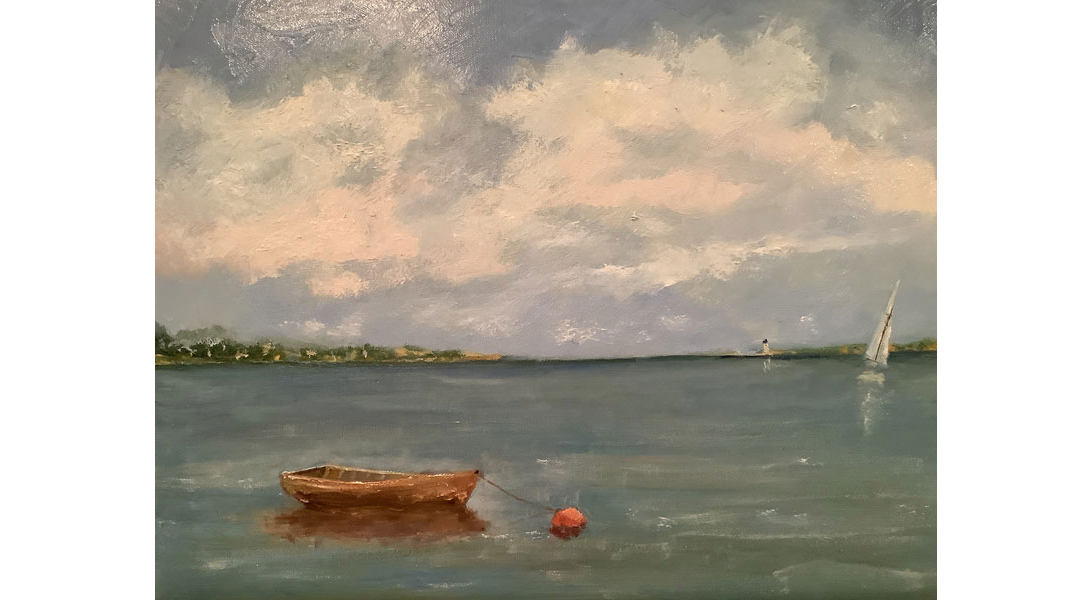 Greg Shoukimas
Red Boat at Rest, 2022
Oil
16 x 20 in.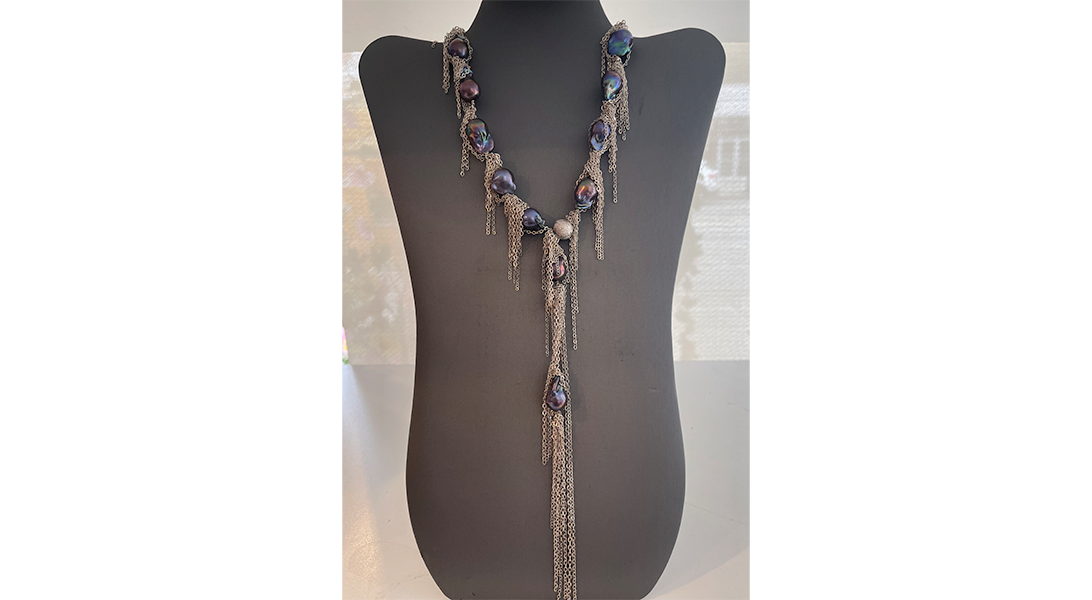 Pattee Silver Lebner
Treasures in Time, 2021
Jewelry (silver, pearls)
22 in. necklace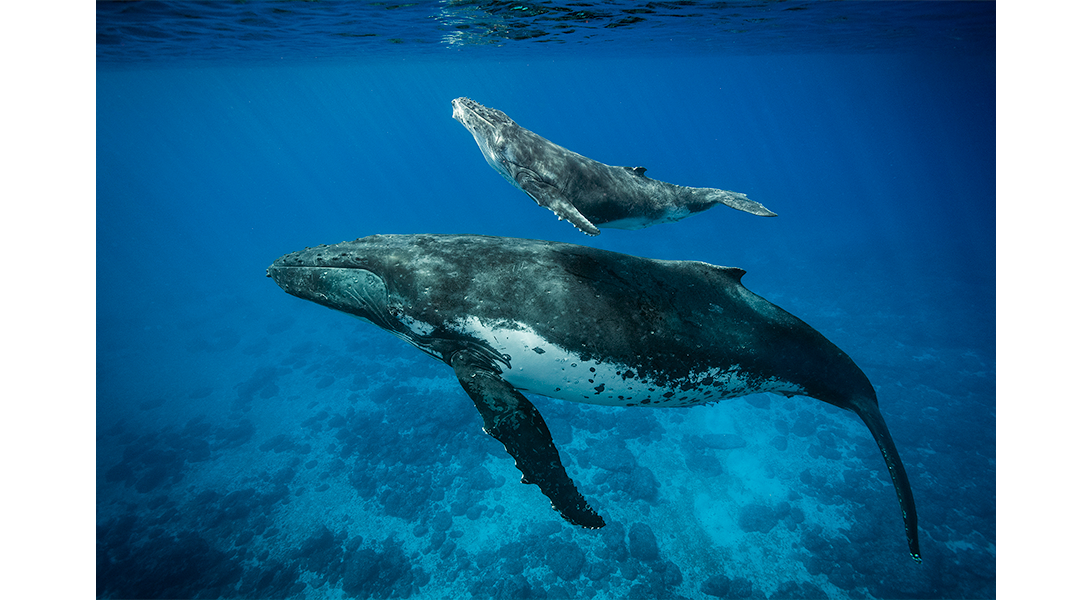 Brian Skerry
Humpback Mom and Calf, 2018
Fine art photographic print on Epson Premium Luster paper
24 x 36 in.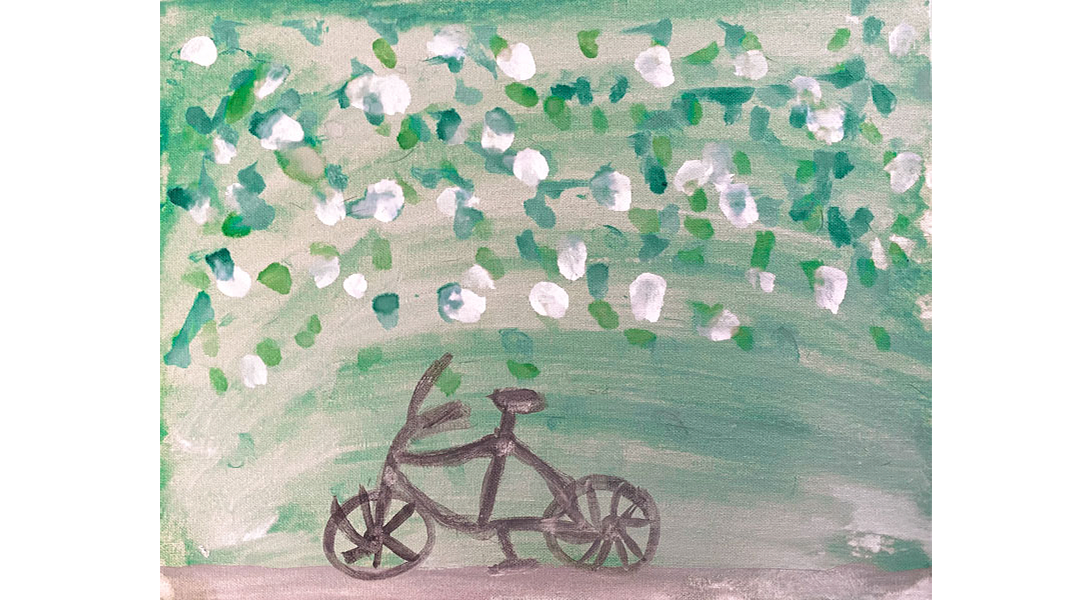 Olivia Steiner
Bike in a Field, 2022
11 x 13.5 in.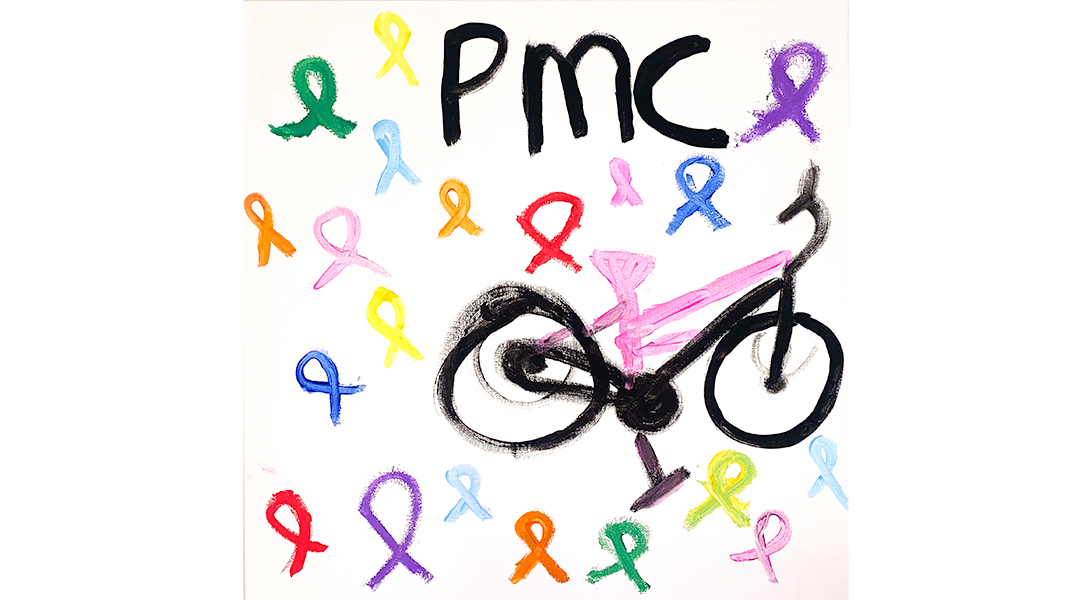 Olivia Steiner
Ribbons of Hope, 2022
17.5 x 17.5 in.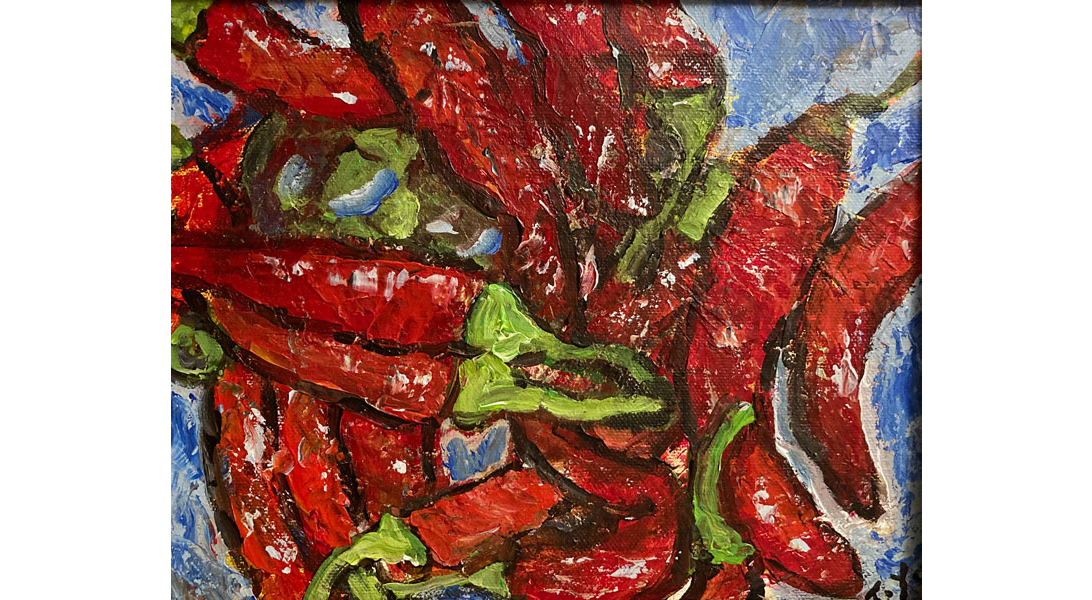 Teresa Yuan
Hot Peppers, 2017
Acrylic
11 x14 in.
Don Alden is a Massachusetts-based artist, designer, and digital marketing professional. He studied at the Rhode Island School of Design, Brown University, and the School of Visual Arts New York, NY.

Don is a 16-year Pan-Mass Challenge rider.

Richard Banfield is a South African born artist who now lives with his son outside Boston, MA. He spent the first 30 years of his life exploring Africa, including Malawi, Botswana, Zambia, Zimbabwe, Tanzania, Zanzibar, and Madagascar. More recently, his travels have been more about exploring the world from the vantage of a bicycle. Most recently, his cycling adventures have been in the mountains of Europe and the unforgettable landscapes of the United States, from Washington State's river valleys to Utah's red rocks.

Richard was raised as an artist and educated as a scientist, which gives a true art-meets-scientist approach to his work. He loves to experiment, gather insights, and make bold bets on his creative expressions.

His current collection pays homage to the idea of anti-fragility; Richard's wife, Kristy, lost her battle with cancer in January 2022.

"Our experience with cancer is that it's a thief. It steals your time. It steals your connections to the things you love. It steals your sense of normalcy. It steals the opportunities to go out into the world and be with friends, or just spend time in nature. It makes you feel invisible. But behind this invisibility is a fighting spirit. A tireless desire to be seen and heard through the veil of the noise of the disease. I hope to capture that anti-fragility and resilience in my paintings."

Richard is a first-year PMC rider; he will be riding Sturbridge to Provincetown in 2022.

Gabriel Beaton is a Cape Cod-based photographer, originally from Blue Hill, Maine. As a boy, he spent countless hours wandering through pristine pine forests and along lonely stretches of rocky coastline, developing what would become a deep and profound appreciation for Mother Nature. Through his adult life, this appreciation has transformed into a passionate interest in documenting the beauty of the natural world through photography.

Judy Bramhall creates mixed-media art pieces using acrylic paint, gels, pastes and hand-painted paper. Her work focuses on vessels and how their forms, postures and patterns mimic human qualities. Each painting speaks to her of life, of the varying groups of people we encounter daily – how we interact, how we communicate and how we share space. She tries to give each vessel a life and an environment of its own.

Judy is a one-year PMC rider.

Steven Branfman, a clay artist, is the founder and director of The Potters Shop & School in Needham, MA, a founding and current board member of the National K-12 Exhibition Foundation, is the Past Chair and founding board member of The Potters Council of the American Ceramic Society, and is the former Vice President of the Studio Potter Foundation. In addition to spending time in his studio, he teaches pottery at Thayer Academy in Braintree, MA.

He is the author of four books," Mastering Raku: Making Ware-Glazes-Building Kilns-Firing," "Raku: A Practical Approach" first and second editions, and "The Potters Professional Handbook," and writes frequently for craft and pottery magazines. His Raku ware is in the collections of the American Museum Of Ceramic Art, The Alfred Ceramic Art Museum, the Mungyeong Ceramic Museum, Fuller Craft Museum. Frederick R. Weisman Art Museum, Crocker Art Museum, Canadian Clay And Glass Association, Holocaust Memorial Museum Of San Antonio, and others.

Steven is an 18-year PMC rider, captain of PMC Team Kermit, and personally connected to the cancer community. He is a two-time cancer survivor and his son Jared – also a a cyclist, PMC volunteer, and clay artist – passed away in 2005 from brain cancer at 23 years old.

Steven lives with his wife, Ellen, and their dog, Bruno, in Newton, MA.

Mike Casey is a photographer with a background in advertising who brings strategic thinking and brand-building to his photography. He loves photographing people, places and products to expand brand-building efforts for a broad portfolio of corporate, nonprofit, and individual clients. His clients include Titleist, This Old House, HBO, Bain Capital, Project 351, the David Ortiz Children's Fund, and Camp Harbor View. He has been published in many local and national magazines and publications and his book, The Best Homes from This Old House, was published with Kevin O'Connor, the host of the Emmy award-winning TV show.

The portrait chosen for the 2022 Art of The Ride is from the 2014 "The PMC Living Proof Project" and is of longtime PMC rider, Brian Lutes. "The PMC Living Proof Project" celebrated PMC riders and volunteers who were cancer patients and cancer survivors – Living Proof of the progress made through raising funds for cancer research and treatment. The photograph of Brian flexing his muscle became the signature image of The Living Proof Portrait series — and also, as many have commented, to symbolize the strength and guts of all riders, volunteers and staff who make the PMC so special. This portrait is part of the permanent collection at the Museum of Fine Arts in Boston, MA.

Mike is a longtime supporter, volunteer, and husband and dad of two dedicated PMC riders. He lives in Wellesley, MA, with his wife, Lisa, children, Riley and Dylan, and Portuguese Water Dog, Brody.

Ellen Clancy is a clay artisan with a background that includes graphic design, photography, and ad agency work. She is a studio member at The Potters Shop & School in Needham, MA, and is a clay artisan represented at The Left Bank Gallery in Wellfleet, MA.

Ellen's piece, "Celebration Vessel," is an example of how clay forms and surfaces often make use of juxtapositions: textured/smooth, light/dark, raw/glazed. She finds that this contrast intensifies each element and results in a piece with stronger depth and richness.

Ellen and her husband, Peter, live and garden on their old farm in Sherborn, MA.

Russ Cox is an abstract and non-objective artist who grew up spending summers on a saltwater farm in Maine, and has lived in Portland for over 30 years. Early instruction from artists from the Washington Color School movement introduced techniques of simplification, contemporary use of bold colors, washes, translucency and depth created by layering.

After a career in business, he turned fully to art, spending seven years developing his methodology in oils at MECA under the guidance of Diane Dahlke, with concurrent study in Florence, Italy. His work is found both in private homes and corporate settings in the US and internationally. He is represented by Casco Bay Artisans; has participated in group and juried shows regionally, with solo shows at UNE, Casco Bay Artisans, and RiverArt. His downtown studio keeps him actively engaged with the Portland art community. He is a co-founder and administrator of Portland's Non-Objective Critique, and volunteered in Portland's primary schools for 12 years, focusing on arts integration.

Russ's mother passed away from cancer and his participation in PMC Art of the Ride is his way of supporting research for a cure as well as help others undergoing treatment.

Abigail Greene is a Philadelphia-based painter, curator, and designer. She explores ideas of femininity through color, shape and texture and is inspired by the various scapes in which she is surrounded.

She studied art and art history at St. Lawrence University. After graduating in 2018, she went on to open her own gallery and shop, Midnight Lunch Studio, where she sells her own work alongside her curated sections from emerging artists. Midnight Lunch now has two brick and mortar locations, in Philadelphia, PA, and Jackson Hole, WY.

Abigail is a 10-year PMC rider who has always incorporated her art into her fundraising efforts for the PMC. She lost her father, Stephen Greene, to cancer in 1999, and her mother rode the PMC in memory of him that year; at the age of 4, she cheered from the sidelines. From that year on, every first weekend of August would be a PMC weekend for Abigail.

Nicholas Heaney is a Cape Cod-based artist directly inspired by texture, movement and the light of the coastal landscape. He uses impasto to sculpt waves, which break the two-dimensional plane of traditional painting. Heaney received a BA from UMass Dartmouth. In June 2019, he was a featured up-and-coming artist in "Cape Cod Art Magazine" and was a featured artist in Provincetown's 400th juried exhibition at Pilgrim Monument & Provincetown Museum. Heaney has also displayed art in various art venues and cultural institutions across Cape Cod, PAAM and The Cape Cod Museum of Art. Currently, Heaney is working as artist in residence at ARTNOVA gallery in Chatham.

Heaney is humbled that the artwork he created for the Art of the Ride will help further the work of the PMC in its mission to provide doctors and researchers with the necessary resources to discover cures for all cancers. He is honored to pass on the life lessons of his late mentor and friend Steve Lyons.

Whitney Heavey is a New England-based artist focusing on the region's diverse landscape, specifically the coastline of Cape Cod. She received a BS in Fine Arts from Skidmore College and spent a year in Florence, Italy, at Studio Art Centers International (SACI). After teaching art and working as an art buyer for children's publishing companies, Whitney started painting full time in 2005. She has been juried into many selective shows, including the Cambridge Art Association and the Copley Society of Art. She received first prize in oils at the All Cape Cod Art Show at the Creative Arts Center in Chatham, MA.

Whitney is represented by the Munson Gallery, Mark August, the Portland Art Gallery, and ArtNova. She lives in South Chatham with her husband, Frank, and their yellow lab, Millie. They have two grown daughters.

2022 marks 10 years since Whitney was diagnosed with non-Hodgkin's lymphoma and was subsequently treated at Dana-Farber Cancer Institute. She credits the generous funding of many individuals in the creation of a drug that increased her odds of surviving a rare form of lymphoma.

Kasey Kaufman is a visual storyteller. For decades, she worked as an award- winning television news anchor and reporter, relying on video and the spoken word to tell the stories of our time. These days, she uses a different kind of toolkit to communicate: tubes of paint, brushes and canvases. Kasey strives for simplicity in her work; in color, composition and subject matter. She traverses between abstract and realism, still life and landscape.

As a mostly self-taught artist, Kasey's work continues to evolve. She is a believer in the practice of daily painting and sketching. It is meditative and has also trained her to see the world with more clarity, appreciation and delight. Her paintings can be seen at the Art in the Village Gallery in Warren, Vermont, Cadeau in Brookline, and at Nest in Dedham.

Kasey is a long-time supporter of the PMC and covered the ride for many years when she worked at WBZ-TV. Her husband, Michael Horwitz, was an early rider and together, they have supported the PMC in honor of friends and family lost to cancer.

Andrew Kessler was a professional portrait photographer and the founder and CEO of Coffee Pond Photography. He studied photography at the Rhode Island School of Design. Andrew created a number of photographic series, including 3-6-9-12, in which he photographed children over 10 years as they matured from childhood to adulthood.

He is also well known for Life in Chaos, a series in which he allowed his camera to randomly shoot images as he trained for the Pan-Mass Challenge. The series reflected upon the randomness of life and how quickly it may change. Andrew and his family learned this firsthand in 2014 when he was diagnosed with Laryngeal cancer and subsequently passed away in 2018. He was an adored husband and father of two, an avid outdoorsman, and an art lover and keen collector.

For 13 years, Andrew rode the PMC as a part of Team Hannah's Bandanas in support of a close friends' daughter, diagnosed with Leukemia. To date, the team has raised over $3.6 million for cancer research.

Rebecca Kinkead is a Vermont-based artist who lives and works in Cornwall. She holds degrees in Political Science and French from the University of Vermont, and a Bachelor of Arts in Studio Art from Minnesota State University. Her work began with clay and transitioned to paint in 1998. Kinkead has been awarded residencies at the Ballinglen Arts Foundation, County Mayo, Ireland; Baer Art Center, Hofsos, Iceland; Jentel Foundation, Banner, Wyoming; and most recently, the Vermont Studio Center in Johnson, Vermont. Her work has been exhibited and collected nationally and internationally for over two decades.

Kinkead's search for authenticity manifests with an immediacy of process. The form of the sitter arrives with a sense of physical presence and vulnerability that the artist holds sacred in her work. The quote by Nikola Tesla is central to her painting process: "If you want to find the secrets of the universe, think in terms of energy, frequency and vibration."

Pattee Silver Lebner, born and raised in Montréal, Canada, is a unique jewelry and clothing designer. She has worked with top fashion houses, such as Chanel, Louis Vuitton, Escada, and Valentino.

Each of her pieces is one of a kind. Treasures in Time is a 22-inch necklace featuring freshwater peacock baroque pearls drizzled with sterling silver fringe with a sterling silver magnetic clasp.

Jane Maxwell is a mixed media artist from Boston, MA. Her work is exhibited at major galleries throughout the United States and acquired by collectors from around the world.

Jane's artistic voice grew out of a passion for vintage materials, modern fashion and design, mingled with a deep fascination for pop culture and feminine icons. Her work is about female empowerment, resiliency and the power of friendship.

Jane's work has been featured in numerous newspaper and magazine articles and in several books on mixed media and collage. She has been a college guest lecturer on the topic of body image and art. Recently, Jane was selected to be included in the 30th anniversary edition of "Who's Who in American Art."

Jane graduated with a BA in Literature from Middlebury College. She studied mixed media at the School of the Museum of Fine Arts in Boston and at the Decordova Museum School in Lincoln, MA. She has three children in their 20s.

Kjeld Mahoney is an award-winning photographer who has been shooting professionally for 20 years. He has a gallery in Scituate, MA, which has been open for 12 years.

Timothy McCool is an Austin, TX-based artist and educator. Originally from Pittsburgh, PA, McCool received his Master's of Fine Arts from the School of the Museum of Fine Arts and Tufts University located in Boston, MA.

Timothy has exhibited his work at various locations such as the Museum of Fine Arts Boston, Montserrat College of Art, Carroll & Sons Gallery in Boston, Room 68 Gallery in Provincetown, and Launch F18 in New York City.

He has been the artist-in-residence at the Boston Center for the Arts, the Studios Program at MASS MoCA, and at the Arteles Creative Center in Finland.

Timothy's artwork in Art of the Ride is based off of his shadow while riding his bike. He wanted to capture that special kind of early evening lighting, and the feeling of returning from an enjoyable day out on the bike.

Carrie Megan uses the rich medium of oils to explore light and color in an attempt to capture the unique sense of place, time and emotion evoked in each painted landscape. Working en plein air and in her studio, diverse natural environments inspire her work.

Carrie has been a long-time supporter of the PMC in honor of individuals she has loved and lost to cancer; in particular her father who is currently undergoing treatment.

Kate Merrick is a Cape Cod-based artist and teacher. Having spent much of her time on the Cape and in Maine, the coastal landscape has always been inspirational in her work. Kate also creates still life, figurative, and abstract work. In the near future, she will be an artist-in-residence at a newly opened studio and gallery in Chatham.

Becky O'Toole, a Scituate, MA-based artist, is a breast cancer and leukemia survivor using her creativity to give back through her initiative, The Pink Frame. Through artwork sales and donations, she paints with purpose — sharing the value of what her paintings can do, not just what they are. Her work can be found at Kjeld Mahoney Photography Gallery, Joye, Acquire Good, Gallery on Jarves, and SalterieOne.

Barbara Owen is a Rhode Island and Brooklyn-based artist, originally from Maine. She received an Interdivisional BA in Sculpture and Poetry from Bennington College, VT and is a 2020 graduate of the MFA Art Practice program at the School of Visual Arts, NY. Her work has been exhibited at The Arts Center, Troy, NY; Untitled Art Fair, Miami; Wheaton College; Newport Art Museum; Jamestown Art Center; UMass Dartmouth's Art Gallery and Arts in Embassies, Ports Moresby, Papua New Guinea. Her work is in the permanent collection at the American Embassy in Paramaribo, Suriname. Owen has been awarded residencies nationwide, including Dorland Mountain Arts Colony, CA; Woodstock Byrdcliffe Guild, NY; and MASS MoCA/Assets for Artists, MA.

Martha Nunez is a master bead maker and local fisherwoman and makes the largest, most sought after shell beads in the world. Martha and her partner have run a commercial quahog dragger in Nantucket Sound for over 40 years.

Martha's daughter Mercy was raised on fishing boats and the beaches of Cape Cod watching her mother collect and carve shells. Naturally, she followed her into the artistry.

From the Caribbean Sea to the Indian Ocean and everywhere in between, Martha and Mercy have collected shells, including Conch, Abalone, Giant clam and Great Green Turban, which have all been incorporated into their designs. Martha and Mercy are skilled water women, world travelers, and most of all, quintessential Cape Codders.

Peter Sacks, a South African-born artist, now works in studios in Massachusetts and New York City.

His recent work seeks to balance energies of recovery against forces of distress. This is true both in form and content, as well as in the actual use of materials. The Sangoma series conjures the figures and forces of ritual healers (from Southern Africa, where Sangomas are still crucial traditional doctors, to South America and Japan). Peter finds they have a celebratory effect.

Peter became involved in the struggle against the apartheid regime as a member of the National Union of South African Students and executive of the Students Representative Council. In 1970 Sacks emigrated from South Africa and spent the following several years studying in the United States and the United Kingdom at Princeton, Oxford and Yale. While authoring several books of literary scholarship and poetry, he painted privately.

During the late '90s, he began to work on unframed canvas pages and, after a several month retreat in Marfa, Texas, began making free-standing works. Following the retreat, Sacks decided to make the works public and had his first solo exhibition in Paris in 2004, followed by exhibitions in New York and London. His densely layered works are in numerous private and public collections worldwide, including Baltimore Museum of Art; the Metropolitan Museum of Art, New York; Museum of Fine Arts, Boston; Museum of Fine Arts, Houston; Rose Art Museum at Brandeis University, Waltham, MA; The Collection of the Constitutional Court of South Africa, Johannesburg; The Ethelbert Cooper Museum of African and African American Art, Cambridge, MA; The Bonavero Institute of Human Rights, Oxford; and the Beyond Borders Foundation, Edinburgh.

Carlos Santiago is a painter with a BFA in fashion design from The Savannah College of Art and Design (SCAD), in Savannah, GA. He lived in New York City for a decade, where he worked in the fashion industry, before moving to Boston in 2009. At that time, he began focusing on painting. Carlos's work can be found in two galleries in Massachusetts.

Ellen Schön is an adjunct faculty member in Fine Arts and Ceramics Studio Supervisor at Lesley University College of Art and Design in Cambridge, MA, where she has taught ceramics and 3-D courses since 2002. Ellen received a BA from Marlboro College and an MFA in Ceramics from Boston University's Program in Artisanry. She has exhibited in numerous shows in the United States and is a past recipient of The Artist Foundation Fellowship from the Massachusetts Council on the Arts and Humanities. Ellen is a past Artist Fellow at the St. Botolph Club, a Boston institution that supports the arts and humanities, and is a member of the Boston Sculptors Gallery.

Ellen has organized and co-curated interdisciplinary, thematic group exhibitions in non-profit venues in the Boston area and abroad. Ellen's interest in international artist collaboration and exchange has led her to travel extensively, participating in international artist symposia/residencies in Denmark, Finland, Croatia, Hungary, Turkey, Israel, Germany, and Malaysia. She has been a member of the European Artists Association since 2011. Schön's work is in the permanent collections of the Museum of Fine Arts, Boston and the Fuller Craft Museum in Brockton, MA.

Evan Sharma, 18, is a Canadian artist who first received acclaim at age 12 when he was accepted into Canada's largest juried art fair. Evan's work explores global challenges from the perspective of both art and science, some of which are based on his own experience as an award-winning environmental researcher.

Evan has been named as one of Canada's most talented young artists by NUVO magazine and has presented his ideas at C2, HATCH and TEDx. Evan's work is being acquired by influential collectors from NYC, LA, London and Dubai, and has appeared in a number of documentaries by CBC Arts, CTV and Shopify Studios.

To date, Evan's donated artwork has raised over $100,000 for various charities, including the United Way, hospital foundations, and VibeArts. He is also the founder of The CovART Challenge, which raised funds for over 200,000 meals for Kenyan children affected by the pandemic. Evan, the founder of wearable art line, RBLB (Right Brain Left Brain) is a Health Sciences student at Queen's University in Canada.

Gregory Shoukimas is a Provincetown-based artist who practiced radiology/neuroradiology for more than 30 years and founded multiple imaging centers.

He started painting in high school and after a long hiatus and a move to Provincetown, where the light and subject matter are unparalleled, he was stimulated to once again paint. Provincetown is the oldest art colony in the United States and Greg is fortunate to not only be surrounded by an amazing environment, but a large number of very talented artists whose paintings also contribute to his inspiration.

Greg is a 32-year PMC rider.

Brian Skerry is a photojournalist and film producer specializing in marine wildlife and underwater environments. Since 1998, he has been a contributing photographer for National Geographic magazine, covering stories on every continent and in nearly every ocean habitat; he is currently at work on his 30th feature story for the magazine.

Brian is the author of 12 books, including the acclaimed monographs Ocean Soul and SHARK. His latest book, "Secrets of the Whales" was released in April 2021 by National Geographic as part of a multi-platform project he created that includes a cover story in the May 2021 issue of National Geographic magazine and an Emmy award-winning, 4-part documentary film series currently streaming on Disney+.

Brian frequently lectures on ocean exploration, storytelling, and conservation, having presented at venues such as The United Nations General Assembly, The World Economic Forum in Davos, Switzerland, TED Talks, The National Press Club in Washington, DC, The Royal Geographical Society in London, and the Sydney Opera House in Australia.

He has had numerous solo photographer exhibits including 'Portraits of Planet Ocean,' a two-year exhibit at the Smithsonian National Museum of Natural History in Washington, DC, and 'Ocean Soul' at Visa pour l'image in Perpignan, France. Other exhibits of his work have been held in cities worldwide including Geneva, Barcelona, Sharjah, Lisbon, and Shanghai.

Brian is the Explorer-In-Residence and a Trustee at the New England Aquarium, a founding member of the International League of Conservation Photographers, and a Fellow National of The Explorers Club. He also serves as a Nikon Ambassador.

Olivia Steiner, 8, was treated for leukemia at The Jimmy Fund and Boston Children's hospital. While in treatment, she was a PMC Pedal Partner. PMC Pedal Partners are pediatric patients at the Jimmy Fund who are paired with PMC riders and teams.

The Pan-Mass Challenge has become a big part of the Steiner family's lives. Olivia's dad, Jason, is a 5-year PMC rider and her mom, Christine, coordinates the Burlington PMC Kids Ride.

Teresa Yuan, born and raised in Taiwan, came to the United States to study art when she was 19. She graduated from Pratt Institute in 1974 and has been living on Martha's Vineyard for past 40 years.

Teresa's paintings have been exhibited in Old Sculpin gallery and Kennedy Studio on Martha's Vineyard. Her works are under collections by Dr. Allen Ho and Mr. LJ Johnston, the president of the Guggenheim Museum.

Teresa is a recovered cancer patient – PMC Living Proof. Her daughter, Emma Lovewell, is a one-year PMC rider and Peloton instructor.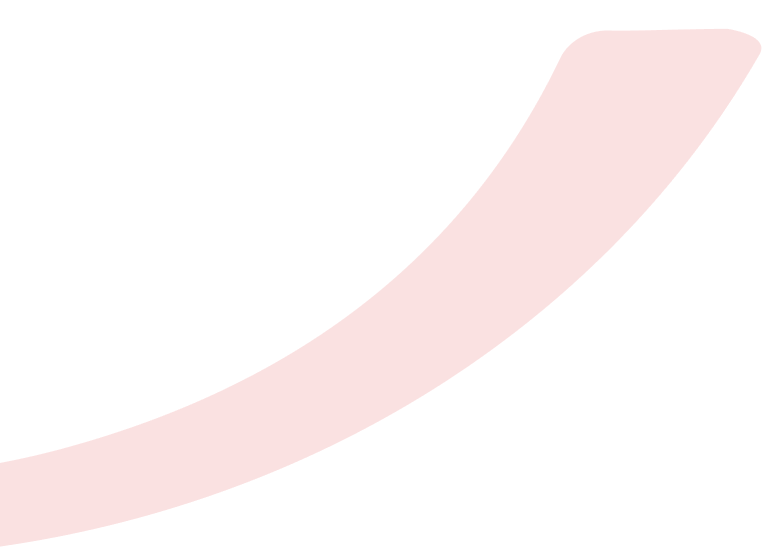 How to Bid on Artwork
Online bidding begins on April 28, 2022, and will close on May 6, 2022, at 9:30 PM (PMC Heavy Hitter Evening). Patrons do not need to be present at the event to bid on artwork.
100 percent of the funds raised through the 2022 Art of the Ride will go to cancer research and treatment at Dana-Farber Cancer Institute.
How to Attend the Event
Invitations to the PMC Heavy Hitter Evening were emailed to 2019, 2020, and 2021 Heavy Hitters. Tickets are $65 per person.
The evening will focus on PMC Impact– how the Pan-Mass Challenge brings us closer by the mile, and will include the PMC Art of the Ride art auction. The evening also includes dinner, dessert, drinks and coffee.
All guests must be fully vaccinated and show proof of this status at the event. Those unable to attend the event may bid on artwork online.
Art of the Ride is a vehicle for philanthropic artists and art collectors to support the Pan-Mass Challenge and its mission to raise money for life-saving cancer research and treatment at Dana-Farber Cancer Institute. Art collectors can bid on artwork online or in person; 100 percent of the proceeds from the artwork sales will go to Dana-Farber.

PMC Art of the Ride is an art auction featured during the 2022 PMC Heavy Hitter Evening on May 6, 2022, at the InterContinental Hotel in Boston.

No, you can bid on PMC Art of the Ride artwork from the comfort of your home! Online bidding will open April 28, 2022, and will continue through May 6, 2022.

2019, 2020, and 2021 Heavy Hitters can attend the 2022 PMC Heavy Hitter Evening featuring PMC Art of the Ride on May 6, 2022, to view the art and bid in person.

Online bidding will start at 9 AM on April 28, 2022, and will end at 9:30 PM on May 6, 2022.

100 percent of all donations will go to cancer research and treatment at Dana-Farber Cancer Institute. The funds from Art of the Ride will go to the PMC's general fund, unless otherwise designated to a specific rider or team's fundraising.

Yes, the funds from a purchase of artwork in the PMC Art of the Ride event can be directed toward a specific PMC rider or team's fundraising for the 2022 Pan-Mass Challenge.

The donor must make this request once their bid on the artwork is accepted. To direct the funds, the donor should email PMC Fundraising Coordinator Fiona Hannafin with the name and PMC ID of the rider or team.

If your donation is greater than the item's value, you can deduct the difference between the item's value and the amount donated.
Percentage of funds raised through the 2022 Art of the Ride will go directly to Dana-Farber Cancer Institute
Number of artists participating in the 2022 Art of the Ride
This is the inaugural PMC Art of the Ride.