Landry's Bicycles: Special offers for PMC riders on Thursday, February 7
Landry's Bicycles: Special offers for PMC riders on Thursday, February 7
Landry's Bicycles: Special offers for PMC riders on Thursday, February 7
Landry's Bicycles is honored to serve as the lead bike-shop sponsor for the Pan-Mass Challenge again in 2013. To help you gear up for this year's PMC event, Landry's is happy to announce special in-store offers for PMC riders, available at all Landry's store locations on Thursday, February 7:
Landry's PMC Hospitality Night: Thursday, February 7 (6-8 pm), including special Landry's discounts for PMC riders.
Winter discounts on Landry's "Ride Ready" bike tune-ups and fitting services.
In case of seriously stormy weather on February 7, check Landry's website for status on this event.
GET MORE INFO: For details on these PMC special offers, see Landry's website at
http://www.landrys.com/about/landrys-pmc-special-event-pg138.htm
Landry's Bicycles operates a growing family of bicycle stores located in Boston, Natick, Norwood, and Westborough, Massachusetts.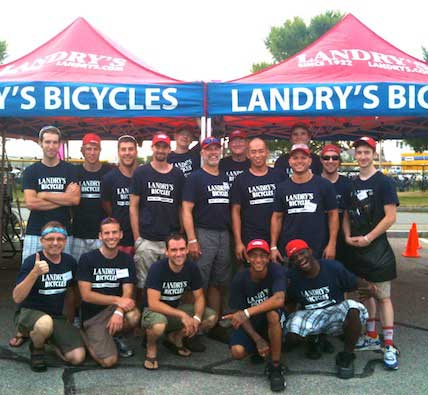 PHOTO: Landry's Support Team keeps the PMC rolling – with smile all around. (MMA, Bourne, August 4, 2012.)